Sunday 9 July 2023 Calendar with holidays, observances and special days
Calendars
:
Health Calendar
,
US Holidays
,
Argentina
,
Australia
,
Azerbaijan
,
Brazil
,
Canada
,
Career Holidays (Recognition Holidays)
,
Chile
,
El Salvador
,
Environmental Dates
,
Food holidays
,
Israel
,
Pet and Animal Holidays
,
Spain
,
United Nations Holidays
,
Worldwide Holidays
Holidays and observances
Events
2002 – The African Union is established in Addis Ababa, Ethiopia; its first chairman is Thabo Mbeki, President of South Africa.
1944 – American forces take Saipan, bringing the Japanese archipelago within range of B-29 raids, and causing the downfall of the Tojo government.
1918 – In Nashville, Tennessee, an inbound local train collides with an outbound express, killing 101 and injuring 171 people, making it the deadliest rail accident in United States history.
1893 – Daniel Hale Williams, American heart surgeon, performs 1st successful open-heart surgery in United States without anesthesia.
1868 – The 14th Amendment to the United States Constitution is ratified, guaranteeing African Americans full citizenship and all persons in the United States due process of law.
1815 – Charles Maurice de Talleyrand-Périgord becomes the first Prime Minister of France.
1810 – Napoleon annexes the Kingdom of Holland as part of the First French Empire.
1755 – The Braddock Expedition is soundly defeated by a smaller French and Native American force in its attempt to capture Fort Duquesne in what is now downtown Pittsburgh.
Births
1991 – Mitchel Musso, American singer and actor. Mitchel Tate Musso (born July 9, 1991) is an American actor, musician, and singer, best known for his three Disney Channel roles as Oliver Oken/Mike Standley III in Hannah Montana; Jeremy Johnson in the animated series Phineas and Ferb; and his Disney XD role as King Brady on Pair of Kings.
1987 – Rebecca Sugar, American animator, composer, and screenwriter. Until 2013, Sugar was a writer and storyboard artist on the animated television series Adventure Time.
1986 – Dominic Cervi, American soccer player. Dominic Cervi (born July 9, 1986) is an American former professional soccer player who played as a goalkeeper.
1986 – Kiely Williams, American singer-songwriter and dancer. She is known for being a member of former girl groups The Cheetah Girls and 3LW, as well as their eponymous debut album, which she recorded with 3LW in 2000.
1986 – Simon Dumont, American skier. Simon Francis Dumont (born July 9, 1986) is an American freestyle skier.
1983 – Lucia Micarelli, American violinist and actress. Lucia Micarelli is an American violinist and actress best known for her collaborations with Josh Groban, Chris Botti and classic rock band Jethro Tull, and her role as Annie Talarico in Treme.
1982 – Alecko Eskandarian, American soccer player and manager. He is a former assistant coach for New York Cosmos and head coach for their reserve team, New York Cosmos B.
1978 – Kara Goucher, American runner. She made her marathon debut in 2008 and finished third the following year at the Boston Marathon.
1976 – Fred Savage, American actor, director, and producer. Fred Aaron Savage (born July 9, 1976) is an American actor, best known for his role as Kevin Arnold in the American television series The Wonder Years, which ran from 1988 to 1993.
1975 – Isaac Brock, American singer-songwriter and guitarist, was a British Army officer and colonial administrator from Guernsey. Brock was assigned to Lower Canada in 1802.
1975 – Jack White, American singer-songwriter, guitarist, and producer. White has enjoyed consistent critical and popular success and is widely credited as one of the key artists in the garage rock revival of the 2000s.
1975 – Shelton Benjamin, American wrestler. Prior to becoming a professional wrestler, he was a two-sport athlete in college.
1973 – Enrique Murciano, American actor. He is known for his role as FBI agent Danny Taylor in the CBS mystery drama series Without a Trace from 2002 to 2009.
1973 – Kelly Holcomb, American football player and sportscaster. He played college football at Middle Tennessee State.
1972 – Ara Babajian, American drummer and songwriter. Ara Babajian (born July 9, 1972) is an American drummer who has been a member of such bands as Leftöver Crack and The Slackers.
1971 – Marc Andreessen, American software developer, co-founded Netscape. Marc Lowell Andreessen (/ænˈdriːsən/ ann-DREE-sən; born July 9, 1971) is an American entrepreneur, investor, and software engineer.
1970 – Trent Green, American football player and sportscaster. Trent Jason Green (born July 9, 1970) is a former American football quarterback who played in the National Football League (NFL) for fifteen seasons.
1967 – Mark Stoops, American football player and coach. Stoops previously served as defensive coordinator at the University of Arizona from 2004 to 2009 and Florida State University from 2010 to 2012.
1966 – Gary Glasberg, American television writer and producer (d. 2016). He was born in New York City.
1966 – Marco Pennette, American screenwriter and producer. Marco Pennette (born July 9, 1966) is an American television producer and screenwriter.
1966 – Pamela Adlon, American actress and voice artist. Pamela Fionna Adlon (/ˈædˌlɒn/, née Segall; born July 9, 1966) is an American actress, voice actress, screenwriter, producer, and director.
1966 – Zheng Cao, Chinese-American soprano and actress (d. 2013), was a Chinese-born, American operatic mezzo-soprano known for her signature role of Suzuki in Madama Butterfly. She performed this role with opera companies such as San Francisco Opera, Grand Théâtre de Genève, Pittsburgh Opera, Vancouver Opera, Washington National Opera, San Diego Opera, and under the baton of Seiji Ozawa with the Boston Symphony Orchestra.
1965 – Frank Bello, American bass player. Francis Charles Joseph Bello (born July 9, 1965) is an American musician who plays bass guitar for the thrash metal band Anthrax.
1965 – Jason Rhoades, American sculptor (d. 2006), was an American installation artist. Better known in Europe, where he exhibited regularly for the last twelve years of his life, Rhoades was recently celebrated for his combination dinner party/exhibitions that feature violet neon signs with African, Caribbean, Creole and hip-hop slang for the female genitalia.
1964 – Courtney Love, American singer-songwriter, guitarist, and actress. She rose to prominence as the lead vocalist of the alternative rock band Hole, which she formed in 1989.
1959 – Kevin Nash, American wrestler. Kevin Scott Nash (born July 9, 1959) is a retired American professional wrestler best known for his tenures with World Wrestling Entertainment (WWE) and World Championship Wrestling (WCW).
1957 – Kelly McGillis, American actress. Kelly Ann McGillis (born July 9, 1957) is an American actress widely known for her film role as Rachel Lapp in Witness (1985) with Harrison Ford, for which she received Golden Globe and BAFTA nominations; her role as Charlie in Top Gun (1986) with Tom Cruise, and her role as Kathryn Murphy in The Accused (1988) with Jodie Foster.
1957 – Tim Kring, American screenwriter and producer. Richard Timothy Kring (born July 9, 1957) is an American screenwriter and television producer, best known for his creation of the drama series Strange World, Crossing Jordan, Heroes, and Touch.
1956 – Michael Lederer, American author, poet, and playwright. Michael Lederer (born July 9, 1956 in Princeton, New Jersey) is an American playwright, screenwriter, novelist, short story writer, poet, and essayist currently living in Berlin, Germany.
1956 – Tom Hanks, American actor, director, producer, and screenwriter. Thomas Jeffrey Hanks (born July 9, 1956) is an American actor and filmmaker.
1955 – Jimmy Smits, American actor and producer. Jimmy Smits (born July 9, 1955) is an American actor best known for playing attorney Victor Sifuentes on the 1980s legal drama L.A.
1955 – Lindsey Graham, American colonel, lawyer, and politician. Lindsey Olin Graham (born July 9, 1955) is an American politician, affiliated to the Republican Party, who serves as the senior United States Senator from South Carolina, a seat he has held since 2003.
1955 – Willie Wilson, American baseball player and manager. William Wilson, or variants, may refer to:
1953 – Thomas Ligotti, American author. The worldview espoused by Ligotti in his fiction and non-fiction is pessimistic and nihilistic.
1952 – John Tesh, American pianist, composer, and radio and television host. In addition, since 2014, he has hosted Intelligence for Your Life TV with his wife Connie Sellecca.
1951 – Chris Cooper, American actor. He also portrayed Sheriff July Johnson in the acclaimed miniseries Lonesome Dove, which became one of the most successful Westerns in history.
1947 – O. J. Simpson, American football player and actor. Orenthal James Simpson (born July 9, 1947), nicknamed "the Juice", is an American former football running back, broadcaster, actor, advertising spokesman, and convicted felon.
1945 – Dean Koontz, American author and screenwriter. Many of his books have appeared on The New York Times Best Seller list, with 14 hardcovers and 16 paperbacks reaching the number-one position.
1945 – Root Boy Slim, American singer-songwriter and guitarist (d. 1993), was the stage name assumed by American musician Foster MacKenzie III. He was born in Asheville, North Carolina but raised in Washington, D.C.'s Maryland suburbs.
1944 – John Cunniff, American ice hockey player and coach (d. 2002), was an American NHL hockey coach and former professional player who appeared in 65 World Hockey Association regular season games between 1972 and 1976. Cunniff was inducted into the United States Hockey Hall of Fame in 2003.
1943 – John Casper, American colonel, pilot, and astronaut. John Howard Casper (born July 9, 1943) is an American astronaut and United States Air Force pilot.
1942 – Richard Roundtree, American actor. For his performance in the original film, Roundtree was nominated for the Golden Globe Award for New Star of the Year – Actor in 1972.
1940 – David B. Frohnmayer, American lawyer and politician, 12th Oregon Attorney General (d. 2015), was an American attorney, politician, and university administrator from Oregon. He was the 15th president of the University of Oregon (UO), serving from 1994 to 2009.
1940 – Eugene Victor Wolfenstein, American psychoanalyst and theorist (d. 2010), was an American social theorist, practicing psychoanalyst, and a professor of political science at University of California, Los Angeles.
1938 – Brian Dennehy, American actor. He has had roles in numerous films including Gorky Park (1983), Silverado (1985), Cocoon (1985), F/X (1986), Presumed Innocent (1990), Romeo + Juliet (1996), and Knight of Cups (2015).
1936 – David Zinman, American violinist and conductor. David Zinman (born July 9, 1936 in New York City, United States) is an American conductor and violinist.
1936 – June Jordan, American poet and educator (d. 2002), was a Jamaican American self-identified bisexual+ poet, essayist, teacher, and activist. In her writing she explored issues of gender, race, immigration, and representation.
1934 – Michael Graves, American architect, designed the Portland Building and the Humana Building (d. 2015), was a noted American architect and designer of consumer products. As well as principal of Michael Graves and Associates and Michael Graves Design Group, he was of a member of The New York Five and the Memphis Group — and professor of architecture at Princeton University for nearly forty years.
1933 – Oliver Sacks, English-American neurologist, author, and academic (d. 2015), was a British neurologist, naturalist, historian of science, and author. Born in Britain, and mostly educated there, he spent his career in the United States.
1932 – Donald Rumsfeld, American captain and politician, 13th United States Secretary of Defense. Bush.
1931 – Haynes Johnson, American journalist and author (d. 2013), was an American journalist, author, and television analyst. He reported on most of the major news stories of the latter half of the 20th century and was widely regarded as one of the top American political commentators.
1930 – Buddy Bregman, American composer and conductor (d. 2017), was an American arranger and conductor.
1930 – Janice Lourie, American computer scientist and graphic artist. She is best known for inventing a set of software tools that facilitate the textile production stream from artist to manufacturer.
1929 – Jesse McReynolds, American singer and mandolin player. He is best known for his innovative crosspicking and split-string styles of mandolin playing.
1929 – Lee Hazlewood, American singer-songwriter and producer (d. 2007), was an American country and pop singer, songwriter, and record producer, most widely known for his work with guitarist Duane Eddy during the late 1950s and singer Nancy Sinatra in the 1960s.
1928 – Vince Edwards, American actor, singer, and director (d. 1996), was an American actor, director, and singer. He was best known for his TV role as doctor Ben Casey and as Major Cliff Bricker in the 1968 war film The Devil's Brigade.
1927 – Ed Ames, American singer and actor. He was also part of the popular 1950s singing group with his siblings, The Ames Brothers.
1926 – Ben Roy Mottelson, American-Danish physicist and academic, Nobel Prize laureate. He won the 1975 Nobel Prize in Physics for his work on the non-spherical geometry of atomic nuclei.
1926 – Murphy Anderson, American illustrator (d. 2015). Anderson, Jr. (July 9, 1926 – October 22, 2015) was an American comics artist, known as one of the premier inkers of his era, who worked for companies such as DC Comics for over fifty years, starting in the Golden Age of Comic Books in the 1940s.
1925 – Charles E. Wicks, American engineer, author, and academic (d. 2010). Charles Wicks is an Emeritus professor of chemical engineering at Oregon State University.
1921 – David C. Jones, American general (d. 2013), was a United States Air Force general and the ninth Chairman of the Joint Chiefs of Staff.
1915 – Lee Embree, American sergeant and photographer (d. 2008), was an American Army staff sergeant and photographer who took the first American air-to-air photographs of the Japanese attack on Pearl Harbor in 1941. Embree took the pictures of the attack from on board an Army Air Corps B-17 which he happened to be flying on from California to Hawaii on December 7, 1941 as the Japanese attacked the Pacific Fleet stationed at Pearl Harbor.
1911 – John Archibald Wheeler, American physicist and author (d. 2008), was an American theoretical physicist. He was largely responsible for reviving interest in general relativity in the United States after World War II.
1909 – Basil Wolverton, American author and illustrator (d. 1978), was an American cartoonist and illustrator known for his intricately detailed grotesques of bizarre or misshapen people. Wolverton was described as "Producer of Preposterous Pictures of Peculiar People who Prowl this Perplexing Planet." His many publishers included Marvel Comics and Mad magazine.
1908 – Minor White, American photographer, critic, and educator (d. 1976), was an American photographer, theoretician, critic and educator. He combined an intense interest in how people viewed and understood photographs with a personal vision that was guided by a variety of spiritual and intellectual philosophies.
1889 – Léo Dandurand, American-Canadian ice hockey player, coach, and referee (d. 1964), was a sportsman and businessman. He was the owner and coach of the Montreal Canadiens ice hockey team in the National Hockey League (NHL).
1887 – James Ormsbee Chapin, American-Canadian painter and illustrator (d. 1975), was an American painter and illustrator. He was the father of jazz musician Jim Chapin and grandfather of folk singer Harry Chapin.
1887 – Samuel Eliot Morison, American admiral and historian (d. 1976), was an American historian noted for his works of maritime history and American history that were both authoritative and popular. He received his Ph.D. from Harvard University in 1912, and taught history at the university for 40 years.
1858 – Franz Boas, German-American anthropologist and linguist (d. 1942), was a German-born American anthropologist and a pioneer of modern anthropology who has been called the "Father of American Anthropology". His work is associated with the movements known as Historical Particularism and Cultural Relativism.
1853 – William Turner Dannat, American painter (d. 1929), was an American artist known especially for paintings of Spanish subject matter.
1825 – A. C. Gibbs, American lawyer and politician, 2nd Governor of Oregon (d. 1886), was an American politician. He was the second Governor of Oregon from 1862 until 1866, and previously served in the Oregon Territory's legislative body and later the state legislature.
1819 – Elias Howe, American inventor, invented the sewing machine (d. 1867), was an American inventor best known for his creation of the modern lockstitch sewing machine.
1808 – Alexander William Doniphan, American lawyer and colonel (d. 1887), was a 19th-century American attorney, soldier and politician from Missouri who is best known today as the man who prevented the summary execution of Joseph Smith, founder of the Church of Jesus Christ of Latter-day Saints, at the close of the 1838 Mormon War in that state. He also achieved renown as a leader of American troops during the Mexican–American War, as the author of a legal code that still forms the basis of New Mexico's Bill of Rights, and as a successful defense attorney in the Missouri towns of Liberty, Richmond and Independence.
Deaths
2015 – Jim Bede, American aircraft designer (b. 1933)
2014 – Don Lenhardt, American baseball player and coach (b. 1922)
2014 – Eileen Ford, American businesswoman, co-founded Ford Models (b. 1922)
2013 – Toshi Seeger, American activist, co-founded the Clearwater Festival (b. 1922)
2012 – Chick King, American baseball player (b. 1930)
2012 – Shin Jae-chul, South Korean-American martial artist (b. 1936)
2011 – Don Ackerman, American basketball player (b. 1930)
2006 – Milan Williams, American keyboard player and producer (b. 1948)
2004 – Isabel Sanford, American actress (b. 1917)
2004 – Paul Klebnikov, American journalist and historian (b. 1963)
2002 – Mayo Kaan, American bodybuilder (b. 1914)
2002 – Rod Steiger, American actor (b. 1925)
1996 – Melvin Belli, American lawyer (b. 1907)
1992 – Eric Sevareid, American journalist (b. 1912)
1985 – Jimmy Kinnon, Scottish-American activist, founded Narcotics Anonymous (b. 1911)
1979 – Cornelia Otis Skinner, American actress and author (b. 1899)
1977 – Alice Paul, American activist (b. 1885)
1974 – Earl Warren, American jurist and politician, 14th Chief Justice of the United States (b. 1891)
1972 – Robert Weede, American opera singer (b. 1903)
1951 – Harry Heilmann, American baseball player and sportscaster (b. 1894)
1938 – Benjamin N. Cardozo, American lawyer and jurist (b. 1870)
1937 – Oliver Law, American commander (b. 1899)
1932 – King Camp Gillette, American businessman, founded the Gillette Company (b. 1855)
1856 – James Strang, American religious leader and politician (b. 1813)
1852 – Thomas McKean Thompson McKennan, American lawyer and politician, 2nd United States Secretary of the Interior (b. 1794)
1850 – Báb, Persian religious leader, founded Bábism (b. 1819)
1850 – Zachary Taylor, American general and politician, 12th President of the United States (b. 1784)
1766 – Jonathan Mayhew, American minister (b. 1720)
Traumatic Brain Injury Awareness Day in Ohio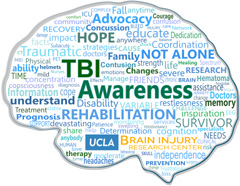 Traumatic brain injury (TBI), also known as intracranial injury, occurs when an external force traumatically injures the brain. TBI can be classified based on severity, m..→