Tuesday 9 July 2019 Calendar with holidays, observances and special days
Holidays and observances
Constitution Day (Australia)
Day of the Employees of the Diplomatic Service in Azerbaijan
National Sugar Cookie Day in USA
Nunavut Day (Canada)
Senior Citizens' Day in Kiribati
Events
2002 – The African Union is established in Addis Ababa, Ethiopia; its first chairman is Thabo Mbeki, President of South Africa.
1944 – American forces take Saipan, bringing the Japanese archipelago within range of B-29 raids, and causing the downfall of the Tojo government.
1918 – In Nashville, Tennessee, an inbound local train collides with an outbound express, killing 101 and injuring 171 people, making it the deadliest rail accident in United States history.
1893 – Daniel Hale Williams, American heart surgeon, performs 1st successful open-heart surgery in United States without anesthesia.
1868 – The 14th Amendment to the United States Constitution is ratified, guaranteeing African Americans full citizenship and all persons in the United States due process of law.
1815 – Charles Maurice de Talleyrand-Périgord becomes the first Prime Minister of France.
1810 – Napoleon annexes the Kingdom of Holland as part of the First French Empire.
1755 – The Braddock Expedition is soundly defeated by a smaller French and Native American force in its attempt to capture Fort Duquesne in what is now downtown Pittsburgh.
Births
1991 – Mitchel Musso, American singer and actor
1987 – Rebecca Sugar, American animator, composer, and screenwriter
1986 – Dominic Cervi, American soccer player
1986 – Kiely Williams, American singer-songwriter and dancer
1986 – Simon Dumont, American skier
1983 – Lucia Micarelli, American violinist and actress
1982 – Alecko Eskandarian, American soccer player and manager
1978 – Kara Goucher, American runner
1976 – Fred Savage, American actor, director, and producer
1975 – Isaac Brock, American singer-songwriter and guitarist
1975 – Jack White, American singer-songwriter, guitarist, and producer
1975 – Robert Koenig, American director, producer, and screenwriter
1975 – Shelton Benjamin, American wrestler
1973 – Enrique Murciano, American actor
1973 – Kelly Holcomb, American football player and sportscaster
1972 – Ara Babajian, American drummer and songwriter
1971 – Marc Andreessen, American software developer, co-founded Netscape
1970 – Trent Green, American football player and sportscaster
1967 – Mark Stoops, American football player and coach
1966 – Gary Glasberg, American television writer and producer (d. 2016)
1966 – Marco Pennette, American screenwriter and producer
1966 – Pamela Adlon, American actress and voice artist
1966 – Zheng Cao, Chinese-American soprano and actress (d. 2013)
1965 – Frank Bello, American bass player
1965 – Jason Rhoades, American sculptor (d. 2006)
1964 – Courtney Love, American singer-songwriter, guitarist, and actress
1959 – Kevin Nash, American wrestler
1957 – Kelly McGillis, American actress
1957 – Tim Kring, American screenwriter and producer
1956 – Michael Lederer, American author, poet, and playwright
1956 – Tom Hanks, American actor, director, producer, and screenwriter
1955 – Jimmy Smits, American actor and producer
1955 – Lindsey Graham, American colonel, lawyer, and politician
1955 – Willie Wilson, American baseball player and manager
1953 – Thomas Ligotti, American author
1952 – John Tesh, American pianist, composer, and radio and television host
1951 – Chris Cooper, American actor
1947 – O. J. Simpson, American football player and actor
1945 – Dean Koontz, American author and screenwriter
1945 – Root Boy Slim, American singer-songwriter and guitarist (d. 1993)
1944 – John Cunniff, American ice hockey player and coach (d. 2002)
1943 – John Casper, American colonel, pilot, and astronaut
1942 – Richard Roundtree, American actor
1940 – David B. Frohnmayer, American lawyer and politician, 12th Oregon Attorney General (d. 2015)
1940 – Eugene Victor Wolfenstein, American psychoanalyst and theorist (d. 2010)
1938 – Brian Dennehy, American actor
1936 – David Zinman, American violinist and conductor
1936 – June Jordan, American poet and educator (d. 2002)
1934 – Michael Graves, American architect, designed the Portland Building and the Humana Building (d. 2015)
1933 – Oliver Sacks, English-American neurologist, author, and academic (d. 2015)
1932 – Donald Rumsfeld, American captain and politician, 13th United States Secretary of Defense
1931 – Haynes Johnson, American journalist and author (d. 2013)
1930 – Buddy Bregman, American composer and conductor (d. 2017)
1930 – Janice Lourie, American computer scientist and graphic artist
1929 – Jesse McReynolds, American singer and mandolin player
1929 – Lee Hazlewood, American singer-songwriter and producer (d. 2007)
1928 – Vince Edwards, American actor, singer, and director (d. 1996)
1927 – Ed Ames, American singer and actor
1926 – Ben Roy Mottelson, American-Danish physicist and academic, Nobel Prize laureate
1926 – Murphy Anderson, American illustrator (d. 2015)
1925 – Charles E. Wicks, American engineer, author, and academic (d. 2010)
1921 – David C. Jones, American general (d. 2013)
1915 – David Diamond, American composer and educator (d. 2005)
1915 – Lee Embree, American sergeant and photographer (d. 2008)
1911 – John Archibald Wheeler, American physicist and author (d. 2008)
1909 – Basil Wolverton, American author and illustrator (d. 1978)
1908 – Minor White, American photographer, critic, and educator (d. 1976)
1907 – Eddie Dean, American singer-songwriter (d. 1999)
1889 – Léo Dandurand, American-Canadian ice hockey player, coach, and referee (d. 1964)
1887 – James Ormsbee Chapin, American-Canadian painter and illustrator (d. 1975)
1887 – Samuel Eliot Morison, American admiral and historian (d. 1976)
1858 – Franz Boas, German-American anthropologist and linguist (d. 1942)
1853 – William Turner Dannat, American painter (d. 1929)
1825 – A. C. Gibbs, American lawyer and politician, 2nd Governor of Oregon (d. 1886)
1819 – Elias Howe, American inventor, invented the sewing machine (d. 1867)
1808 – Alexander William Doniphan, American lawyer and colonel (d. 1887)
1686 – Philip Livingston, American merchant and politician (d. 1749)
1577 – Thomas West, 3rd Baron De La Warr, English-American soldier and politician, Colonial Governor of Virginia (d. 1618)
Deaths
2015 – Jim Bede, American aircraft designer (b. 1933)
2014 – Don Lenhardt, American baseball player and coach (b. 1922)
2014 – Eileen Ford, American businesswoman, co-founded Ford Models (b. 1922)
2013 – Barbara Robinson, American author and poet (b. 1927)
2013 – Toshi Seeger, American activist, co-founded the Clearwater Festival (b. 1922)
2012 – Chick King, American baseball player (b. 1930)
2012 – Shin Jae-chul, South Korean-American martial artist (b. 1936)
2011 – Don Ackerman, American basketball player (b. 1930)
2007 – Charles Lane, American actor (b. 1905)
2006 – Milan Williams, American keyboard player and producer (b. 1948)
2004 – Isabel Sanford, American actress (b. 1917)
2004 – Paul Klebnikov, American journalist and historian (b. 1963)
2002 – Mayo Kaan, American bodybuilder (b. 1914)
2002 – Rod Steiger, American actor (b. 1925)
1996 – Melvin Belli, American lawyer (b. 1907)
1992 – Eric Sevareid, American journalist (b. 1912)
1985 – Jimmy Kinnon, Scottish-American activist, founded Narcotics Anonymous (b. 1911)
1979 – Cornelia Otis Skinner, American actress and author (b. 1899)
1977 – Alice Paul, American activist (b. 1885)
1974 – Earl Warren, American jurist and politician, 14th Chief Justice of the United States (b. 1891)
1972 – Robert Weede, American opera singer (b. 1903)
1951 – Harry Heilmann, American baseball player and sportscaster (b. 1894)
1938 – Benjamin N. Cardozo, American lawyer and jurist (b. 1870)
1937 – Oliver Law, American commander (b. 1899)
1932 – King Camp Gillette, American businessman, founded the Gillette Company (b. 1855)
1927 – John Drew, Jr., American actor (b. 1853)
1856 – James Strang, American religious leader and politician (b. 1813)
1852 – Thomas McKean Thompson McKennan, American lawyer and politician, 2nd United States Secretary of the Interior (b. 1794)
1850 – Báb, Persian religious leader, founded Bábism (b. 1819)
1850 – Zachary Taylor, American general and politician, 12th President of the United States (b. 1784)
1766 – Jonathan Mayhew, American minister (b. 1720)
Tuesday 9 July 2019
Traumatic Brain Injury Awareness Day in Ohio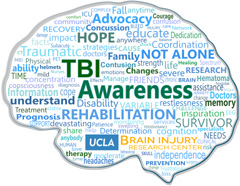 Traumatic brain injury (TBI), also known as intracranial injury, occurs when an external force traumatically injures the brain. TBI can be classified based on severity, m..→