Monday 10 July 2023 Calendar with holidays, observances and special days
Calendars
:
Career Holidays (Recognition Holidays)
,
US Holidays
,
Andorra
,
Bahamas
,
Brazil
,
El Salvador
,
Environmental Dates
,
Food holidays
,
Japan
,
Kiribati
,
Professional Engineers Day
,
Smart events
,
Spain
,
Unusual Holidays (Weird and Funny Holidays)
,
Wine holidays
,
Worldwide Holidays
Holidays and observances
Events
In 2017 NASA's Juno spacecraft obtains close-range images of Jupiter's red spot. Scientists from Stanford University publish evidence that a sixth mass extinction of life on Earth is already underway.
2007 – Erden Eruç begins the first solo human-powered circumnavigation of the world.
1991 – Boris Yeltsin takes office as the first elected President of Russia.
1976 – Four mercenaries (one American and three British) are executed in Angola following the Luanda Trial.
1962 – Telstar, the world's first communications satellite, is launched into orbit.
1947 – Muhammad Ali Jinnah is recommended as the first Governor-General of Pakistan by the British Prime Minister, Clement Attlee.
1942 – World War II: An American pilot spots a downed, intact Mitsubishi A6M Zero on Akutan Island (the "Akutan Zero") that the US Navy uses to learn the aircraft's flight characteristics.
1832 – U.S. President Andrew Jackson vetoes a bill that would re-charter the Second Bank of the United States.
1821 – The United States takes possession of its newly bought territory of Florida from Spain.
1806 – The Vellore Mutiny is the first instance of a mutiny by Indian sepoys against the British East India Company.
1778 – American Revolution: Louis XVI of France declares war on the Kingdom of Great Britain.
1499 – The Portuguese explorer Nicolau Coelho returns to Lisbon after discovering the sea route to India as a companion of Vasco da Gama.
Births
2001 – Isabela Moner, American actress. In film, she played Izabella in Transformers: The Last Knight (2017), Lizzy in Instant Family (2018), and Isabel in Sicario: Day of the Soldado (2018).
1988 – Antonio Brown, American football player. He played college football at Central Michigan University, where he earned All-American honors in 2008 and 2009 as a punt returner.
1988 – Heather Hemmens, American actress, director, and producer. Since 2014, Hemmens has starred as Marcie Holmes in the Oprah Winfrey Network series If Loving You Is Wrong.
1985 – B. J. Crombeen, American ice hockey player. J." Crombeen (born July 10, 1985) is an American-born Canadian former professional ice hockey right winger who last played for the Arizona Coyotes of the National Hockey League (NHL).
1982 – Alex Arrowsmith, American guitarist and producer. Alex Arrowsmith (born July 10, 1982) is a rock/pop musician from Portland, Oregon.
1982 – Juliya Chernetsky, Ukrainian-American television host. Juliya Chernetsky Denning (Ukrainian: Юлія Чернецька, Yulia Chernetska; born July 10, 1982), is a television personality best known for her popularity on the music-themed network Fuse, formerly known as MuchMusicUSA.
1980 – Adam Petty, American race car driver (d. 2000), was an American professional racing driver. He was the fourth generation from the Petty family to drive in races in the highest division of NASCAR racing.
1980 – James Rolfe, American actor, director, and producer. James Duncan Rolfe (born July 10, 1980) is an American actor, filmmaker, film/video game critic, and internet personality.
1980 – Jessica Simpson, American singer-songwriter, actress, and fashion designer. It sold over four million copies worldwide, and spawned the top three song "I Wanna Love You Forever" (1999).
1976 – Adrian Grenier, American actor, producer, and screenwriter. He starred in the films Drive Me Crazy, The Devil Wears Prada, and Trash Fire.
1976 – Elijah Blue Allman, American singer and guitarist. He is the half-brother of Chaz Bono, Delilah Allman, Michael Allman, Layla Allman, and Devon Allman.
1975 – Andrew Firestone, American businessman. He is the son of Brooks Firestone, a grandson of Leonard Firestone, and a great-grandson of Firestone Tire and Rubber Company founder Harvey Firestone and Idabelle Smith.
1975 – Brendan Gaughan, American race car driver. Gaughan is the grandson of Vegas gaming pioneer Jackie Gaughan and son of Michael Gaughan, a hotel and casino magnate.
1972 – Sofía Vergara, Colombian-American actress and producer. Sofía Margarita Vergara Vergara (Spanish: ; born July 10, 1972) is an American-Colombian actress, comedian, television producer, presenter and model.
1970 – Gary LeVox, American singer-songwriter. He is known for being the lead vocalist of the contemporary country pop trio Rascal Flatts, and his stage name was taken from the studio-console label for his lead-vocal track.
1969 – Marty Cordova, American baseball player. Martin Kevin Cordova (born July 10, 1969) is an American former professional baseball left fielder, who played in Major League Baseball (MLB) for the Minnesota Twins, Toronto Blue Jays, Cleveland Indians, and Baltimore Orioles.
1967 – John Yoo, South Korean-American lawyer, author, and educator. John Choon Yoo (born July 10, 1967) is a Korean-American legal scholar and former government official who is the Emanuel S.
1967 – Rebekah Del Rio, American singer-songwriter. She has a three-octave vocal range.
1966 – Johnny Grunge, American wrestler (d. 2006), was an American professional wrestler, better known by his ring name, Johnny Grunge. He is known for his appearances with Eastern/Extreme Championship Wrestling, World Championship Wrestling and the World Wrestling Federation as one-half of the tag team The Public Enemy with Rocco Rock.
1965 – Ken Mellons, American singer-songwriter and guitarist. Kenneth Edward Mellons (born July 10, 1965) is an American country music artist who released his self-titled debut album in 1994.
1965 – Scott McCarron, American golfer, was formerly a member of the PGA Tour but now plays on the PGA Tour Champions.
1964 – Urban Meyer, American football player and coach. As of 2019, he is still employed by Ohio State University, his job title being Assistant Athletics Director - Athletics Initiatives and Relations.
1959 – Ellen Kuras, American director and cinematographer. Ellen Kuras (born July 10, 1959 in New Jersey) is an American cinematographer whose body of work includes narrative and documentary films, music videos and commercials in both the studio and independent worlds.
1959 – Sandy West, American singer-songwriter and drummer (d. 2006), was an American musician, singer, songwriter and drummer. She was one of the founding members of the Runaways, the first teenage all-girl hard rock band to record and achieve widespread commercial success in the 1970s.
1958 – Béla Fleck, American banjo player and songwriter. An innovative and technically proficient banjo player, he is best known for his work with the bands New Grass Revival and Béla Fleck and the Flecktones.
1956 – Tom McClintock, American lawyer and politician. A member of the Republican Party, he previously served as an assemblyman and state senator.
1954 – Andre Dawson, American baseball player. Andre Nolan Dawson (born July 10, 1954), nicknamed "The Hawk" and "Awesome Dawson", is an American former professional baseball player and inductee into the Baseball Hall of Fame.
1954 – Tommy Bowden, American football player and coach. Tommy Pearce Bowden (born July 10, 1954) is an American football coach who served as the head coach at Clemson University from 1999 until October 13, 2008.
1951 – Cheryl Wheeler, American singer-songwriter and guitarist. Wheeler was born in Timonium, Maryland, where she attended Dulaney High School.
1949 – Greg Kihn, American singer-songwriter and guitarist. Gregory Stanley Kihn (born July 10, 1949) is an American rock musician, radio personality, and novelist.
1948 – Ronnie Cutrone, American painter (d. 2013), was an American pop artist known for his large-scale paintings of some of America's favorite cartoon characters, such as Felix the Cat, Pink Panther and Woody Woodpecker.
1947 – Arlo Guthrie, American singer-songwriter, producer, and actor. Guthrie's best-known work is his debut piece, "Alice's Restaurant Massacree", a satirical talking blues song about 18 minutes in length that has since become a Thanksgiving anthem.
1945 – Hal McRae, American baseball player and manager. Harold Abraham McRae (/məˈkreɪ/; born July 10, 1945) is a former left fielder in Major League Baseball who played for the Cincinnati Reds (1968, 1970–72) and Kansas City Royals (1973–87).
1945 – Ron Glass, American actor (d. 2016). He was best known for his roles as literary Det.
1943 – Arthur Ashe, American tennis player and journalist (d. 1993), was an American professional tennis player who won three Grand Slam titles.
1943 – Jerry Miller, American singer-songwriter and guitarist. He is also a founding member of the 1960s San Francisco band Moby Grape, which continues to perform occasionally.
1942 – Ronnie James Dio, American singer-songwriter and producer (d. 2010), was an American heavy metal singer-songwriter and composer, and was also known for popularizing the sign of the horns in heavy metal. He fronted or founded numerous groups throughout his career, including Elf, Rainbow, Black Sabbath, Dio, and Heaven & Hell.
1942 – Sixto Rodriguez, American singer-songwriter and guitarist. Because of scarce information about Rodriguez, it was incorrectly rumored there that he had committed suicide shortly after releasing his first album.
1941 – David G. Hartwell, American anthologist, author, and critic (d. 2016), was an American critic, publisher, and editor of thousands of science fiction and fantasy novels. He was best known for work with Signet, Pocket, and Tor Books publishers.
1941 – Robert Pine, American actor and director. Joseph Getraer on the television series CHiPs (1977–1983).
1940 – Helen Donath, American soprano and actress. Helen Jeanette Donath (née Erwin; born July 10, 1940) is an American soprano with a career spanning fifty years.
1939 – Mavis Staples, American singer. Mavis Staples (born July 10, 1939) is an American rhythm and blues and gospel singer, actress, and civil rights activist.
1938 – Lee Morgan, American trumpet player and composer (d. 1972), was an American jazz trumpeter and composer.
1937 – Edwards Barham, American farmer and politician (d. 2014). Erle West Barham Amy Barham Westbrook
1936 – Herbert Boyer, American businessman, co-founded Genentech. Herbert Wayne "Herb" Boyer (born July 10, 1936) is a researcher and entrepreneur in biotechnology.
1935 – Tura Satana, American actress and dancer (d. 2011), was a Japanese American actress, vedette and exotic dancer. From 13 film and television credits, some of her work includes the exploitation film Faster, Pussycat! Kill! Kill! (1965), and the science fiction horror film The Astro-Zombies (1968).
1934 – Jerry Nelson, American puppeteer and voice actor (d. 2012). Nelson (July 10, 1934 – August 23, 2012) was an American puppeteer, singer, and musician, best known for his work with The Muppets.
1933 – Jumpin' Gene Simmons, American rockabilly singer-songwriter (d. 2006), was an American rockabilly singer and songwriter, best known for his 1964 novelty single "Haunted House".
1931 – Jerry Herman, American composer and songwriter, was an American composer and lyricist, known for his work in Broadway musical theater. He composed the scores for the hit Broadway musicals Hello, Dolly!, Mame, and La Cage aux Folles.
1931 – Julian May, American author, was an American science fiction, fantasy, horror, science and children's writer who also used several literary pseudonyms. She was best known for her Saga of Pliocene Exile (Saga of the Exiles in the United Kingdom) and Galactic Milieu Series books.
1929 – George Clayton Johnson, American author and screenwriter (d. 2015), was an American science fiction writer, best known for co-writing with William F. Nolan the novel Logan's Run, the basis for the MGM 1976 film.
1928 – Alejandro de Tomaso, Argentinian-Italian race car driver and businessman, founded De Tomaso (d. 2003), was a racing driver and businessman from Argentina. His name is sometimes seen in an Italianised form as Alessandro de Tomaso.
1928 – Don Bolles, American investigative reporter (d. 1976), was an American investigative reporter for The Arizona Republic whose murder in a car bombing has been linked to his coverage of the Mafia, especially the Chicago Outfit.
1928 – Moshe Greenberg, American-Israeli rabbi and scholar (d. 2010), was an American rabbi, Bible scholar, and professor emeritus of the Hebrew University of Jerusalem.
1927 – David Dinkins, American soldier and politician, 106th Mayor of New York City. He was the first and, to date, the only African American to hold that office.
1926 – Fred Gwynne, American actor (d. 1993), was an American actor, artist and author. Gwynne was best known for his roles in the 1960s sitcoms Car 54, Where Are You? and as Herman Munster in The Munsters, as well as his later roles in The Cotton Club, Pet Sematary (playing Jud Crandall) and My Cousin Vinny.
1924 – Bobo Brazil, American wrestler (d. 1998), was an American professional wrestler, better known by his ring name Bobo Brazil. Credited with breaking down barriers of racial segregation in professional wrestling, Harris is considered one of the first successful African-American professional wrestlers.
1924 – Johnny Bach, American basketball player and coach (d. 2016), was an American professional basketball player and coach. A forward/guard, Bach played college basketball at Fordham University and Brown University.
1922 – Jake LaMotta, American boxer and actor (d. 2017), was an American professional boxer, world middleweight champion, and stand-up comedian. Nicknamed "The Bronx Bull" or "Raging Bull", LaMotta was a rough fighter who was not a particularly big puncher, but he would subject his opponents to vicious beatings in the ring.
1922 – Jean Kerr, American author and playwright (d. 2003), was an Irish-American author and playwright born in Scranton, Pennsylvania, and best known for her humorous bestseller Please Don't Eat the Daisies as well as the plays King of Hearts and Mary, Mary.
1921 – Eunice Kennedy Shriver, American activist, co-founded the Special Olympics (d. 2009), was an American philanthropist and a member of the Kennedy family. Shriver is known as the founder of the Special Olympics, a sports organization for persons with physical and intellectual disabilities.
1921 – Harvey Ball, American illustrator, created the Smiley (d. 2001), was an American commercial artist. He is recognized as the designer of a popular smiley graphic picture, which became an enduring and notable international icon.
1921 – Jeff Donnell, American actress (d. 1988), was an American film and television actress.
1920 – David Brinkley, American journalist (d. 2003), was an American newscaster for NBC and ABC in a career lasting from 1943 to 1997.
1920 – Owen Chamberlain, American physicist and academic, Nobel Prize laureate (d. 2006), was an American physicist, and Nobel laureate in physics for his discovery, with collaborator Emilio Segrè, of the antiproton, a sub-atomic antiparticle.
1918 – Chuck Stevens, American major baseball, was a first baseman in Major League Baseball who played for the St. Louis Browns in parts of three seasons (1941, 1946, 1948).
1918 – Fred Wacker, American race driver and engineer (d. 1998). Wacker Jr. (July 10, 1918 Chicago – June 16, 1998) was an engineer and former president of two large Chicago companies.
1914 – Joe Shuster, Canadian-American illustrator, co-created Superman (d. 1992), was a Canadian-American comic book artist best known for co-creating the DC Comics character Superman, with writer Jerry Siegel, in Action Comics #1 (cover-dated June 1938).
1911 – Cootie Williams, American trumpeter and bandleader (d. 1985), was an American jazz, jump blues, and rhythm and blues trumpeter.
1907 – Blind Boy Fuller, American singer and guitarist (d. 1941), was an American blues guitarist and singer. Fuller was one of the most popular of the recorded Piedmont blues artists with rural African Americans along with Blind Blake, Josh White, and Buddy Moss.
1905 – Mildred Benson, American journalist and author (d. 2002), was an American journalist and author of children's books. She wrote some of the earliest Nancy Drew mysteries and created the detective's adventurous personality.
1905 – Thomas Gomez, American actor (d. 1971). Born Sabino Thomas Gomez, Jr., in New York City, Gomez began his acting career in theater during the 1920s and was a student of the actor Walter Hampden.
1904 – Lili Damita, French-American actress (d. 1994), was a French-American actress and singer who appeared in 33 films between 1922 and 1937.
1900 – Mitchell Parish, Lithuanian-American songwriter (d. 1993), was an American lyricist.
1897 – Legs Diamond, American gangster (d. 1931), was an Irish American gangster in Philadelphia and New York City during the Prohibition era. A bootlegger and close associate of gambler Arnold Rothstein, Diamond survived a number of attempts on his life between 1916 and 1931, causing him to be known as the "clay pigeon of the underworld". In 1930, Diamond's nemesis Dutch Schultz remarked to his own gang, "Ain't there nobody that can shoot this guy so he don't bounce back?"
1894 – Jimmy McHugh, American composer (d. 1969). One of the most prolific songwriters from the 1920s to the 1950s, he is credited with over 500 songs.
1891 – Edith Quimby, American medical researcher and physicist (d. 1982), was an American medical researcher and physicist, best known as one of the founders of nuclear medicine. Her work involved developing diagnostic and therapeutic applications of X-rays.
1882 – Ima Hogg, American society leader, philanthropist, patron and collector of the arts (d. 1975), was an American society leader, philanthropist, patron and collector of the arts, and one of the most respected women in Texas during the 20th century. Hogg was an avid art collector, and owned works by Picasso, Klee, and Matisse, among others.
1875 – Mary McLeod Bethune, American educator and activist (d. 1955), was an American educator, stateswoman, philanthropist, humanitarian, and civil rights activist best known for starting a private school for African-American students in Daytona Beach, Florida and co-founding UNCF on April 25, 1944 with William Trent and Frederick D. Patterson.
1856 – Nikola Tesla, Serbian-American physicist and engineer (d. 1943), was a Serbian-American inventor, electrical engineer, mechanical engineer, and futurist who is best known for his contributions to the design of the modern alternating current (AC) electricity supply system.
1839 – Adolphus Busch, German brewer, co-founded Anheuser-Busch (d. 1913), was the German-born co-founder of Anheuser-Busch with his father-in-law, Eberhard Anheuser. He introduced numerous innovations, building the success of the company in the late 19th and early 20th centuries.
1834 – James Abbott McNeill Whistler, American-English painter and illustrator (d. 1903), was an American artist active during the American Gilded Age and based primarily in the United Kingdom. He was averse to sentimentality and moral allusion in painting, and a leading proponent of the credo "art for art's sake".
1832 – Alvan Graham Clark, American astronomer (d. 1897), was an American astronomer and telescope-maker.
1804 – Emma Smith, American religious leader (d. 1879), was the first wife of Joseph Smith and a leader in the early days of the Latter Day Saint movement, both during Joseph's lifetime and afterward as a member of the Reorganized Church of Jesus Christ of Latter Day Saints (RLDS Church). In 1842, when the Ladies' Relief Society of Nauvoo was formed as a women's service organization, she was elected by its members as the organization's first president.
1792 – George M. Dallas, American lawyer and politician, 11th Vice President of the United States (d. 1864), was an American politician and diplomat who served as mayor of Philadelphia from 1828 to 1829 and as the 11th vice president of the United States from 1845 to 1849.
Deaths
2015 – Roger Rees, Welsh-American actor and director (b. 1944)
2014 – Gloria Schweigerdt, American baseball player (b. 1934)
2014 – Juozas Kazickas, Lithuanian-American businessman and philanthropist (b. 1918)
2014 – Paul G. Risser, American ecologist and academic (b. 1939)
2014 – Robert C. Broomfield, American lawyer and judge (b. 1933)
2013 – Caroline Duby Glassman, American lawyer and jurist (b. 1922)
2013 – Philip Caldwell, American businessman (b. 1920)
2012 – Peter Kyros, American lawyer and politician (b. 1925)
2008 – Hiroaki Aoki, Japanese-American wrestler and businessman, founded Benihana (b. 1938)
2008 – Mike Souchak, American golfer (b. 1927)
2007 – Doug Marlette, American cartoonist and author (b. 1949)
2004 – Pati Behrs, Russian-American ballerina and actress (b. 1922)
2002 – Laurence Janifer, American author (b. 1933)
1993 – Ruth Krauss, American author and poet (b. 1901)
1993 – Sam Rolfe, American screenwriter and producer (b. 1924)
1989 – Mel Blanc, American voice actor (b. 1908)
1980 – Joseph Krumgold, American author and screenwriter (b. 1908)
1979 – Arthur Fiedler, American conductor (b. 1894)
1978 – John D. Rockefeller III, American businessman and philanthropist, founded the Asia Society (b. 1906)
1972 – Lovie Austin, American pianist, composer, and bandleader (b. 1887)
1971 – George Kenner, German-American painter and illustrator (b. 1888)
1956 – Joe Giard, American baseball player (b. 1898)
1950 – Richard Maury, American-Argentinian engineer (b. 1882)
1941 – Jelly Roll Morton, American pianist, composer, and bandleader (b. 1890)
1908 – Phoebe Knapp, American organist and composer (b. 1839)
1884 – Paul Morphy, American chess player (b. 1837)
1863 – Clement Clarke Moore, American author and educator (b. 1779)
1851 – Louis Daguerre, French photographer and physicist, invented the daguerreotype (b. 1787)
Ohio Aggregates and Industrial Minerals Awareness Week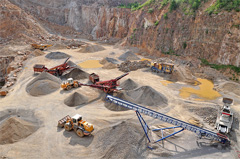 Aggregate is the component of a composite material that resists compressive stress and provides bulk to the composite material. For efficient filling, aggregate should be..→