Tuesday 26 September 2023 Calendar with holidays, observances and special days
Calendars
:
Environmental Dates
,
Health Calendar
,
US Holidays
,
United Nations Holidays
,
Worldwide Holidays
,
Argentina
,
Career Holidays (Recognition Holidays)
,
Ecuador
,
Food holidays
,
Jamaica
,
Mexico
,
New Zealand
,
Unusual Holidays (Weird and Funny Holidays)
Holidays and observances
Events
2008 – Swiss pilot and inventor Yves Rossy becomes first person to fly a jet engine-powered wing across the English Channel.
1983 – Soviet nuclear false alarm incident: Military officer Stanislav Petrov identifies a report of an incoming nuclear missile as a computer error and not an American first strike.
1973 – Concorde makes its first non-stop crossing of the Atlantic in record-breaking time.
1969 – Abbey Road, the last recorded album by The Beatles, is released.
1960 – In Chicago, the first televised debate takes place between presidential candidates Richard M. Nixon and John F. Kennedy.
1918 – World War I: The Meuse-Argonne Offensive, the bloodiest single battle in American history, begins.
1914 – The United States Federal Trade Commission (FTC) is established by the Federal Trade Commission Act.
1905 – Albert Einstein publishes his first paper on the special theory of relativity.
1789 – Thomas Jefferson is appointed the first United States Secretary of State, John Jay is appointed the first Chief Justice of the United States, Samuel Osgood is appointed the first United States Postmaster General, and Edmund Randolph is appointed the first United States Attorney General.
1777 – American Revolution: British troops occupy Philadelphia.
Births
1994 – Jack Conger, American swimmer. John "Jack" Conger (born September 26, 1994) is an American competition swimmer who specializes in the backstroke, butterfly, and freestyle, and is a one-time Olympic gold medalist.
1993 – Michael Kidd-Gilchrist, American basketball player. Michael Anthony Edward Kidd-Gilchrist (né Kidd; born September 26, 1993) is an American professional basketball player for the Charlotte Hornets of the National Basketball Association (NBA).
1984 – Nev Schulman, American photographer, television host, and producer. He is best known for the 2010 documentary film Catfish and the follow up TV series Catfish: The TV Show on MTV of which he is the host and executive producer.
1983 – D'Qwell Jackson, American football player. D'Qwell Jackson (/dəˈkwɛl/; born September 26, 1983) is a former American football inside linebacker who played eleven seasons in the National Football League (NFL).
1981 – Christina Milian, American singer-songwriter, dancer, and actress. In 2001, Milian released her self-titled debut album, which featured the singles "AM to PM" and "When You Look at Me"; "AM to PM" charted within the Top 40 of the U.S.
1981 – Serena Williams, American tennis player. The Women's Tennis Association (WTA) ranked her world No. 1 in singles on eight separate occasions between 2002 and 2017.
1980 – Brooks Orpik, American ice hockey player. Orpik has won the Stanley Cup twice: in 2009 with Pittsburgh and in 2018 with Washington.
1979 – Jaycie Phelps, American gymnast. Jaycie Lynn Phelps (born September 26, 1979 in Greenfield, Indiana, United States) is a retired American Olympic gymnast and member of the 1996 Olympic gold medal U.S. women's gymnastics team, the Magnificent Seven.
1975 – Jake Paltrow, American director and screenwriter. Coming from a family of actors, he is the younger brother of Gwyneth Paltrow and the son of Bruce Paltrow and Blythe Danner.
1973 – Julienne Davis, American actress, producer, and screenwriter. She was born in Los Angeles, California.
1973 – Marty Casey, American singer-songwriter and guitarist. Casey made it to the final two of the competition, finishing as the runner-up to winner J.D.
1972 – Ras Kass, American rapper and producer. John Austin IV (born September 26, 1973), better known by his stage name Ras Kass, is an American rapper.
1972 – Shawn Stockman, American singer. Shawn Patrick Stockman (born September 26, 1972) is an American singer, songwriter and record producer, best known as a member of the vocal group Boyz II Men.
1970 – Sheri Moon Zombie, American actress and fashion designer. Sheri Moon Zombie (born Sheri Lyn Skurkis; September 26, 1970) is an American actress, model, dancer and fashion designer.
1968 – Jim Caviezel, American actor. Caviezel is known for his portrayal of Jesus Christ in the film The Passion of the Christ (2004) and for his starring role as John Reese on the CBS science-fiction crime drama series Person of Interest (2011-2016).
1967 – Craig Janney, American ice hockey player. Craig Harlan Janney (born September 26, 1967) is an American former professional ice hockey center who played twelve seasons in the National Hockey League from 1987–88 until 1998–99, when blood clots ended his career prematurely.
1967 – Shannon Hoon, American singer-songwriter and guitarist (d. 1995), was an American singer-songwriter and musician. He was the lead singer of the band Blind Melon from 1990 until his death in 1995.
1966 – Craig Heyward, American football player (d. 2006), was an American football fullback who played for the New Orleans Saints, Chicago Bears, Atlanta Falcons, St. Louis Rams, and Indianapolis Colts in an 11-year National Football League (NFL) career.
1966 – Dean Butterworth, English-American drummer. Dean Butterworth is a British-American drummer who is noted for working with English singer Morrissey, in 2005 became the drummer for American band Good Charlotte after they parted with their previous drummer, Chris Wilson, and in 2016 became the permanent drummer for American pop rock band Sugar Ray.
1964 – Dave Martinez, American baseball player and coach. David Martinez (born September 26, 1964) is an American professional baseball coach and former outfielder who is the manager for the Washington Nationals of Major League Baseball (MLB).
1964 – John Tempesta, American drummer. John Joseph Tempesta (born September 26, 1964 in New York City) is an American drummer known for his work in hard rock and heavy metal.
1963 – Joe Nemechek, American race car driver. He won the 1992 NASCAR Busch Series championship.
1962 – Al Pitrelli, American guitarist and songwriter. Al Pitrelli (born September 26, 1962) is an American guitarist, best known for his work with the Trans-Siberian Orchestra, Megadeth, Alice Cooper, Joe Lynn Turner, Asia and Savatage.
1962 – Melissa Sue Anderson, American-Canadian actress. Anderson is known for her role as Mary Ingalls on the NBC drama series Little House on the Prairie, on which she starred from 1974 until 1981.
1961 – Cindy Herron, American singer-songwriter and actress. Cynthia Ann Herron (born September 26, 1961), professionally known as Cindy Herron and sometimes credited as Cindy Herron–Braggs is an American singer–songwriter, model and actress.
1960 – Doug Supernaw, American country music singer-songwriter and guitarist. After several years performing as a local musician throughout the state of Texas, he signed with BNA Records in 1993.
1959 – Rich Gedman, American baseball player and coach. Louis Cardinals (1991–1992).
1958 – Darby Crash, American singer-songwriter (d. 1980), was an American punk rock vocalist and songwriter who, along with longtime friend Pat Smear (born Georg Ruthenberg), co-founded the punk rock band the Germs. He committed suicide by way of an intentional heroin overdose.
1958 – Richard B. Weldon, Jr., American sailor and politician, was a member of the Maryland House of Delegates representing Maryland District 3B, which then included parts of Frederick and Washington County, Maryland. He defeated Lisa Baugher in 2002 for the new 3B district.
1958 – Robert Kagan, Greek-American historian and author. Kagan, however prefers the term "liberal interventionist" to describe himself.
1957 – Bob Staake, American author and illustrator. Bob Staake /ˈstæk/ STAK (born September 26, 1957 in Los Angeles) is an American illustrator, cartoonist, children's book author and designer.
1957 – Michael Dweck, American photographer and director. Michael Dweck (born September 26, 1957) is an American visual artist and filmmaker.
1956 – Linda Hamilton, American actress. She also starred as Vicky Baxter in the horror film Children of the Corn (1984), Doctor Amy Franklin in the monster film King Kong Lives (1986), and Mayor Rachel Wando in the disaster thriller film Dante's Peak (1997).
1956 – Steve Butler, American race car driver and engineer. Steve Butler (born September 26, 1956, in Amarillo, Texas) won six national driving championships in USAC Sprint Car and Silver Crown open-wheel racing.
1955 – Carlene Carter, American singer-songwriter and guitarist. She is the daughter of June Carter and her first husband, Carl Smith.
1954 – Cesar Rosas, Mexican-American singer-songwriter and guitarist. Rosas also participates in the Latin supergroup Los Super Seven.
1954 – Craig Chaquico, American guitarist. Craig Chaquico or Chaquiço (/tʃəˈkiːsoʊ/ chə-KEE-soh; born September 26, 1954) is an American guitarist, songwriter, composer, and record producer, of Portuguese descent.
1953 – Douglas A. Melton, American biologist and academic. Melton is the Xander University Professor at Harvard University, and an investigator at the Howard Hughes Medical Institute.
1949 – Jane Smiley, American novelist. She won the Pulitzer Prize for Fiction in 1992 for her novel A Thousand Acres (1991).
1947 – Dick Roth, American swimmer. Richard William Roth (born September 26, 1947) is an American former competition swimmer, Olympic champion, and former world record-holder in two events.
1947 – Lynn Anderson, American singer and actress (d. 2015), was an American country music singer known for a string of hits from the late 1960s to the 1980s, most notably her worldwide mega-hit "Rose Garden" (1970). Anderson's crossover appeal and regular exposure on national television helped her become country music's first mainstream female superstar in the early 1970s; taking the genre to venues around the world that previously had not been receptive.
1946 – Andrea Dworkin, American activist and author (d. 2005), was an American radical feminist and writer best known for her criticism of pornography, which she argued was linked to rape and other forms of violence against women. Her views were widely criticized by liberal feminists and others.
1946 – Christine Todd Whitman, American politician, 50th Governor of New Jersey, was the Administrator of the Environmental Protection Agency in the administration of President George W. Bush from 2001 to 2003.
1946 – Louise Simonson, American author. Louise Simonson (born Mary Louise Alexander; born September 26, 1946) is an American comic book writer and editor.
1944 – Jan Brewer, American politician, 22nd Governor of Arizona. Brewer became governor of Arizona as part of the line of succession, as determined by the Arizona Constitution, when Governor Janet Napolitano resigned to become secretary of Homeland Security.
1942 – Gloria E. Anzaldúa, American scholar of Chicana cultural theory (d. 2004), was an American scholar of Chicana cultural theory, feminist theory, and queer theory. She loosely based her best-known book, Borderlands/La Frontera: The New Mestiza, on her life growing up on the Mexico–Texas border and incorporated her lifelong experiences of social and cultural marginalization into her work.
1942 – Kent McCord, American actor. Kent Franklin McWhirter (born September 26, 1942), known by his stage name Kent McCord, is an American actor, best known for his role as Officer Jim Reed on the television series Adam-12.
1941 – David Frizzell, American country music singer-songwriter and guitarist. His career first started in the late 1950s, but his biggest success came in the 1980s, 30 years into his career.
1937 – Jerry Weintraub, American film producer and agent (d. 2015), was an American film producer, talent manager and actor whose television films won him three Emmys.
1936 – Leroy Drumm, American sailor and songwriter (d. 2010), was an American bluegrass/country music songwriter who served in the United States Navy, in the 3rd Division as a sonar man aboard the USS Soley (DD-707), an Allen M. Sumner-class destroyer and deployed to the Mediterranean from July 1956 to February 1957.
1936 – Winnie Madikizela-Mandela, South African academic and politician, 8th First Lady of South Africa, was a South African anti-apartheid activist and politician, and the second wife of Nelson Mandela. She served as a Member of Parliament from 1994 to 2003, and from 2009 until her death, and was a deputy minister of arts and culture from 1994 to 1996.
1935 – Lou Myers, American actor (d. 2013), was a cartoonist and short story writer.
1932 – Donna Douglas, American actress (d. 2015), was an American actress and singer, known for her role as Elly May Clampett on The Beverly Hillbillies (1962–1971). Following her acting career, Douglas became a real estate agent, gospel singer, inspirational speaker, and author of books for children and adults.
1932 – Joyce Jameson, American actress (d. 1987), was an American actress, known for many television roles, including recurring guest appearances as Skippy, one of the "fun girls" in the 1960s television series The Andy Griffith Show as well as "the Blonde" in the Academy Award-winning The Apartment (1960).
1931 – Kenneth Parnell, American sex offender (d. 2008), was an American convicted sex offender infamously known for perpetrating the kidnappings of seven year-old Steven Stayner and five year-old Timothy White in Merced, California.
1930 – Philip Bosco, American actor. He was known for his Tony Award-winning performance as Saunders in the 1989 Broadway production of Lend Me a Tenor, and for his starring role in the 2007 film The Savages.
1928 – Wilford White, American football player (d. 2013), was an American football running back in the National Football League for the Chicago Bears. He also was a member of the Toronto Argonauts in the Canadian Football League.
1927 – Patrick O'Neal, American actor (d. 1994). Patrick O'Neal is the name of:
1927 – Robert Cade, American physician and educator, co-invented Gatorade (d. 2007), was an American physician, university professor, research scientist and inventor. Cade, a native of Texas, earned his bachelor and medical degrees at the University of Texas, and became a professor of medicine and nephrology at the University of Florida.
1926 – Julie London, American singer and actress (d. 2000), was an American singer and actress, whose career spanned more than 40 years. Born in Santa Rosa, California to vaudevillian parents, London was discovered while working as an elevator operator in downtown Los Angeles, and began her career as an actress.
1925 – Marty Robbins, American singer-songwriter, guitarist, actor, and race car driver (d. 1982), was an American singer, songwriter, actor, multi-instrumentalist, and NASCAR racing driver, and was one of the most popular and successful country and western singers of all-time for most of his near four-decade career, Robbins often topped the country music charts, and several of his songs also had crossover success as pop hits.
1925 – Norm Dussault, American-Canadian ice hockey player (d. 2012), was a professional ice hockey player who played 206 games in the National Hockey League.
1924 – Jean Hoerni, Swiss physicist, inventor and businessman (d. 1997), was a Swiss-American engineer. He was a silicon transistor pioneer, and a member of the "traitorous eight".
1919 – Barbara Britton, American actress (d. 1980), was an American film and television actress. She is best known for her Western film roles opposite Randolph Scott, Joel McCrea, and Gene Autry and for her two-year tenure as inquisitive amateur sleuth Pam North on the television and radio series Mr. and Mrs.
1918 – Eric Morley, English businessman and television host, founded the Miss World (d. 2000), was a British TV host and the founder of the Miss World pageant and Come Dancing TV programme. His widow, Julia Morley, is now head of the pageant and his son Steve Douglas is one of its presenters.
1914 – Jack LaLanne, American fitness expert (d. 2011), was an American fitness, exercise, and nutrition expert and motivational speaker who is sometimes referred to as the "Godfather of Fitness" and the "First Fitness Superhero". He described himself as being a "sugarholic" and a "junk food junkie" until he was age 15.
1913 – Dorothy Sloop, American pianist and educator (d. 1998), was an American jazz pianist who performed with female jazz bands. A native of Ohio, her nickname was Sloopy, and she was likely the inspiration behind the song "Hang On Sloopy" by the rock band The McCoys.
1913 – Frank Brimsek, American ice hockey player (d. 1998). Zero" Brimsek (September 26, 1915 – November 11, 1998) was an American professional ice hockey goaltender who played ten seasons in the National Hockey League (NHL) for the Boston Bruins and Chicago Black Hawks.
1911 – Al Helfer, American sportscaster (d. 1975), was an American radio sportscaster.
1909 – A. P. Hamann, American lieutenant, lawyer, and politician (d. 1977). Hamann (September 26, 1909 – March 27, 1977), better known as A.
1907 – Shug Fisher, American singer-songwriter, musician, actor, and comedian (d. 1984), was an American character actor, singer, songwriter, musician and comedian. During a 50-year career, he appeared in many Western films, often as a member of the Sons of the Pioneers in Roy Rogers serials.
1901 – George Raft, American actor, singer, and dancer (d. 1980), was an American film actor and dancer identified with portrayals of gangsters in crime melodramas of the 1930s and 1940s. A stylish leading man in dozens of movies, Raft is remembered for his gangster roles in Scarface (1932), Each Dawn I Die (1939), and Billy Wilder's comedy Some Like It Hot (1959), as a dancer in Bolero (1934), and a truck driver in They Drive by Night (1940).
1901 – Ted Weems, American bandleader and musician (d. 1963). Weems' work in music was recognized with a star on the Hollywood Walk of Fame.
1898 – George Gershwin, American pianist and composer (d. 1937), was an American composer and pianist whose compositions spanned both popular and classical genres. Among his best-known works are the orchestral compositions Rhapsody in Blue (1924) and An American in Paris (1928), the songs Swanee (1919) and Fascinating Rhythm (1924), the jazz standard I Got Rhythm (1930), and the opera Porgy and Bess (1935) which spawned the hit Summertime.
1894 – Gladys Brockwell, American actress (d. 1929). Lindeman, September 26, 1894 – July 2, 1929) was an American actress whose career began during the silent film era.
1892 – Robert Staughton Lynd, American sociologist and academic (d. 1970), was an American sociologist and professor at Columbia University, New York City. He is best known for conducting the first Middletown studies of Muncie, Indiana, with his wife, Helen Lynd; as the coauthor of Middletown: A Study in Contemporary American Culture (1929) and Middletown in Transition: A Study in Cultural Conflicts (1937); and a pioneer in the use of social surveys.
1888 – J. Frank Dobie, American journalist and author (d. 1964), was an American folklorist, writer, and newspaper columnist best known for his many books depicting the richness and traditions of life in rural Texas during the days of the open range. As a public figure, he was known in his lifetime for his outspoken liberal views against Texas state politics, and carried out a long, personal war against what he saw as braggart Texans, religious prejudice, restraints on individual liberty, and an assault by the mechanized world on the human spirit.
1887 – Antonio Moreno, Spanish-American actor and director (d. 1967), was a Spanish-born American actor and film director of the silent film era and through the 1950s.
1887 – Barnes Wallis, English scientist and engineer, invented the Bouncing bomb (d. 1979), was an English scientist, engineer and inventor. He is best known for inventing the bouncing bomb used by the Royal Air Force in Operation Chastise (the "Dambusters" raid) to attack the dams of the Ruhr Valley during World War II.
1881 – Hiram Wesley Evans, American Ku Klux Klan leader (d. 1966), was the Imperial Wizard of the Ku Klux Klan, an American white supremacist group, from 1922 to 1939. A native of Alabama, Evans attended Vanderbilt University and became a dentist.
1876 – Edith Abbott, American economist, social worker, and author (d. 1957), was an American economist, statistician, social worker, educator, and author. Abbott was born in Grand Island, Nebraska.
1875 – Edmund Gwenn, English-American actor and singer (d. 1959), was an English actor. On film, he is perhaps best remembered for his role as Kris Kringle in the Christmas film Miracle on 34th Street (1947), for which he won the Academy Award for Best Supporting Actor and the corresponding Golden Globe Award.
1874 – Lewis Hine, American photographer and activist (d. 1940), was an American sociologist and photographer. Hine used his camera as a tool for social reform.
1872 – Max Ehrmann, American poet and lawyer (d. 1945), was an American writer, poet, and attorney from Terre Haute, Indiana, widely known for his 1927 prose poem "Desiderata" (Latin: "things desired"). He often wrote on spiritual themes.
1867 – Winsor McCay, American illustrator and animator (d. 1934), was an American cartoonist and animator. He is best known for the comic strip Little Nemo (1905–14; 1924–26) and the animated film Gertie the Dinosaur (1914).
1848 – Henry Walters, American art collector and philanthropist (d. 1931), was noted as an art collector and philanthropist, a founder of the Walters Art Gallery (now the Walters Art Museum) in Baltimore, Maryland, which he donated to the city in his 1931 will for the benefit of the public. From the late 19th century, Walters lived most of the time in New York City, where from 1903 on, he served on the executive committee of the Metropolitan Museum of Art in Manhattan on Fifth Avenue.
1774 – Johnny Appleseed, American gardener and environmentalist (d. 1845), was an American pioneer nurseryman who introduced apple trees to large parts of Pennsylvania, Ontario, Ohio, Indiana, and Illinois, as well as the northern counties of present-day West Virginia. He became an American legend while still alive, due to his kind, generous ways, his leadership in conservation, and the symbolic importance he attributed to apples.
1711 – Richard Grenville-Temple, 2nd Earl Temple, English politician, First Lord of the Admiralty (d. 1779), was a British politician. He is best known for his association with his brother-in-law William Pitt who he served with in government during Britain's participation in the Seven Years War between 1756 and 1761.
Deaths
2015 – Sidney Phillips, American soldier, physician, and author (b. 1924)
2014 – Gerald Neugebauer, American astronomer and physicist (b. 1932)
2014 – Jim Boeke, American football player and coach (b. 1938)
2014 – Sam Hall, American screenwriter (b. 1921)
2014 – Tamir Sapir, Georgian-American businessman (b. 1946)
2013 – Mario Montez, Puerto Rican-American actor (b. 1935)
2012 – Eugene Genovese, American historian and author (b. 1930)
2012 – M'el Dowd, American actress and singer (b. 1933)
2012 – Sam Steiger, American journalist and politician (b. 1929)
2011 – Bob Cassilly, American sculptor, founded the City Museum (b. 1949)
2010 – Gloria Stuart, American actress (b. 1910)
2008 – Paul Newman, American actor, director, producer, and businessman (b. 1925)
2007 – Bill Wirtz, American businessman (b. 1929)
2006 – Byron Nelson, American golfer and coach (b. 1912)
2006 – Iva Toguri D'Aquino, American wartime propaganda broadcaster (b. 1916)
2003 – Shawn Lane, American guitarist, songwriter, and producer (b. 1963)
2000 – Richard Mulligan, American actor (b. 1932)
1999 – Oseola McCarty, American philanthropist (b. 1908)
1998 – Betty Carter, American singer (b. 1930)
1991 – Billy Vaughn, American singer and bandleader (b. 1919)
1984 – John Facenda, American sportscaster (b. 1913)
1979 – Arthur Hunnicutt, American actor (b. 1910)
1973 – Ralph Earnhardt, American race car driver (b. 1923)
1973 – Samuel Flagg Bemis, American historian and author (b. 1891)
1972 – Charles Correll, American actor and screenwriter (b. 1890)
1957 – Arthur Powell Davies, American minister and author (b. 1902)
1954 – Ellen Roosevelt, American tennis player (b. 1868)
1947 – Hugh Lofting, English-American author and poet (b. 1886)
1946 – William Strunk, Jr., American author and educator (b. 1869)
1937 – Bessie Smith, American singer and actress (b. 1894)
1935 – Andy Adams, American author (b. 1859)
1902 – Levi Strauss, German-American businessman, founded Levi Strauss & Co. (b. 1829)
1820 – Daniel Boone, American hunter and explorer (b. 1734)
1800 – William Billings, American composer and educator (b. 1746)
International Day for the Total Elimination of Nuclear Weapons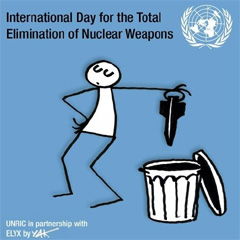 Achieving global nuclear disarmament is one of the oldest goals of the United Nations. It was the subject of the General Assembly's first resolution in 1946. It has been..→