Husband's Day or Bóndadagur in Iceland
Husband's Day or Bóndadagur in Iceland is held on January 19. It is celebrated from Friday of the third full week of January. This event in the second decade of the month January is annual.
Help us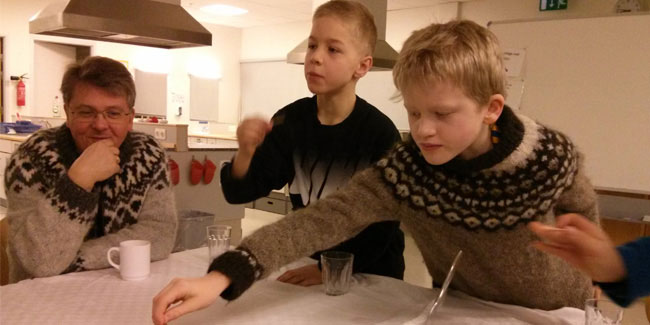 It is the first day of Þorri (pronounced 'Thorri'), one of the twelve months of the old Icelandic calendar . The first day of Þorri is traditionally 'bóndadagur', a day set aside for pampering 'the man of the house' in Iceland.
The Icelandic holiday of Bóndadagur is the day devoted to celebrate and pamper the man of the house. The notions of manhood and masculinity have certainly changed since Norse settlers arrived to the country, but this holiday has evolved with the times and continues to be a favorite among locals.
An old 'bóndadagur' tradition was for the farmer to rise earlier than everyone else on the farm, take off his shirt, put on only one leg of his trousers, open the farm door, hop on one leg around the farm, and bid the month of Þorri welcome.
It was the day for the farmer's wife to treat her husband particularly well and offer him some of the delicacies associated with the season. A newer tradition sees many wives and girlfriends cooking their man a good meal or giving him a present or flowers.
Similar holidays and events, festivals and interesting facts

Aðfangadagskvöld in Iceland on December 24
;

Fastelavn in Denmark and Norway on February 11
(day on which Shrove Monday can fall);

Cream Bun Day in Iceland on February 12
(celebrated on Monday before Ash Wednesday, Bolludagur);

Wife's Day or Konudagur in Iceland on February 18
(Celebrated on Sunday from 18 to 24 February);

Beer Day in Iceland on March 1
(marked the end of beer prohibition in 1989. Bjórdagurinn or Bjordagur);

Easter in Western Christianity on March 31
(Første påskedag in Norway);

Engineer's Day in Iceland on April 10