Easter in Western Christianity
Easter in Western Christianity is held on March 31. Første påskedag in Norway. This event in the third decade of the month March is annual.
Help us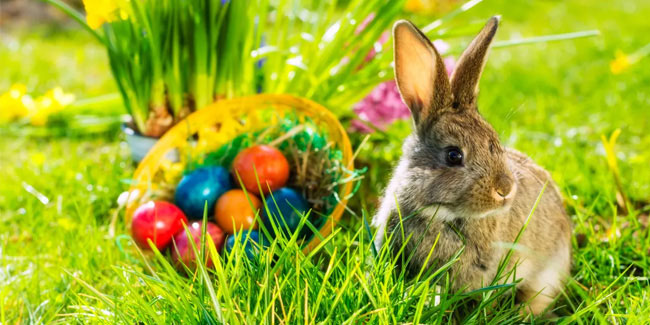 Easter is the oldest among Christian holidays. The history of Easter began in the 2nd century. Easter also called Pascha or Resurrection Sunday is the celebration of the resurrection of Jesus from the tomb on the third day after his crucifixion. In Western Christianity, Eastertide, or the Easter Season, begins on Easter Sunday and lasts seven weeks,ending with the coming of the 50th day, Pentecost Sunday.
Similar holidays and events, festivals and interesting facts

Langfredag or Good Friday in Norway on March 29
(Date for 2024);

National Day of Girls and Boys Victims of Forced Disappearance in El Salvador on March 29
(Día Nacional de las Niñas y los Niños Víctimas de la Desaparición Forzada);

Limestone night in the municipality of Briel, Netherlands on April 1
(the Kalknacht commemorates the victory over the Spaniards of the Duke of Alba in 1572);

Easter Monday on April 1
(Påskedag in Norway);

Poisson d'avril on April 1
(France, Switzerland, French Community of Belgium);

Day of lies in Brazil and Portugal on April 1
(Dia da lieira);

Dyngus Day on April 1
(It is very popular in Poland, as well as in Polish communities across America)
31 March in different thematic calendars
→
Bermuda
,
Brazil
,
Denmark
,
Dominica
,
Dominican Republic
,
El Salvador
,
Gabon
,
Grenada
,
Honduras
,
Iceland
,
Liechtenstein
,
Monaco
,
Namibia
,
Nicaragua
,
Norway
,
Saint Vincent and the Grenadines
,
Sweden
,
Switzerland
,
The Netherlands
,
Tokelau
,
Tuvalu
,
Ukraine
,
Zambia