Saturday 6 April 2019 Calendar with holidays, observances and special days
Holidays and observances
ABW Day in Poland (Polish counter-intelligence agency's - ABW - holiday, celebrated since 2004)
Army Day in USA
Founders Day in South Africa (The holiday was established on 6 April 1952 during the Van Riebeeck Festival in honour of the 300th anniversary of the arrival of the Dutch in South Africa)
International Carbonara Day
Pillow Fight Day
Sorry Charlie Day
Tartan Day (United States & Canada)
Events
2004 – Rolandas Paksas becomes the first president of Lithuania to be peacefully removed from office by impeachment.
1973 – The American League of Major League Baseball begins using the designated hitter.
1972 – Vietnam War: Easter Offensive: American forces begin sustained air strikes and naval bombardments.
1965 – Launch of Early Bird, the first commercial communications satellite to be placed in geosynchronous orbit.
1947 – The first Tony Awards are presented for theatrical achievement.
1926 – Varney Airlines makes its first commercial flight (Varney is the root company of United Airlines).
1917 – World War I: The United States declares war on Germany (see President Woodrow Wilson's address to Congress).
1911 – During the Battle of Deçiq, Dedë Gjon Luli Dedvukaj, leader of the Malësori Albanians, raises the Albanian flag in the town of Tuzi, Montenegro, for the first time after George Kastrioti (Skanderbeg).
1896 – In Athens, the opening of the first modern Olympic Games is celebrated, 1,500 years after the original games are banned by Roman emperor Theodosius I.
1869 – Celluloid is patented.
1866 – The Grand Army of the Republic, an American patriotic organization composed of Union veterans of the American Civil War, is founded. It lasts until 1956.
1865 – American Civil War: The Battle of Sailor's Creek: Confederate General Robert E. Lee's Army of Northern Virginia fights and loses its last major battle while in retreat from Richmond, Virginia during the Appomattox Campaign.
1862 – American Civil War: The Battle of Shiloh begins: In Tennessee, forces under Union General Ulysses S. Grant meet Confederate troops led by General Albert Sidney Johnston.
1861 – First performance of Arthur Sullivan's debut success, his suite of incidental music for The Tempest, leading to a career that included the famous Gilbert and Sullivan operas.
1808 – John Jacob Astor incorporates the American Fur Company, that would eventually make him America's first millionaire.
1776 – American Revolutionary War: Ships of the Continental Navy fail in their attempt to capture a Royal Navy dispatch boat.
1327 – The poet Petrarch first sees his idealized love, Laura, in the church of Saint Clare in Avignon.
Births
1990 – Charlie McDermott, American actor
1988 – Carlton Mitchell, American football player
1988 – Ivonne Orsini, Puerto Rican-American model and television host, Miss World Puerto Rico 2008
1987 – Heidi Mount, American model
1987 – Hilary Rhoda, American model
1986 – Aaron Curry, American football player
1985 – Sinqua Walls, French/Native American/Jamaican-American basketball player and actor
1984 – Max Bemis, American singer-songwriter
1981 – Alex Suarez, American bass player
1981 – Jeff Faine, American football player
1980 – Antonio Thomas, American wrestler
1978 – Blaine Neal, American baseball player
1978 – Imani Coppola, Italian/African-American singer-songwriter and violinist
1978 – Tim Hasselbeck, American football player and sportscaster
1977 – Andy Phillips, American baseball player and coach
1976 – Candace Cameron Bure, American actress and talk show panelist
1976 – Chris Hoke, American football player
1975 – Hal Gill, American ice hockey player
1975 – Zach Braff, American actor, director, producer, and screenwriter
1973 – Donnie Edwards, American football player
1973 – Randall Godfrey, American football player
1972 – Dickey Simpkins, American basketball player and sportscaster
1970 – Roy Mayorga, American drummer, songwriter, and producer
1969 – Bison Dele, American basketball player (d. 2002)
1969 – Bret Boone, American baseball player and manager
1969 – Paul Rudd, American actor
1969 – Spencer Wells, American geneticist and anthropologist
1968 – Archon Fung, American political scientist, author, and academic
1966 – Vince Flynn, American author (d. 2013)
1966 – Young Man Kang, South Korean-American director and producer
1965 – Black Francis, American singer-songwriter and guitarist
1965 – Sterling Sharpe, American football player and sportscaster
1963 – Derrick May, American electronic musician
1960 – John Pizzarelli, American singer-songwriter and guitarist
1960 – Warren Haynes, American singer-songwriter and guitarist
1956 – Michele Bachmann, American lawyer and politician
1956 – Sebastian Spreng, Argentinian-American painter and journalist
1955 – Michael Rooker, American actor, director, and producer
1955 – Rob Epstein, American director and producer
1953 – Christopher Franke, German-American drummer and songwriter
1952 – Marilu Henner, Greek-Polish American actress and author
1951 – Bert Blyleven, Dutch-American baseball player and sportscaster
1951 – Phil Schaap, American jazz disc jockey and historian
1950 – Cleo Odzer, Jewish-American anthropologist and author (d. 2001)
1947 – André Weinfeld, French-American director, producer, and screenwriter
1947 – John Ratzenberger, American actor and director
1943 – Mitchell Melton, American lawyer and politician (d. 2013)
1942 – Barry Levinson, American actor, director, producer, and screenwriter
1941 – Don Prudhomme, American race car driver and manager
1941 – Phil Austin, American comedian, actor, and screenwriter (d. 2015)
1940 – Pedro Armendáriz, Jr., Mexican-American actor and producer (d. 2011)
1939 – John Sculley, American businessman, co-founded Zeta Interactive
1937 – Billy Dee Williams, American actor, singer, and writer
1937 – Merle Haggard, American singer-songwriter and guitarist (d. 2016)
1933 – Eduardo Malapit, American lawyer and politician, Mayor of Kauai (d. 2007)
1933 – Tom C. Korologos, American journalist and diplomat, United States Ambassador to Belgium
1931 – Ivan Dixon, American actor, director, and producer (d. 2008)
1931 – Ram Dass, American author and educator
1929 – André Previn, American pianist, composer, and conductor
1929 – Joi Lansing, American model, actress and nightclub singer (d. 1972)
1928 – James Watson, American biologist, geneticist, and zoologist, Nobel Prize laureate
1927 – Gerry Mulligan, American saxophonist, clarinet player, and composer (d. 1996)
1926 – Gil Kane, Latvian-American author and illustrator (d. 2000)
1926 – Ian Paisley, Northern Irish evangelical minister and politician, 2nd First Minister of Northern Ireland (d. 2014)
1926 – Randy Weston, American jazz pianist and composer
1926 – Sergio Franchi, Italian-American singer and actor (d. 1990)
1923 – Herb Thomas, American race car driver (d. 2000)
1921 – Wilbur Thompson, American shot putter (d. 2013)
1920 – Edmond H. Fischer, Chinese-American biochemist and academic, Nobel Prize laureate
1920 – Jack Cover, American pilot and physicist, invented the Taser gun (d. 2009)
1916 – Phil Leeds, American actor (d. 1998)
1916 – Vincent Ellis McKelvey, American geologist and author (d. 1987)
1913 – Shannon Boyd-Bailey McCune, American geographer and academic (d. 1993)
1910 – Barys Kit, Belarusian-American rocket scientist
1909 – William M. Branham, American minister and theologian (d. 1965)
1903 – Harold Eugene Edgerton, American engineer and academic (d. 1990)
1903 – Mickey Cochrane, American baseball player and manager (d. 1962)
1900 – Leo Robin, American composer and songwriter (d. 1984)
1895 – Dudley Nichols, American director, producer, and screenwriter (d. 1960)
1894 – Gertrude Baines, African-American super-centenarian (d. 2009)
1892 – Donald Wills Douglas, Sr., American businessman, founded the Douglas Aircraft Company (d. 1981)
1892 – Lowell Thomas, American journalist and author (d. 1981)
1890 – Anthony Fokker, Dutch engineer and businessman, founded Fokker Aircraft Manufacturer (d. 1939)
1886 – Walter Dandy, American physician and neurosurgeon (d. 1946)
1857 – Arthur Wesley Dow, American painter and photographer (d. 1922)
1823 – Joseph Medill, Canadian-American publisher and politician, 26th Mayor of Chicago (d. 1899)
Deaths
2017 – Don Rickles, American actor and comedian (b. 1926)
2016 – Merle Haggard, American singer-songwriter and guitarist (b. 1937)
2015 – James Best, American actor, director, and screenwriter (b. 1926)
2015 – Ray Charles, American singer-songwriter and conductor (b. 1918)
2014 – Chuck Stone, American soldier, journalist, and academic (b. 1924)
2014 – Mary Anderson, American actress (b. 1918)
2014 – Massimo Tamburini, Italian motorcycle designer, co-founded Bimota (b. 1943)
2014 – Mickey Rooney, American soldier, actor, and dancer (b. 1920)
2012 – Reed Whittemore, American poet and critic (b. 1919)
2012 – Roland Guilbault, American admiral (b. 1934)
2012 – Thomas Kinkade, American painter and illustrator (b. 1958)
2011 – Gerald Finnerman, American director and cinematographer (b. 1931)
2010 – Wilma Mankiller, American tribal leader (b. 1945)
2006 – Francis L. Kellogg, American soldier and diplomat (b. 1917)
2006 – Maggie Dixon, American basketball player and coach (b. 1977)
2004 – Lou Berberet, American baseball player (b. 1929)
2003 – Anita Borg, American computer scientist and educator; founded Anita Borg Institute for Women and Technology (b. 1949)
2003 – David Bloom, American journalist (b. 1963)
2001 – Charles Pettigrew, American singer-songwriter (Charles & Eddie) (b. 1963)
1999 – Red Norvo, American vibraphone player and composer (b. 1908)
1998 – Tammy Wynette, American singer-songwriter (b. 1942)
1996 – Greer Garson, English-American actress (b. 1904)
1992 – Isaac Asimov, American science fiction writer (b. 1920)
1979 – Ivan Vasilyov, Bulgarian architect, designed the SS. Cyril and Methodius National Library (b. 1893)
1974 – Hudson Fysh, Australian pilot and businessman, co-founded Qantas Airways Limited (b. 1895)
1971 – Igor Stravinsky, Russian-American pianist, composer, and conductor (b. 1882)
1970 – Maurice Stokes, American basketball player (b. 1933)
1963 – Otto Struve, Ukrainian-American astronomer and academic (b. 1897)
1950 – Louis Wilkins, American pole vaulter (b. 1882)
1944 – Rose O'Neill, American cartoonist, illustrator, artist, and writer (b. 1874)
1935 – Edwin Arlington Robinson, American poet and playwright (b. 1869)
1927 – Florence Earle Coates, American poet (b. 1850)
1899 – Alvan Wentworth Chapman, American physician and botanist (b. 1809)
1883 – Benjamin Wright Raymond, American merchant and politician, 3rd Mayor of Chicago (b. 1801)
1862 – Albert Sidney Johnston, American general (b. 1803)
1860 – James Kirke Paulding, American author and politician, 11th United States Secretary of the Navy (b. 1778)
Saturday 6 April 2019
International Day of Sport for Development and Peace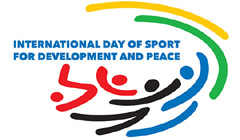 The International Day of Sport for Development and Peace (IDSDP) is an annual celebration that highlights and promotes the power of sport as a catalyst for social change ..→