Pillow Fight Day
Pillow Fight Day is held on April 6. This event in the first decade of the month April is annual.
Help us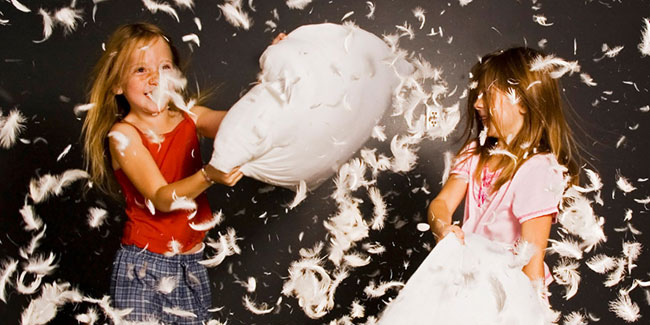 Pillow fighting is not just for slumber parties. Pillow Fight is a real-life semi-professional women-only sporting event that is all about pillow fighting, founded by Pillow Fight League (PFL) Commissioners Stacey P. Case and Craig Daniels in February 2004. It is based in Toronto, Canada.
As long as the fighter uses a pillow to attack, leg drops, submission holds, punching and other moves are prohibited within the match. The fighter is not allowed to hold her attacker's arm when she decides to attack with a pillow, if that happens, she will most likely to be warned or disqualified from the match.
A prestigious military academy's annual pillow fight resulted in 24 concussions and other injuries in late August, when some students placed hard objects into the pillow sacks. Since 1897 the United States Military Academy commonly known as West Point has held an annual overnight pillow fight for freshman.
Similar holidays and events, festivals and interesting facts

Go For Broke Day on April 5
;

Read a Road Map Day on April 5
;

Walk to Work Day on April 5
;

National Dandelion Day in U.S. on April 5
(unofficial holiday);

Tangible Karma Day on April 6
(is a company founded by Amber Nicole Dilger in 2005 and her idea was to recycle and reuse);

Sorry Charlie Day on April 6
;

Every Day is Tag Day on April 6
(First Saturday in April);

International Asexuality Day on April 6
(created by the Association pour la Visibilité Asexuelle. Asexuality is the definition or self-determination of people who are not sexually attracted);

Teflon Day on April 6
;

Cartoon Day on April 6
;

International Beaver Day on April 7
(The largest beaver-built dam is in Wood Buffalo National Park, Alberta, Canada and is 850m long);

No Housework Day on April 7