Mother Tongue Day in Estonia
Mother Tongue Day in Estonia is held on March 14. This event in the second decade of the month March is annual.
Help us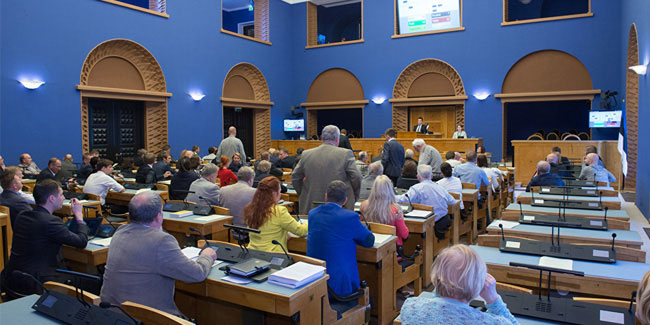 The Estonian languages 8 dialects and 117 subdialects! The elementary Estonian writings dates back to 1520s. The first book to be written in the Estonian language was Wanradt-Koell Catechism in 1535. It is a collection of religious translations of the Kullamaa prayers. With the evolution of written Estonian language, two separate literary culture centres emerged. In the North- the city of Tallinn and in the South, the Tartu city. The Estonian language that we use today is based on the 19th centuryís revised orthography.
Similar holidays and events, festivals and interesting facts

Anniversary of Treaty of Tartu in Estonia on February 2
;

Motherís Day on May 12
(Anguilla, Antigua and Barbuda, Aruba, Australia, Austria, Bahamas, Bangladesh, Barbados, Belgium, Belize, Bermuda, Bhutan, Bonaire, Botswana, Brazil, Brunei, Canada, Cambodia, Cayman Islands, Central African Republic, Chad, Chile, China, Colombia, Congo, Dem. Rep., Congo, Rep., Cote d'Ivoire, Croatia, Cuba, Curaçao, Cyprus, Czech Republic, Denmark, Dominica, Ecuador, Equatorial Guinea, Estonia, Ethiopia, Faroe Islands, Fiji, Finland, Germany, Gabon, Gambia, Greenland, Ghana, Greece, Grenada, Guyana, Honduras, Hong Kong, Iceland, India, Italy, Jamaica, Japan, Kenya, Latvia, Liberia, Liechtenstein, Macau, Malaysia, Malta, Myanmar, Namibia, Netherlands, New Zealand, Pakistan, Papua New Guinea, Peru, Philippines, Puerto Rico, Saint Kitts and Nevis, Saint Lucia, Saint Vincent and the Grenadines, Samoa, Singapore, Sint Maarten, Slovakia, South Africa, Sri Lanka, Suriname, Switzerland, Taiwan, Tanzania, Tonga, Trinidad and Tobago, Turkey, Uganda, Ukraine, United States, Uruguay, Vietnam, Venezuela, Zambia, Zimbabwe);

European Siblings' Day on May 31
;

Estonia Flag Day on June 4
;

Estonian Victory Day on June 23
(Võidupüha);

Grandparents Day in Estonia on September 10
(Vanavanemate Päev is celebrated on the second Sunday in September);

Resistance Fighting Day in Estonia on September 22
;

Baltic Unity Day in Latvia, Lithuania and Estonia on September 22