Wife Day or Day of the myrrh-bearing women
Wife Day or Day of the myrrh-bearing women is held on May 19. Orthodox celebrate on the second Sunday after Easter. This event in the second decade of the month May is annual.
Help us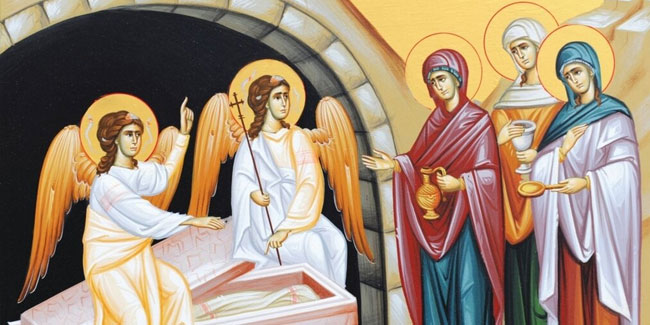 In 2022, Joanna, Mary, and Salome were officially added to the Episcopal Church liturgical calendar with a feast day as the "myrrh-bearing women" on 3 August.
The Sunday of Myrrh-bearing Women falls on the second Sunday following Pascha. Most of them were quite wealthy, so they helped not only morally, but also financially. The myrrh-bearers had brought funeral spices and ointments to finish commiting Christ's body to the grave. They were the first to see the empty tomb and were instructed by the risen Lord to bring the joyful news to the apostles.
St. Joseph of Arimathea and Nicodemus are also commemorated on this day.
Similar holidays and events, festivals and interesting facts

Mother's Day in Paraguay on May 15
;

Nylon Stockings Day on May 15
;

Mother's Day in Kyrgyzstan on May 19
(celebrated on the third Sunday in May);

Mother's Day in Poland on May 26
;

National Mother's Day in the Dominica on May 26
;

Mother's Day in France on May 26
(also Algeria, Dominican Republic. First Sunday of June, if Pentecost occurs on this day, Haiti, Mauritius, Morocco, Sweden, Tunisia; celebrated on the last Sunday in May);

Mother's Day in Benin on May 26
(It is celebrated on the last Sunday of May, if the date coincides with the date of Pentecost, then it is transferred to the first Sunday of June)