Wednesday 26 April 2023 Calendar with holidays, observances and special days
Calendars
:
Career Holidays (Recognition Holidays)
,
Smart events
,
US Holidays
,
Ukraine
,
United Nations Holidays
,
Women's Days
,
Worldwide Holidays
,
Armenia
,
Bolivia
,
Children's Days
,
Denmark
,
Dominican Republic
,
El Salvador
,
Food holidays
,
Germany
,
Guatemala
,
Italy
,
Nicaragua
,
Pet and Animal Holidays
,
Unusual Holidays (Weird and Funny Holidays)
,
special cat days
Holidays and observances
Events
1991 – Seventy tornadoes break out in the central United States. Before the outbreak's end, Andover, Kansas, would record the year's only F5 tornado.
1981 – Dr. Michael R. Harrison of the University of California, San Francisco Medical Center performs the world's first human open fetal surgery.
1958 – Final run of the Baltimore and Ohio Railroad's Royal Blue from Washington, D.C., to New York City after 68 years, the first U.S. passenger train to use electric locomotives.
1956 – SS Ideal X, the world's first successful container ship, leaves Port Newark, New Jersey for Houston, Texas.
1945 – World War II: Filipino troops of the 66th Infantry Regiment, Philippine Commonwealth Army, USAFIP-NL and the American troops of the 33rd and 37th Infantry Division, United States Army are liberated in Baguio City and they fight against the Japanese forces under General Tomoyuki Yamashita.
1925 – Paul von Hindenburg defeats Wilhelm Marx in the second round of the German presidential election to become the first directly elected head of state of the Weimar Republic.
1903 – Atlético Madrid Association football club is founded
1865 – American Civil War: Confederate General Joseph E. Johnston surrenders his army to General William Tecumseh Sherman at the Bennett Place near Durham, North Carolina. Also the date of Confederate Memorial Day for two states.
1805 – First Barbary War: United States Marines captured Derne under the command of First Lieutenant Presley O'Bannon.
1794 – Battle of Beaumont during the Flanders Campaign of the War of the First Coalition.
1777 – Legend tells that Sybil Ludington, aged 16, rode 40 miles to alert American colonial forces to the approach of the British regular forces
Births
1992 – Aaron Judge, American baseball player. Aaron James Judge (born April 26, 1992) is an American professional baseball outfielder for the New York Yankees of Major League Baseball (MLB).
1989 – Melvin Ingram, American football player. Melvin Ingram III (born April 26, 1989) is an American football defensive end for the Los Angeles Chargers of the National Football League (NFL).
1985 – John Isner, American tennis player. John Robert Isner (born April 26, 1985) is an American professional tennis player who has been ranked as high as No. 8 in men's singles by the Association of Tennis Professionals (ATP).
1984 – Emily Wickersham, American actress. Emily Kaiser Wickersham (born April 26, 1984) is an American actress best known for her role as NCIS Special Agent Eleanor Bishop on NCIS.
1983 – Jessica Lynch, American soldier and POW. Jessica Dawn Lynch (born April 26, 1983) is a former United States Army soldier who served in the 2003 invasion of Iraq by U.S. and allied forces.
1980 – Channing Tatum, American actor and producer. His breakthrough role was in the 2006 dance film Step Up, which introduced him to a wider audience.
1980 – Jordana Brewster, Panamanian-American actress. Her first role in a feature film was in Robert Rodriguez's horror science fiction The Faculty (1998).
1978 – Joe Crede, American baseball player. Joseph Taylor Crede (pronounced CREE-dee, born April 26, 1978) is a former Major League Baseball third baseman.
1977 – Roxana Saberi, American journalist and author. She subsequently wrote a book about the experience.
1977 – Tom Welling, American actor. Thomas Joseph Welling (born April 26, 1977) is an American actor, director, producer, and model best known for his role as Clark Kent in The WB/The CW superhero drama Smallville (2001–2011).
1975 – Joey Jordison, American musician, songwriter, record producer. Nathan Jonas "Joey" Jordison (born April 26, 1975), is an American musician, songwriter, record producer and multi-instrumentalist, best known for his work as the former drummer and co-songwriter for the American heavy metal band Slipknot as well as guitarist in the American horror punk band Murderdolls.
1973 – Geoff Blum, American baseball player and sportscaster. Geoffrey Edward Blum (born April 26, 1973) is an American former professional baseball infielder in Major League Baseball who played for the Montreal Expos, Houston Astros, Tampa Bay Devil Rays, San Diego Padres, Chicago White Sox and Arizona Diamondbacks.
1973 – Jules Naudet, French-American director and producer. Jules Clément Naudet (born April 26, 1973) and Thomas Gédéon Naudet (born March 27, 1970) are French-born American filmmakers known for the documentary film 9/11.
1972 – Natrone Means, American football player and coach. Natrone Jermaine Means (born April 26, 1972) is a former professional American Football running back who played for the San Diego Chargers, Jacksonville Jaguars, and Carolina Panthers of the NFL from 1993 to 2000.
1971 – Jay DeMarcus, American bass player, songwriter, and producer. He is a member of the country pop group Rascal Flatts.
1970 – Kristen R. Ghodsee, American ethnographer and academic. Kristen Rogheh Ghodsee (born April 26, 1970) is an American ethnographer and Professor of Russian and East European Studies at the University of Pennsylvania known primarily for her ethnographic work on post-communist Bulgaria as well as being a contributor to the field of postsocialist gender studies.
1970 – Melania Trump, Slovene-American model; First Lady of the United States; wife of United States President Donald Trump. Melania Trump (/məˈlɑːniə/; born Melanija Knavs; , Germanized to Melania Knauss; April 26, 1970) is a Slovenian-American former fashion model and the current first lady of the United States, as the wife of the 45th president of the United States Donald Trump.
1970 – Tionne "T-Boz" Watkins, African-American singer-songwriter, dancer, and actress. She has won four Grammy Awards for her work with TLC.
1965 – Kevin James, American actor and comedian. He starred in another CBS sitcom, Kevin Can Wait (2016–2018) for which he was nominated for a 2017 People's Choice Award.
1963 – Colin Scotts, Australian-American football player, was the first Australian to receive an American football scholarship in the United States and be drafted into the NFL. He became the second Australian to play in the NFL after Colin Ridgeway, an Australian rules football convert.
1962 – Debra Wilson, American actress and comedian. She has also done voice work for various productions including Avatar, American Dad!, Family Guy, Hoodwinked Too! Hood vs.
1961 – Joan Chen, Chinese-American actress, director, producer, and screenwriter. She is also known for her roles in Twin Peaks, Red Rose, White Rose, Saving Face, and The Home Song Stories, and for directing the feature film Xiu Xiu: The Sent Down Girl.
1960 – Steve Lombardozzi, American baseball player and coach, was a second baseman for the Minnesota Twins and Houston Astros for six Major League Baseball seasons. As part of the Twins' world championship team in 1987, Lombardozzi hit .412 during the World Series and hit a home run in Game 5.
1959 – John Corabi, American singer-songwriter and guitarist. He was also the frontman of Mötley Crüe between 1994 and 1996 during original frontman Vince Neil's hiatus from the band.
1958 – Giancarlo Esposito, American actor, director, and producer. Giancarlo Giuseppe Alessandro Esposito (Italian pronunciation: ; born April 26, 1958) is an actor and director who holds Italian and American citizenship.
1956 – Koo Stark, American actress and photographer. Kathleen Norris Stark (born April 26, 1956), better known as Koo Stark, is an American photographer and actress, known for her relationship with Prince Andrew.
1949 – Jerry Blackwell, American wrestler (d. 1995), was an American professional wrestler, better known by his ring name "Crusher" Jerry Blackwell. Blackwell competed in the 1979 World's Strongest Man contest, but withdrew early in the competition due to an injury.
1946 – Marilyn Nelson, African-American poet and author. From 1978 to 1994 she published under the name Marilyn Nelson Waniek.
1943 – Gary Wright, American singer-songwriter, keyboard player, and producer. Gary Malcolm Wright (born April 26, 1943) is an American singer, songwriter, musician, and composer best known for his 1976 hit songs "Dream Weaver" and "Love Is Alive", and for his role in helping establish the synthesizer as a leading instrument in rock and pop music.
1943 – Peter Zumthor, Swiss architect and academic, designed the Therme Vals. Peter Zumthor (German pronunciation: ; born 26 April 1943) is a Swiss architect whose work is frequently described as uncompromising and minimalist.
1942 – Bobby Rydell, American singer and actor. Bobby Rydell (born Robert Louis Ridarelli; April 26, 1942) is an American singer, mainly of rock and roll music.
1942 – Michael Kergin, Canadian diplomat, Canadian Ambassador to the United States. Michael Kergin (born 26 April 1942) is a Canadian career diplomat, who has been a member of the foreign service in some capacity since 1967, when he joined the Department of External Affairs.
1938 – Duane Eddy, American singer-songwriter, guitarist, and actor. He had sold 12 million records by 1963.
1935 – Patricia Reilly Giff, American author and educator. John's University, where she earned an M.A. and Hofstra University, where she was awarded a Professional Diploma in Reading and a Doctorate of Humane Letters.
1933 – Arno Allan Penzias, German-American physicist and academic, Nobel Prize laureate. Arno Allan Penzias (/ˈpɛnziəs/; born April 26, 1933) is an American physicist, radio astronomer and Nobel laureate in physics who is co-discoverer of the cosmic microwave background radiation along with Robert Woodrow Wilson, which helped establish the Big Bang theory of cosmology.
1933 – Carol Burnett, American actress, singer, and producer. Carol Creighton Burnett (born April 26, 1933) is an American actress, comedian, singer, and writer, whose career spans seven decades of television.
1933 – Filiberto Ojeda Ríos, Puerto Rican-American general (d. 2005), was the commander-in-chief ("Responsable General") of the Boricua Popular Army (Ejército Popular Boricua, a.k.a., Los Macheteros). The group campaigned for, and supported, the independence of Puerto Rico from the United States.
1932 – Frank D'Rone, American singer and guitarist (d. 2013), was an American jazz singer and guitarist.
1931 – Bernie Brillstein, American talent agent and producer (d. 2008), was an American film and television producer, executive producer, and talent agent. He began his career in the 1950s at the William Morris Agency before founding his own company in 1969 and later joining forces with Brad Grey to helm Brillstein-Grey Entertainment, one of the most important and influential Hollywood talent management and production companies.
1929 – Richard Mitchell, American author and educator (d. 2002). Richard Mitchell (April 26, 1929 – December 27, 2002) was a professor, first of English and later of classics, at Glassboro State College in Glassboro, New Jersey.
1927 – Granny Hamner, American baseball player (d. 1993), was an American shortstop and second baseman in Major League Baseball. Hamner was one of the key players on the "Whiz Kids", the 1950 National League champion Philadelphia Phillies.
1927 – Harry Gallatin, American basketball player and coach (d. 2015). Harry Junior "The Horse" Gallatin (April 26, 1927 – October 7, 2015) was an American professional basketball player and coach.
1925 – Gerard Cafesjian, American businessman and philanthropist (d. 2013), was a businessman and philanthropist who founded the Cafesjian Family Foundation (CFF), the Cafesjian Museum Foundation (CMF) and the Cafesjian Center for the Arts.
1924 – Browning Ross, American runner and soldier (d. 1998). Harris Browning 'Brownie' Ross (April 26, 1924 – April 27, 1998) is often referred to as the father of long distance running in America.
1921 – Jimmy Giuffre, American clarinet player, saxophonist, and composer (d. 2008), was an American jazz clarinetist, saxophonist, composer, and arranger. He is notable for his development of forms of jazz which allowed for free interplay between the musicians, anticipating forms of free improvisation.
1917 – I. M. Pei, Chinese-American architect, designed the National Gallery of Art and Bank of China Tower. Born in Guangzhou but raised in Hong Kong and Shanghai, Pei drew inspiration at an early age from the garden villas at Suzhou, the traditional retreat of the scholar-gentry to which his family belonged.
1917 – Sal Maglie, American baseball player and coach (d. 1992), was an American Major League Baseball pitcher and later, a scout and a pitching coach. He played from 1945 to 1958 for the New York Giants, Cleveland Indians, Brooklyn Dodgers, New York Yankees, and St.
1917 – Virgil Trucks, American baseball player and coach (d. 2013), was an American Major League Baseball pitcher with the Detroit Tigers, St. Louis Browns, Chicago White Sox, Kansas City Athletics and New York Yankees between 1941 and 1958.
1916 – Eyvind Earle, American artist, author, and illustrator (d. 2000), was an American artist, author and illustrator, noted for his contribution to the background illustration and styling of Disney animated films in the 1950s. The Metropolitan Museum of Art, New York, Rahr West Art Museum, Phoenix Art Museum and Arizona State University Art Museum have purchased Earle's works for their permanent collections.
1914 – Bernard Malamud, Jewish American novelist and short story writer (d. 1986). Along with Saul Bellow, Joseph Heller, and Philip Roth, he was one of the best known American Jewish authors of the 20th century.
1914 – James Rouse, American real estate developer (d. 1996), was a pioneering American real estate developer, urban planner, civic activist, and later, free enterprise-based philanthropist. He received the US Presidential Medal of Freedom, the highest civilian award, for his lifetime achievements.
1912 – A. E. van Vogt, Canadian-American author (d. 2000), was a Canadian-born science fiction author. His fragmented, bizarre narrative style influenced later science fiction writers, notably Philip K.
1900 – Charles Francis Richter, American seismologist and physicist (d. 1985). Richter is most famous as the creator of the Richter magnitude scale, which, until the development of the moment magnitude scale in 1979, quantified the size of earthquakes.
1900 – Hack Wilson, American baseball player (d. 1948), was an American Major League Baseball player who played 12 seasons for the New York Giants, Chicago Cubs, Brooklyn Dodgers and Philadelphia Phillies. Despite his diminutive stature, he was one of the most accomplished power hitters in the game during the late 1920s and early 1930s.
1898 – Eddie Eagan, American boxer and bobsledder (d. 1967), was an American sportsman who is notable as being the only person to win a gold medal at both the Summer and Winter Olympic Games. Eagan won his summer gold in boxing and his winter gold in four-man bobsled.
1897 – Douglas Sirk, German-American director and screenwriter (d. 1987), was a German film director best known for his work in Hollywood melodramas of the 1950s. Sirk started his career in Germany as a stage and screen director, but he left to Hollywood in 1937 because his Jewish wife was persecuted by the Nazis.
1889 – Anita Loos, American author, playwright, and screenwriter (d. 1981), was an American screenwriter, playwright and author, primarily known for her successful novel, Gentlemen Prefer Blondes. Becoming the first-ever female staff scriptwriter in 1912 when D.W.
1886 – Ma Rainey, American singer (d. 1939), was one of the earliest African-American professional blues singers and one of the first generation of blues singers to record. She was billed as the "Mother of the Blues".
1862 – Edmund C. Tarbell, American painter and educator (d. 1938), was an American Impressionist painter. A member of the Ten American Painters, his work hangs in the Boston Museum of Fine Arts, Metropolitan Museum of Art, National Gallery of Art, Smithsonian American Art Museum, Corcoran Gallery of Art, DeYoung Museum, National Academy Museum and School, New Britain Museum of American Art, Worcester Art Museum, and numerous other collections.
1834 – Charles Farrar Browne, American author (d. 1867), was an American humor writer, better known under his nom de plume, Artemus Ward. He is considered to be America's first stand-up comedian.
1822 – Frederick Law Olmsted, American journalist and designer, co-designed Central Park (d. 1903), was an American landscape architect, journalist, social critic, and public administrator. He is popularly considered to be the father of American landscape architecture.
1801 – Ambrose Dudley Mann, American politician and diplomat, 1st United States Assistant Secretary of State (d. 1889), was the first United States Assistant Secretary of State and a commissioner for the Confederate States of America.
1785 – John James Audubon, French-American ornithologist and painter (d. 1851), was an American ornithologist, naturalist, and painter. He was notable for his extensive studies documenting all types of American birds and for his detailed illustrations that depicted the birds in their natural habitats.
1718 – Esek Hopkins, American commander (d. 1802), was the only Commander in Chief of the Continental Navy during the American Revolutionary War. He was also an accomplished merchant captain and privateer.
Deaths
2017 – Jonathan Demme, American filmmaker, producer and screenwriter (b. 1944)
2015 – Jayne Meadows, American actress (b. 1919)
2014 – Gerald Guralnik, American physicist and academic (b. 1936)
2014 – Paul Robeson, Jr., American historian and author (b. 1927)
2013 – George Jones, American singer-songwriter and guitarist (b. 1931)
2013 – Jacqueline Brookes, American actress and educator (b. 1930)
2011 – Phoebe Snow, American singer-songwriter and guitarist (b. 1950)
2009 – Hans Holzer, Austrian-American paranormal investigator and author (b. 1920)
2007 – Jack Valenti, American businessman, created the MPAA film rating system (b. 1921)
2005 – Mason Adams, American actor (b. 1919)
2004 – Hubert Selby, Jr., American author, poet, and screenwriter (b. 1928)
2003 – Edward Max Nicholson, Irish environmentalist, co-founded the World Wide Fund for Nature (b. 1904)
1996 – Stirling Silliphant, American screenwriter and producer (b. 1918)
1994 – Mas Oyama, Japanese martial artist, founded Kyokushin kaikan (b. 1927)
1991 – A. B. Guthrie, Jr., American novelist and historian, (b. 1901)
1991 – Carmine Coppola, American composer and conductor (b. 1910)
1991 – Leo Arnaud, French-American composer and conductor (b. 1904)
1989 – Lucille Ball, American model, actress, comedian, and producer (b. 1911)
1986 – Bessie Love, American actress (b. 1898)
1986 – Broderick Crawford, American actor (b. 1911)
1984 – Count Basie, American pianist, composer, and bandleader (b. 1904)
1976 – Armstrong Sperry, American author and illustrator (b. 1897)
1973 – Irene Ryan, American actress and philanthropist (b. 1902)
1970 – Gypsy Rose Lee, American actress, striptease dancer, and writer (b. 1911)
1969 – Morihei Ueshiba, Japanese martial artist, founded aikido (b. 1883)
1957 – Gichin Funakoshi, Japanese martial artist, founded Shotokan (b. 1868)
1950 – George Murray Hulbert, American lawyer, judge, and politician (b. 1881)
1946 – James Larkin White, American miner, explorer, and park ranger (b. 1882)
1915 – John Bunny, American actor (b. 1863)
1865 – John Wilkes Booth, American actor, assassin of Abraham Lincoln (b. 1838)
1784 – Nano Nagle, Irish nun and educator, founded the Presentation Sisters (b. 1718)
Confederate Memorial Day in Florida (Local observance)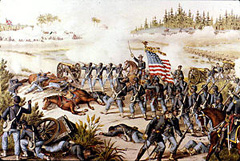 Confederate Memorial Day in Florida - Local observance: When April 26 is a Sunday, it is recognized the following Monday. History: White settlers began to establish cott..→