Rural Workers' Day in Uruguay
Rural Workers' Day in Uruguay is held on April 30. This event in the third decade of the month April is annual.
Help us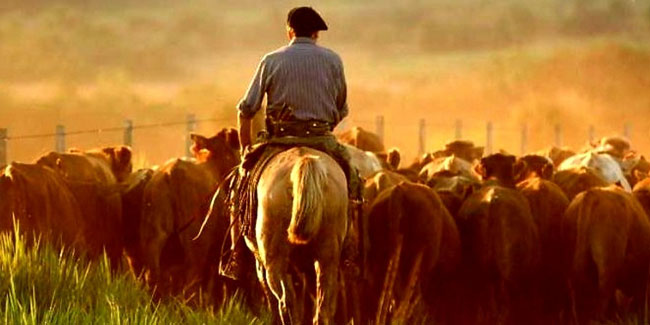 This day, established by Law No. 19,000, states that April 30 of each year is declared as "Rural Workers' Day" (Día del Trabajador Rural), and is considered a non-working holiday for workers engaged in this activity. All workers of a rural enterprise are included, even if the worker does not specifically perform rural tasks.
According to the MTSS, the labor regulations on rural work include those persons who perform tasks under the direction of a rural employer, in exchange for a salary and other benefits.
A rural employer is any individual or legal entity that uses the services of subordinate workers to perform rural work outside urban areas.
Similar holidays and events, festivals and interesting facts

Landing of the 33 Patriots Day in Uruguay on April 19
;

Motherís Day on May 12
(Anguilla, Antigua and Barbuda, Aruba, Australia, Austria, Bahamas, Bangladesh, Barbados, Belgium, Belize, Bermuda, Bhutan, Bonaire, Botswana, Brazil, Brunei, Canada, Cambodia, Cayman Islands, Central African Republic, Chad, Chile, China, Colombia, Congo, Dem. Rep., Congo, Rep., Cote d'Ivoire, Croatia, Cuba, Curaçao, Cyprus, Czech Republic, Denmark, Dominica, Ecuador, Equatorial Guinea, Estonia, Ethiopia, Faroe Islands, Fiji, Finland, Germany, Gabon, Gambia, Greenland, Ghana, Greece, Grenada, Guyana, Honduras, Hong Kong, Iceland, India, Italy, Jamaica, Japan, Kenya, Latvia, Liberia, Liechtenstein, Macau, Malaysia, Malta, Myanmar, Namibia, Netherlands, New Zealand, Pakistan, Papua New Guinea, Peru, Philippines, Puerto Rico, Saint Kitts and Nevis, Saint Lucia, Saint Vincent and the Grenadines, Samoa, Singapore, Sint Maarten, Slovakia, South Africa, Sri Lanka, Suriname, Switzerland, Taiwan, Tanzania, Tonga, Trinidad and Tobago, Turkey, Uganda, Ukraine, United States, Uruguay, Vietnam, Venezuela, Zambia, Zimbabwe);

World Internet Day on May 17
;

Battle of Las Piedras Day in Uruguay on May 18
;

National Book Day in Uruguay on May 26
;

Geologist's Day in Uruguay on May 28
;

National Meat Day in Uruguay on May 29