Sunday 28 April 2019 Calendar with holidays, observances and special days
Calendars:
Health Calendar
,
Worldwide Holidays
,
Afghanistan
,
Barbados
,
Canada
,
Career Holidays (Recognition Holidays)
,
Food holidays
,
India
,
Italy
,
Japan
,
Unusual Holidays
Holidays and observances
Biological Clock Day
Cubicle Day (Designed by Robert Propst and known for a complete absence of individuality, cubicles were first introduced in 1967 as a way to subdivide open office space and provide workers with a degree of privacy)
Great Poetry Reading Day
Kiss Your Mate Day
Lawyers' Day (Odisha, India)
Mujahideen Victory Day in Afghanistan
National Blueberry Pie Day in USA
National Day (Sardinia, Italy)
National Day of Mourning (Canada. Every year on April 28 we pay our respects to, and remember, the thousands of workers who have been killed, injured or suffered illness as a result of work-related incidents)
National Heroes Day in Barbados
Restoration of Sovereignty Day in Japan (主権回復の日 Shuken kaifuku no hi - It marks the end of the American occupation of Japan on 28 April 1952)
Statehood Day (Maryland, 1788)
World Disco Soup Day
Events
1986 – The United States Navy aircraft carrier USS Enterprise becomes the first nuclear-powered aircraft carrier to transit the Suez Canal, navigating from the Red Sea to the Mediterranean Sea to relieve the USS Coral Sea.
1970 – Vietnam War: U.S. President Richard Nixon formally authorizes American combat troops to fight communist sanctuaries in Cambodia.
1967 – Vietnam War: Boxer Muhammad Ali refuses his induction into the United States Army and is subsequently stripped of his championship and license.
1965 – United States occupation of the Dominican Republic: American troops land in the Dominican Republic to "forestall establishment of a Communist dictatorship" and to evacuate U.S. Army troops.
1952 – Occupied Japan by the Supreme Commander for the Allied Powers: The United States occupation of Japan ends as the Treaty of San Francisco, ratified September 8, 1951, comes into force.
1949 – The Hukbalahap are accused of assassinating former First Lady of the Philippines Aurora Quezon, while she is en route to dedicate a hospital in memory of her late husband; her daughter and ten others are also killed.
1948 – Igor Stravinsky conducted the premier of his American ballet, Orpheus at the New York City Center.
1941 – The Ustaše massacre nearly 200 Serbs in the village of Gudovac, the first massacre of their genocidal campaign against Serbs of the Independent State of Croatia.
1930 – The Independence Producers hosted the first night game in the history of Organized Baseball in Independence, Kansas.
1910 – Frenchman Louis Paulhan wins the 1910 London to Manchester air race, the first long-distance aeroplane race in England.
1887 – A week after being arrested by the Prussian Secret Police, French police inspector Guillaume Schnaebelé is released on order of William I, German Emperor, defusing a possible war.
1869 – Chinese and Irish laborers for the Central Pacific Railroad working on the First Transcontinental Railroad lay ten miles of track in one day, a feat which has never been matched.
1788 – Maryland becomes the seventh state to ratify the United States Constitution.
1503 – The Battle of Cerignola is fought. It is noted as the first battle in history won by small arms fire using gunpowder.
1253 – Nichiren, a Japanese Buddhist monk, propounds Namu Myōhō Renge Kyō for the very first time and declares it to be the essence of Buddhism, in effect founding Nichiren Buddhism.
357 – Emperor Constantius II enters Rome for the first time to celebrate his victory over Magnus Magnentius.
Births
1995 – Melanie Martinez, American singer
1986 – Jenna Ushkowitz, Korean-American actress, singer, and dancer
1983 – David Freese, American baseball player
1982 – Chris Kaman, American basketball player
1981 – Jessica Alba, American model and actress
1979 – Scott Fujita, American football player and sportscaster
1978 – Nate Richert, American actor
1973 – Earl Holmes, American football player and coach
1973 – Jorge Garcia, American actor and producer
1972 – Violent J, American rapper, Insane Clown Posse
1966 – John Daly, American golfer
1966 – Too Short, American rapper, producer and actor
1965 – Jennifer Rardin, American author (d. 2010)
1964 – Barry Larkin, American baseball player, manager, and sportscaster
1964 – L'Wren Scott, American model and fashion designer (d. 2014)
1960 – Elena Kagan, American lawyer and jurist, Associate Justice of the Supreme Court of the United States
1960 – Tom Browning, American baseball player
1958 – Hal Sutton, American golfer
1954 – Michael P. Jackson, American politician, 3rd Deputy Secretary of Homeland Security
1954 – Ron Zook, American football player and coach
1954 – Timothy Curley, American educator
1953 – Kim Gordon, American singer-songwriter, guitarist, and producer
1952 – Chuck Leavell, American singer-songwriter and keyboard player
1952 – Mary McDonnell, American actress
1950 – Jay Leno, American comedian, talk show host, and producer
1950 – Willie Colón, Puerto Rican-American trombonist and producer
1949 – Bruno Kirby, American actor and director (d. 2006)
1949 – Paul Guilfoyle, American actor
1948 – Marcia Strassman, American actress and singer (d. 2014)
1946 – Larissa Grunig, American theorist and activist
1944 – Alice Waters, American chef and author
1944 – Elizabeth LeCompte, American director and producer
1941 – Ann-Margret, Swedish-American actress, singer, and dancer
1941 – Karl Barry Sharpless, American chemist and academic, Nobel Prize laureate
1938 – Madge Sinclair, Jamaican-American actress (d. 1995)
1934 – Lois Duncan, American journalist and author (d. 2016)
1933 – Miodrag Radulovacki, Serbian-American neuropharmacologist and academic (d. 2014)
1930 – Carolyn Jones, American actress (d. 1983)
1930 – James Baker, American lawyer and politician, 61st United States Secretary of State
1928 – Eugene Merle Shoemaker, American geologist and astronomer (d. 1997)
1926 – Bill Blackbeard, American historian and author (d. 2011)
1926 – Harper Lee, American novelist (d. 2016)
1926 – James Bama, American artist and illustrator
1925 – T. John Lesinski, American judge and politician, 51st Lieutenant Governor of Michigan (d. 1996)
1924 – Blossom Dearie, American singer and pianist (d. 2009)
1924 – Dick Ayers, American author and illustrator (d. 2014)
1923 – Carolyn Cassady, American author (d. 2013)
1923 – William Guarnere, American sergeant (d. 2014)
1921 – Rowland Evans, American soldier, journalist, and author (d. 2001)
1917 – Robert Cornthwaite, American actor (d. 2006)
1913 – Rose Murphy, American singer (d. 1989)
1911 – Lee Falk, American director, producer, and playwright (d. 1999)
1910 – Sam Merwin, Jr., American author (d. 1996)
1909 – Arthur Võõbus, Estonian-American theologist and orientalist (d. 1988)
1908 – Ethel Catherwood, American-Canadian high jumper and javelin thrower (d. 1987)
1906 – Kurt Gödel, Czech-American mathematician, philosopher, and academic (d. 1978)
1886 – Art Shaw, American hurdler (d. 1955)
1878 – Lionel Barrymore, American actor and director (d. 1954)
1874 – Sidney Toler, American actor and director (d. 1947)
1865 – Charles W. Woodworth, American entomologist and academic (d. 1940)
1819 – Ezra Abbot, American scholar and academic (d. 1884)
1758 – James Monroe, American soldier, lawyer, and politician, 5th President of the United States (d. 1831)
Deaths
2017 – Mariano Gagnon, American Catholic priest and author (b. 1929)
2015 – Marcia Brown, American author and illustrator (b. 1918)
2015 – Michael J. Ingelido, American general (b. 1916)
2014 – Dennis Kamakahi, American guitarist and composer (b. 1953)
2014 – Frederic Schwartz, American architect, co-designed Empty Sky (b. 1951)
2014 – Jack Ramsay, American basketball player, coach, and sportscaster (b. 1925)
2014 – William Honan, American journalist and author (b. 1930)
2013 – Brad Lesley, American baseball player (b. 1958)
2013 – Fredrick McKissack, American author (b. 1939)
2013 – János Starker, Hungarian-American cellist and educator (b. 1924)
2013 – Jack Shea, American director, producer, and screenwriter (b. 1928)
2013 – John C. Reynolds, American computer scientist and academic (b. 1935)
2012 – Al Ecuyer, American football player (b. 1937)
2007 – Dabbs Greer, American actor (b. 1917)
2007 – Tommy Newsom, American saxophonist and bandleader (b. 1929)
2006 – Steve Howe, American baseball player (b. 1958)
2005 – Percy Heath, American bassist (b. 1923)
2002 – Lou Thesz, American wrestler and trainer (b. 1916)
1999 – Arthur Leonard Schawlow, American physicist and academic, Nobel Prize laureate (b. 1921)
1999 – Rolf Landauer, German-American physicist and engineer (b. 1927)
1999 – Rory Calhoun, American actor, producer, and screenwriter (b. 1922)
1998 – Jerome Bixby, American author and screenwriter (b. 1923)
1997 – Ann Petry, American novelist (b. 1908)
1996 – Lester Sumrall, American minister, founded LeSEA (b. 1913)
1994 – Berton Roueché, American journalist and author (b. 1910)
1993 – Jim Valvano, American basketball player, coach, and sportscaster (b. 1946)
1991 – Steve Broidy, American film producer (b. 1905)
1987 – Ben Linder, American engineer and activist (b. 1959)
1980 – Tommy Caldwell, American bass player (b. 1949)
1977 – Ricardo Cortez, American actor (b. 1900)
1976 – Richard Hughes, American author and poet (b. 1900)
1970 – Ed Begley, American actor (b. 1901)
1956 – Fred Marriott, American racing driver (b. 1872)
1944 – Frank Knox, American journalist and politician, 46th United States Secretary of the Navy (b. 1874)
1905 – Fitzhugh Lee, American general and politician, 40th Governor of Virginia (b. 1835)
1865 – Samuel Cunard, Canadian-English businessman, founded Cunard Line (b. 1787)
1781 – Cornelius Harnett, American merchant, farmer, and politician (b. 1723)
Sunday 28 April 2019
Days of Remembrance of the Victims of the Holocaust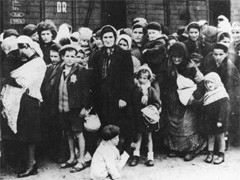 The Days of Remembrance of the Victims of the Holocaust (DRVH) is an annual 8-day period designated by the United States Congress for civic commemorations and special edu..→
Sunday 28 April 2019
World Day for Safety and Health at Work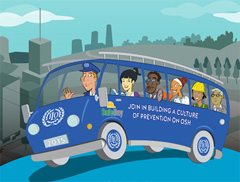 The World Day for Safety and Health at Work is an annual international campaign to promote safe, healthy and decent work. It is held on 28 April and has been observed by ..→