Sunday 5 May 2019 Calendar with holidays, observances and special days
Holidays and observances
Anti-Violence and Racism Day in Austria (The Memorial Day against Violence and Racism in Commemoration of the Victims of Nazism has been observed since 1998 as an Austrian memorial day recalling the liberation of Mauthausen concentration camp on May 5, 1945)
Cartoonists Day (They were the favorite part of the morning paper for many of us growing up)
Cinco de Mayo (Mexico and the United States)
Feast of al-Khadr or Saint George (Palestinian)
International Handwashing Day (since 2009, when the WHO Patient Safety Program launched a new initiative called Save Lives: Wash Hands)
Events
1994 – American teenager Michael P. Fay is caned in Singapore for theft and vandalism.
1987 – Iran–Contra affair: Start of Congressional televised hearings in the United States of America
1961 – The Mercury program: Mercury-Redstone 3: Alan Shepard becomes the first American to travel into outer space, on a sub-orbital flight.
1945 – World War II: Six people are killed when a Japanese fire balloon explodes near Bly, Oregon. They are the only Americans killed in the continental US during the war.
1927 – To the Lighthouse by Virginia Woolf is first published.
1905 – The trial in the Stratton Brothers case begins in London, England; it marks the first time that fingerprint evidence is used to gain a conviction for murder.
1904 – Pitching against the Philadelphia Athletics at the Huntington Avenue Grounds, Cy Young of the Boston Americans throws the first perfect game in the modern era of baseball.
1891 – The Music Hall in New York City (later known as Carnegie Hall) has its grand opening and first public performance, with Tchaikovsky as the guest conductor.
1877 – American Indian Wars: Sitting Bull leads his band of Lakota into Canada to avoid harassment by the United States Army under Colonel Nelson Miles.
1866 – Memorial Day first celebrated in United States at Waterloo, New York.
1865 – American Civil War: The Confederate District of the Gulf surrenders about 4,000 men at Citronelle, Alabama.
1865 – American Civil War: The Confederate government was declared dissolved at Washington, Georgia.
1864 – American Civil War: The Battle of the Wilderness begins in Spotsylvania County.
1835 – The first railway in continental Europe opens between Brussels and Mechelen.
1809 – Mary Kies becomes the first woman awarded a U.S. patent, for a technique of weaving straw with silk and thread.
1789 – In France, the Estates-General convenes for the first time since 1614.
Births
1999 – Nathan Chen, American figure skater
1989 – Chris Brown, American singer-songwriter, dancer, and actor
1985 – Terrence Wheatley, American football player
1983 – Scott Ware, American football player
1982 – Randall Gay, American football player
1980 – DerMarr Johnson, American basketball player
1980 – Hank Green, American entrepreneur, educator, and vlogger
1978 – Morgan Pehme, American director, producer, and screenwriter
1976 – Sage Stallone, American actor (d. 2012)
1975 – Meb Keflezighi, American runner
1971 – Harold Miner, American basketball player
1971 – Mike Redmond, American baseball player and manager
1970 – Kyan Douglas, American television host and author
1970 – LaPhonso Ellis, American basketball player
1970 – Todd Newton, American Game Show Host
1967 – Adam Hughes, American author and illustrator
1966 – Josh Weinstein, American screenwriter and producer
1964 – Don Payne, American screenwriter and producer (d. 2013)
1963 – Scott Westerfeld, American author and composer
1961 – Rob Williams, American basketball player (d. 2014)
1959 – Bobby Ellsworth, American singer and bass player
1959 – Brian Williams, American journalist
1959 – Steve Stevens, American guitarist and songwriter
1958 – Jack Wishna, American businessman, co-founded Rockcityclub (d. 2012)
1956 – Steve Scott, American runner and coach
1955 – Jon Butcher, American singer-songwriter, guitarist, and freelance multimedia producer
1950 – Rex Caldwell, American golfer
1945 – Kurt Loder, American journalist, author, and critic
1944 – Roger Rees, Welsh-American actor and director (d. 2015)
1942 – Tammy Wynette, American singer-songwriter and guitarist (d. 1998)
1940 – Lance Henriksen, American actor
1940 – Michael Lindsay-Hogg, American director and producer
1938 – Bill Robertson, American businessman and politician (d. 2013)
1938 – Michael Murphy, American actor
1936 – Sandy Baron, American actor and comedian (d. 2001)
1935 – Robert Rehme, American film producer
1934 – Ace Cannon, American saxophonist
1934 – Johnnie Taylor, American vocalist (d. 2000)
1932 – Bob Said, American race car driver and bobsled racer (d. 2002)
1932 – Stan Goldberg, American illustrator (d. 2014)
1927 – Pat Carroll, American actress
1926 – Ann B. Davis, American actress (d. 2014)
1925 – Leo Ryan, American soldier, educator, and politician (d. 1978)
1923 – William C. Campbell, American golfer (d. 2013)
1921 – Arthur Leonard Schawlow, American physicist and academic, Nobel Prize laureate (d. 1999)
1915 – Alice Faye, American actress and singer (d. 1998)
1914 – Tyrone Power, American actor (d. 1958)
1913 – Duane Carter, American racing driver (d. 1993)
1910 – Leo Lionni, American author and illustrator (d. 1999)
1905 – Floyd Gottfredson, American author and illustrator (d. 1986)
1903 – James Beard, American chef and author (d. 1985)
1899 – Freeman Gosden, American actor and screenwriter (d. 1982)
1898 – Blind Willie McTell, American Piedmont blues singer and guitar player (d. 1959)
1898 – Elsie Eaves, American engineer (d. 1983)
1890 – Christopher Morley, American journalist and author (d. 1957)
1887 – Mervyn S. Bennion, American captain, Medal of Honor recipient (d. 1941)
1884 – Chief Bender, American baseball player and coach (d. 1954)
1865 – Helen Maud Merrill, American litterateur and poet (d. 1943)
1864 – Nellie Bly, American journalist and author (d. 1922)
1858 – John L. Leal, American physician (d. 1914)
1832 – Hubert Howe Bancroft, American ethnologist and historian (d. 1918)
1830 – John Batterson Stetson, American businessman, founded the John B. Stetson Company (d. 1906)
Deaths
2015 – Jobst Brandt, American cyclist, engineer, and author (b. 1935)
2013 – Robert Ressler, American FBI agent and author (b. 1937)
2008 – Irv Robbins, Canadian-American businessman, co-founded Baskin-Robbins (b. 1917)
2008 – Jerry Wallace, American singer and guitarist (b. 1928)
2007 – Theodore Harold Maiman, American-Canadian physicist and engineer, created the laser (b. 1927)
2002 – George Sidney, American director and producer (b. 1916)
2002 – Paul Wilbur Klipsch, American engineer, founded Klipsch Audio Technologies (b. 1904)
2001 – Clifton Hillegass, American publisher, created CliffsNotes (b. 1918)
2001 – Morris Graves, American painter and educator (b. 1910)
2000 – Bill Musselman, American basketball player and coach (b. 1940)
1993 – Irving Howe, American literary and social critic (b. 1920)
1988 – Michael Shaara, American author and academic (b. 1928)
1985 – Donald Bailey, English engineer, designed the Bailey bridge (b. 1901)
1983 – John Williams, English-American actor (b. 1903)
1965 – John Waters, American director and screenwriter (b. 1893)
1947 – Ty LaForest, Canadian-American baseball player (b. 1917)
1902 – Bret Harte, American short story writer and poet (b. 1836)
1896 – Silas Adams, American lawyer and politician (b. 1839)
Sunday 5 May 2019
International Day of the Midwife (International Midwives Day)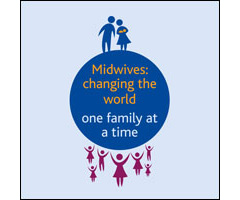 International Day of the Midwife was first celebrated May 5, 1991, and has since been observed in over 50 nations around the world. The idea of having a day to recognize..→