Friday 5 May 2023 Calendar with holidays, observances and special days
Calendars
:
Career Holidays (Recognition Holidays)
,
Health Calendar
,
US Holidays
,
Worldwide Holidays
,
Albania
,
Argentina
,
Austria
,
Childrenís Days
,
Cyber Holidays
,
Denmark
,
Dog Holidays and Celebrations
,
El Salvador
,
Fatherís Days
,
Food holidays
,
Guyana
,
Hong Kong
,
Israel
,
Japan
,
Lithuania
,
Mexico
,
Pet and Animal Holidays
,
Spain
,
The Netherlands
,
Unusual Holidays (Weird and Funny Holidays)
,
Womenís Days
,
special cat days
Holidays and observances
Events
1994 – American teenager Michael P. Fay is caned in Singapore for theft and vandalism.
1987 – Iran–Contra affair: Start of Congressional televised hearings in the United States of America
1961 – The Mercury program: Mercury-Redstone 3: Alan Shepard becomes the first American to travel into outer space, on a sub-orbital flight.
1945 – World War II: Six people are killed when a Japanese fire balloon explodes near Bly, Oregon. They are the only Americans killed in the continental US during the war.
1927 – To the Lighthouse by Virginia Woolf is first published.
1905 – The trial in the Stratton Brothers case begins in London, England; it marks the first time that fingerprint evidence is used to gain a conviction for murder.
1904 – Pitching against the Philadelphia Athletics at the Huntington Avenue Grounds, Cy Young of the Boston Americans throws the first perfect game in the modern era of baseball.
1891 – The Music Hall in New York City (later known as Carnegie Hall) has its grand opening and first public performance, with Tchaikovsky as the guest conductor.
1877 – American Indian Wars: Sitting Bull leads his band of Lakota into Canada to avoid harassment by the United States Army under Colonel Nelson Miles.
1866 – Memorial Day first celebrated in United States at Waterloo, New York.
1865 – American Civil War: The Confederate District of the Gulf surrenders about 4,000 men at Citronelle, Alabama.
1865 – American Civil War: The Confederate government was declared dissolved at Washington, Georgia.
1864 – American Civil War: The Battle of the Wilderness begins in Spotsylvania County.
1835 – The first railway in continental Europe opens between Brussels and Mechelen.
1809 – Mary Kies becomes the first woman awarded a U.S. patent, for a technique of weaving straw with silk and thread.
1789 – In France, the Estates-General convenes for the first time since 1614.
Births
1999 – Nathan Chen, American figure skater. Chen is the first skater to have landed five types of quadruple jumps in competitions: toe loop, Salchow, loop, flip and Lutz.
1989 – Chris Brown, American singer-songwriter, dancer, and actor. Having signed with Jive Records in 2004, Brown released his self-titled debut studio album the following year, which became certified double platinum by the Recording Industry Association of America (RIAA).
1985 – Terrence Wheatley, American football player. He played college football at Colorado and was drafted by the New England Patriots in the second round of the 2008 NFL Draft.
1983 – Scott Ware, American football player. He played college football at Southern California.
1982 – Randall Gay, American football player. Randall Jerome Gay, Jr. (born May 5, 1982) is a former American football cornerback of the National Football League.
1980 – DerMarr Johnson, American basketball player. DerMarr Miles Johnson (born May 5, 1980) is an American professional basketball player.
1980 – Hank Green, American entrepreneur, educator, and vlogger. William Henry "Hank" Green II (born May 5, 1980) is an American video blogger, internet producer, musician, author, entrepreneur, and CEO.
1978 – Morgan Pehme, American director, producer, and screenwriter. Morgan Pehme (born May 5, 1978 in New York City) is an American journalist, filmmaker, and political commentator.
1976 – Sage Stallone, American actor (d. 2012), was an American actor, film director, producer, and distributor. He was the elder son of Sylvester Stallone.
1975 – Meb Keflezighi, American runner. Mebrahtom "Meb" Keflezighi (/ˈmɛb kəˈflɛzɡi/; Ge'ez: መብራህቶም ክፍልእዝጊ, Mebrāhtōm Kifl'izgī; born May 5, 1975) is a retired Eritrean-born American long distance runner.
1971 – Harold Miner, American basketball player. Harold David Miner (born May 5, 1971) is an American former professional basketball player and two-time champion of the National Basketball Association (NBA) Slam Dunk Contest.
1971 – Mike Redmond, American baseball player and manager. Michael Patrick Redmond (born May 5, 1971) is an American former professional baseball catcher and manager.
1970 – Kyan Douglas, American television host and author. He was the grooming expert on the American television program Queer Eye from 2003 to 2007.
1970 – LaPhonso Ellis, American basketball player. He was selected by the National Basketball Association's Denver Nuggets as the fifth overall pick in the 1992 NBA draft.
1970 – Todd Newton, American Game Show Host. James Todd Newton (born May 5, 1970) is an American entertainment reporter, game show host, and author.
1967 – Adam Hughes, American author and illustrator. Adam Hughes (born May 5, 1967) is an American comics artist and illustrator best known to American comic book readers for his renderings of pinup-style female characters, and his cover work on titles such as Wonder Woman and Catwoman.
1966 – Josh Weinstein, American screenwriter and producer. Albans High School; Weinstein then attended Stanford University and was editor-in-chief of the Stanford Chaparral.
1963 – Scott Westerfeld, American author and composer. Scott David Westerfeld (born May 5, 1963) is an American writer of young adult fiction, best known as the author of the Uglies and the Leviathan series.
1959 – Bobby Ellsworth, American singer and bass player. Robert Ellsworth (born May 3, 1959), best known as Bobby "Blitz" Ellsworth, is the lead vocalist of New Jersey thrash metal band Overkill.
1959 – Brian Williams, American journalist. Catholic University of America (no degree conferred)
1959 – Steve Stevens, American guitarist and songwriter. A session guitarist, he has played for Michael Jackson, Ric Ocasek, Robert Palmer and many others.
1958 – Jack Wishna, American businessman, co-founded Rockcityclub (d. 2012), was an American businessman and photographer. He was the president and CEO of CPAmerica, a consulting firm for gambling, hotel, and leisure organizations, based in Las Vegas, Nevada.
1955 – Jon Butcher, American singer-songwriter, guitarist, and freelance multimedia producer. Jon Butcher (born May 5, 1955) is an American rock, blues songwriter, guitarist and freelance multimedia producer.
1950 – Rex Caldwell, American golfer. Rex Allen Caldwell (born May 5, 1950) is an American professional golfer who played on the PGA Tour, Nationwide Tour and Champions Tour.
1945 – Kurt Loder, American journalist, author, and critic. Kurtis "Kurt" Loder (born May 5, 1945) is an American film critic, author, columnist, and television personality.
1944 – Roger Rees, Welsh-American actor and director (d. 2015), was a Welsh actor and director, widely known for his stage work. He won an Olivier Award and a Tony Award for his performance as the lead in The Life and Adventures of Nicholas Nickleby.
1942 – Tammy Wynette, American singer-songwriter and guitarist (d. 1998), was an American country music singer-songwriter and one of country music's best-known artists and biggest-selling female singers.
1940 – Lance Henriksen, American actor. Lance James Henriksen (born May 5, 1940) is an American actor, voice actor and artist, best known for his roles in science fiction, action, and horror films such as Bishop in the Alien film franchise, and Frank Black in Fox television series Millennium.
1940 – Michael Lindsay-Hogg, American director and producer. Sir Michael Edward Lindsay-Hogg, 5th Baronet (born 5 May 1940) is a British television, film, music video, and theatre director.
1936 – Sandy Baron, American actor and comedian (d. 2001), was an American actor and comedian who performed on stage, in films, and on television.
1935 – Robert Rehme, American film producer. Robert Rehme (born 5 May 1935) is an American film producer whose credits include the films Patriot Games, Clear and Present Danger and The General's Daughter.
1934 – Ace Cannon, American saxophonist, was an American tenor and alto saxophonist. He played and toured with Hi Records stablemate Bill Black's Combo, and started a solo career with his record "Tuff" in 1961, using the Black combo as his backing group. "Tuff" hit #17 on the U.S.
1934 – Johnnie Taylor, American vocalist (d. 2000), was a three-time Grammy-nominated American recording artist and songwriter who performed a wide variety of genres, from blues, rhythm and blues, soul, and gospel to pop, doo-wop, and disco.
1932 – Bob Said, American race car driver and bobsled racer (d. 2002), was an American racing driver from the United States.
1932 – Stan Goldberg, American illustrator (d. 2014), was an American comic book artist, best known for his work with Archie Comics and as a Marvel Comics colorist who in the 1960s helped design the original color schemes of Spider-Man, the Fantastic Four and other major characters. He was inducted into the National Cartoonists Society Hall of Fame in 2011.
1926 – Ann B. Davis, American actress (d. 2014). She achieved prominence for her role in the NBC situation comedy The Bob Cummings Show (1955–1959), for which she twice won the Primetime Emmy Award for Outstanding Supporting Actress in a Comedy Series, but she was best known for playing the part of Alice Nelson, the housekeeper in ABC's The Brady Bunch (1969–1974).
1925 – Leo Ryan, American soldier, educator, and politician (d. 1978), was an American teacher and politician. A member of the Democratic Party, he served as the U.S.
1921 – Arthur Leonard Schawlow, American physicist and academic, Nobel Prize laureate (d. 1999), was an American physicist and co-inventor of the laser with Charles Townes. His central insight, which Townes overlooked, was the use of two mirrors as the resonant cavity to take maser action from microwaves to visible wavelengths.
1915 – Alice Faye, American actress and singer (d. 1998). She sang "You'll Never Know", which won its composers the Academy Award for Best Original Song at the 1944 Oscars ceremony.
1914 – Tyrone Power, American actor (d. 1958), was an American film, stage and radio actor. From the 1930s to the 1950s, Power appeared in dozens of films, often in swashbuckler roles or romantic leads.
1913 – Duane Carter, American racing driver (d. 1993), was an American racecar driver. He raced midget cars, sprint cars, and IndyCars.
1910 – Leo Lionni, American author and illustrator (d. 1999), was an author and illustrator of children's books. Born in the Netherlands, he moved to Italy and lived there before moving to the United States in 1939, where he worked as an art director for several advertising agencies, and then for Fortune magazine.
1905 – Floyd Gottfredson, American author and illustrator (d. 1986), was an American cartoonist best known for his defining work on the Mickey Mouse comic strip, which he worked on from 1930 until his retirement in 1975. He has probably had the same impact on the Mickey Mouse comics as Carl Barks had on the Donald Duck comics. 17 years after his death, his memory was honored with the Disney Legends award in 2003 and induction into the Comic Book Hall of Fame in 2006.
1903 – James Beard, American chef and author (d. 1985), was an American cook, cookbook author, teacher and television personality. Beard was a champion of American cuisine who taught and mentored generations of professional chefs and food enthusiasts.
1899 – Freeman Gosden, American actor and screenwriter (d. 1982), was an American radio comedian, actor and pioneer in the development of the situation comedy form. He is best known for his work for the radio series Amos 'n' Andy.
1898 – Blind Willie McTell, American Piedmont blues singer and guitar player (d. 1959), was a Piedmont blues and ragtime singer and guitarist. He played with a fluid, syncopated fingerstyle guitar technique, common among many exponents of Piedmont blues.
1898 – Elsie Eaves, American engineer (d. 1983), was a pioneering American female engineer, the first female associate member of the American Society of Civil Engineers (ASCE), and a founding member of the American Association of Cost Engineers (now AACE International; the Association for the Advancement of Cost Engineering).
1890 – Christopher Morley, American journalist and author (d. 1957), was an American journalist, novelist, essayist and poet. He also produced stage productions for a few years and gave college lectures.
1887 – Mervyn S. Bennion, American captain, Medal of Honor recipient (d. 1941), was a captain in the United States Navy who died during the Japanese attack on Pearl Harbor. While mortally wounded, he remained in command of his ship.
1884 – Chief Bender, American baseball player and coach (d. 1954), was a pitcher in Major League Baseball during the 1910s and 1920s. In 1911, Bender tied a record by pitching three complete games in a single World Series.
1865 – Helen Maud Merrill, American litterateur and poet (d. 1943), was an American litterateur and poet from Maine. Her first published poem was in the Waterville Sentinel, in 1882.
1864 – Nellie Bly, American journalist and author (d. 1922), was an American journalist, industrialist, inventor, and charity worker. who was widely known for her record-breaking trip around the world in 72 days, in emulation of Jules Verne's fictional character Phileas Fogg, and an exposé in which she worked undercover to report on a mental institution from within. She was a pioneer in her field, and launched a new kind of investigative journalism.
1858 – John L. Leal, American physician (d. 1914), was a physician and water treatment expert who, in 1908, was responsible for conceiving and implementing the first disinfection of a U.S. drinking water supply using chlorine. He was one of the principal expert witnesses at two trials which examined the quality of the water supply in Jersey City, New Jersey, and which evaluated the safety and utility of chlorine for production of "pure and wholesome" drinking water.
1832 – Hubert Howe Bancroft, American ethnologist and historian (d. 1918), was an American historian and ethnologist who wrote, published and collected works concerning the western United States, Texas, California, Alaska, Mexico, Central America and British Columbia.
1830 – John Batterson Stetson, American businessman, founded the John B. Stetson Company (d. 1906), was an American hatter, hat manufacturer, and, in the 1860s, the inventor of the cowboy hat. He founded the John B.
Deaths
2015 – Jobst Brandt, American cyclist, engineer, and author (b. 1935)
2013 – Robert Ressler, American FBI agent and author (b. 1937)
2008 – Irv Robbins, Canadian-American businessman, co-founded Baskin-Robbins (b. 1917)
2008 – Jerry Wallace, American singer and guitarist (b. 1928)
2007 – Theodore Harold Maiman, American-Canadian physicist and engineer, created the laser (b. 1927)
2002 – George Sidney, American director and producer (b. 1916)
2002 – Paul Wilbur Klipsch, American engineer, founded Klipsch Audio Technologies (b. 1904)
2001 – Clifton Hillegass, American publisher, created CliffsNotes (b. 1918)
2001 – Morris Graves, American painter and educator (b. 1910)
2000 – Bill Musselman, American basketball player and coach (b. 1940)
1993 – Irving Howe, American literary and social critic (b. 1920)
1988 – Michael Shaara, American author and academic (b. 1928)
1965 – John Waters, American director and screenwriter (b. 1893)
1947 – Ty LaForest, Canadian-American baseball player (b. 1917)
1902 – Bret Harte, American short story writer and poet (b. 1836)
1896 – Silas Adams, American lawyer and politician (b. 1839)
International Day of the Midwife (International Midwives Day)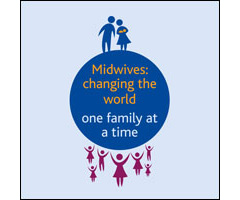 International Day of the Midwife was first celebrated May 5, 1991, and has since been observed in over 50 nations around the world. The idea of having a day to recognize..→