Saturday 6 May 2023 Calendar with holidays, observances and special days
Calendars
:
Career Holidays (Recognition Holidays)
,
Food holidays
,
Health Calendar
,
US Holidays
,
Unusual Holidays (Weird and Funny Holidays)
,
Worldwide Holidays
,
Antigua and Barbuda
,
Australia
,
Azerbaijan
,
Brazil
,
Canada
,
Chile
,
Denmark
,
Dog Holidays and Celebrations
,
Dominica
,
Environmental Dates
,
Gabon
,
Pet and Animal Holidays
,
Professional Engineers Day
,
Turkey
,
Ukraine
Holidays and observances
Events
2001 – During a trip to Syria, Pope John Paul II becomes the first pope to enter a mosque.
1999 – The first elections to the devolved Scottish Parliament and Welsh Assembly are held.
1960 – More than 20 million viewers watch the first televised royal wedding when Princess Margaret marries Anthony Armstrong-Jones at Westminster Abbey.
1954 – Roger Bannister becomes the first person to run the mile in under four minutes.
1949 – EDSAC, the first practical electronic digital stored-program computer, runs its first operation.
1942 – World War II: On Corregidor, the last American forces in the Philippines surrender to the Japanese.
1941 – At California's March Field, Bob Hope performs his first USO show.
1941 – The first flight of the Republic P-47 Thunderbolt.
1915 – Babe Ruth, then a pitcher for the Boston Red Sox, hits his first major league home run.
1882 – The United States Congress passes the Chinese Exclusion Act.
1877 – Chief Crazy Horse of the Oglala Lakota surrenders to United States troops in Nebraska.
1863 – American Civil War: The Battle of Chancellorsville ends with the defeat of the Army of the Potomac by Confederate troops.
1861 – American Civil War: Arkansas secedes from the Union.
1857 – The British East India Company disbands the 34th Regiment of Bengal Native Infantry whose sepoy Mangal Pandey had earlier revolted against the British and is considered to be the First Martyr in the War of Indian Independence.
1835 – James Gordon Bennett, Sr. publishes the first issue of the New York Herald.
Births
1985 – Chris Paul, American basketball player. Christopher Emmanuel Paul (born May 6, 1985) is an American professional basketball player for the Oklahoma City Thunder of the National Basketball Association (NBA).
1983 – Gabourey Sidibe, American actress. Her other film roles include Tower Heist (2011), White Bird in a Blizzard (2014), and Grimsby (2016).
1982 – Jason Witten, American Footballer. Christopher Jason Witten (born May 6, 1982) is an American football tight end for the Dallas Cowboys of the National Football League (NFL).
1980 – Brooke Bennett, American swimmer. Brooke Marie Bennett (born May 6, 1980) is an American former competition swimmer and three-time Olympic champion.
1978 – John Abraham, American football player. John Abraham (born 17 December 1972) is an Indian film actor, film producer and former model who appears in Hindi films.
1971 – Chris Shiflett, American singer-songwriter and guitarist. He was previously a member of the punk rock bands No Use for a Name (1986-2012) and Me First and the Gimme Gimmes (1995-2019).
1961 – Frans Timmermans, Dutch politician and diplomat, First Vice President of the European Commission. He was the lead candidate of the Party of European Socialists (PES) for President of the European Commission in the European election that was held in May 2019.
1961 – George Clooney, American actor, director, producer, and screenwriter. In 2018, he was the recipient of the AFI Lifetime Achievement Award.
1960 – John Flansburgh, American singer-songwriter and guitarist. He is half of the long-standing Brooklyn, New York-based alternative rock duo They Might Be Giants, for which he writes, sings, and plays rhythm guitar.
1960 – Roma Downey, Irish-American actress and producer. For nine seasons she played Monica, the tender-hearted angel and employee of Tess (played by Della Reese), on the CBS television series Touched by an Angel, for which she earned multiple Emmy Award and Golden Globe Award Best Actress nominations.
1958 – Randall Stout, American architect, designed the Taubman Museum of Art (d. 2014), was a Los Angeles, California based architect.
1955 – Tom Bergeron, American television host. He is known as the host of America's Funniest Home Videos (2001–2015) and Dancing with the Stars (2005–present).
1954 – Tom Abernethy, American basketball player. Thomas Craig Abernethy (born May 6, 1954) is a retired American professional basketball player.
1953 – Lynn Whitfield, American actress and producer. She won a Primetime Emmy Award for Outstanding Lead Actress in a Miniseries or a Movie and received a Golden Globe Award nomination for her performance as Josephine Baker in the HBO biographical drama film The Josephine Baker Story (1991).
1950 – Jeffery Deaver, American journalist and author. He later practiced law before embarking on a career as a novelist.
1948 – Frankie Librán, Puerto Rican-American baseball player (d. 2013), was a Puerto Rican athlete who distinguished himself for performing professionally on all three major sports in the island (baseball, basketball, volleyball). Most notably, Librán played as an infielder in Major League Baseball during the late 60s.
1947 – Ljubomir Vračarević, Serbian martial artist, founded Real Aikido (d. 2013), was a Serbian martial artist and founder of Real Aikido.
1947 – Martha Nussbaum, American philosopher and author. Martha Craven Nussbaum (born 1947) is an American philosopher and the current Ernst Freund Distinguished Service Professor of Law and Ethics at the University of Chicago, where she is jointly appointed in the law school and the philosophy department.
1945 – Bob Seger, American singer-songwriter and guitarist. By the early 1970s, he had dropped the 'System' from his recordings and continued to strive for broader success with various other bands.
1945 – Jimmie Dale Gilmore, American country singer-songwriter, guitarist, actor, and producer. Jimmie Dale Gilmore (born May 6, 1945) is an American country singer, songwriter, actor, recording artist and producer, currently living in Austin, Texas.
1944 – Anton Furst, English-American production designer and art director (d. 1991), was an English production designer who won an Academy Award for overseeing design of Gotham City in Tim Burton's Batman (1989).
1943 – Andreas Baader, German terrorist, co-founded the Red Army Faction (d. 1977), was one of the first leaders of the West German left-wing militant organization Red Army Faction, also commonly known as the Baader-Meinhof Group.
1943 – James Turrell, American sculptor and illustrator. James Turrell (born May 6, 1943) is an American artist primarily concerned with Light and Space.
1943 – Milton William Cooper, American theorist and author (d. 2001), was an American conspiracy theorist, radio broadcaster, and author best known for his 1991 book Behold a Pale Horse, in which he warned of multiple global conspiracies, some involving extraterrestrial life. Cooper also described HIV/AIDS as a man-made disease used to target blacks, Hispanics, and homosexuals, and that a cure was made before it was implemented.
1939 – Eddie C. Campbell, American singer and guitarist. Campbell (May 6, 1939 – November 20, 2018) was an American blues guitarist and singer in the Chicago blues scene.
1937 – Rubin Carter, American-Canadian boxer (d. 2014), was an American-Canadian middleweight boxer who was wrongfully convicted of murder and later released following a petition of habeas corpus after serving almost 20 years in prison.
1934 – Richard Shelby, American lawyer and politician. Richard Craig Shelby (born May 6, 1934) is an American politician serving as the senior United States Senator from Alabama.
1931 – Willie Mays, American baseball player and coach. Willie Howard Mays, Jr. (born May 6, 1931), nicknamed "The Say Hey Kid", is an American former Major League Baseball (MLB) center fielder who spent almost all of his 22-season career playing for the New York/San Francisco Giants, before finishing with the New York Mets.
1929 – Paul Lauterbur, American chemist and biophysicist, Nobel Prize laureate (d. 2007), was an American chemist who shared the Nobel Prize in Physiology or Medicine in 2003 with Peter Mansfield for his work which made the development of magnetic resonance imaging (MRI) possible.
1926 – Gilles Grégoire, Canadian politician, co-founded the Parti Québécois (d. 2006), was a co-founder of the Parti Québécois.
1924 – Patricia Kennedy Lawford, American socialite, activist, and author (d. 2006), was an American socialite and the sixth of nine children of Rose and Joseph P. Kennedy Sr.
1920 – Marguerite Piazza, American soprano and actress (d. 2012), was an American soprano, entertainer and philanthropist from New Orleans, Louisiana.
1920 – Ross Hunter, American actor and producer (d. 1996), was an American film and television producer and actor. Hunter is best known for producing light comedies such as Pillow Talk (1959), and the glamorous melodramas Magnificent Obsession (1954), Imitation of Life (1959), and Back Street (1961).
1918 – Zayed bin Sultan Al Nahyan, emir of Abu Dhabi and first president of the United Arab Emirates (d. 2004), was the ruler of Abu Dhabi for more than 30 years (6 August 1966 – 2 November 2004). He was the founding father and the principal driving force behind the formation of the United Arab Emirates, becoming the Union's first Raʾīs (President), a post which he held for a period of almost 33 years (1971 until his death in 2004).
1917 – Kal Mann, American songwriter (d. 2001), was an American lyricist. He is best known for penning the words to Elvis Presley's "Teddy Bear", plus "Butterfly", a hit for both Charlie Gracie and Andy Williams, and "Let's Twist Again", sung by Chubby Checker, which won the 1962 Grammy Award for Best Rock & Roll Recording.
1916 – Robert H. Dicke, American physicist and astronomer (d. 1997), was an American astronomer and physicist who made important contributions to the fields of astrophysics, atomic physics, cosmology and gravity. He was the Albert Einstein Professor in Science at Princeton University (1975 - 1984).
1915 – Orson Welles, American actor, director, producer, and screenwriter (d. 1985), was an American actor, director, writer and producer who is remembered for his innovative work in radio, theatre and film. He is considered one of the greatest film directors of all time.
1915 – Theodore H. White, American historian, journalist, and author (d. 1986), was an American political journalist and historian, known for his reporting from China during World War II and accounts of the 1960, 1964, 1968, 1972, and 1980 presidential elections. He is the first foreigner to report on the Chinese famine of 1942–43 and helped the famine to catch Chinese and international attention.
1913 – Carmen Cavallaro, American pianist (d. 1989). He established himself as one of the most accomplished and admired light music pianists of his generation.
1913 – Stewart Granger, English-American actor (d. 1993), was an English film actor, mainly associated with heroic and romantic leading roles. He was a popular leading man from the 1940s to the early 1960s, rising to fame through his appearances in the Gainsborough melodramas.
1907 – Weeb Ewbank, American football player and coach (d. 1998), was an American professional football coach. He led the Baltimore Colts to NFL championships in 1958 and 1959 and the New York Jets to victory in Super Bowl III in 1969.
1905 – Philip N. Krasne, American lawyer and producer (d. 1999). Krasne (born 6 May 1905 in Norfolk, Nebraska, United States, died 18 September 1999, age 94, Los Angeles, California, United States) was an attorney who became a motion picture and television producer.
1903 – Toots Shor, American businessman, founded Toots Shor's Restaurant (d. 1977), was best known as the proprietor of a legendary saloon and restaurant, Toots Shor's Restaurant, in Manhattan. He ran three establishments under that name, but his first – and most renowned – was located at 51 West 51st Street.
1902 – Harry Golden, Ukrainian-American journalist and author (d. 1981), was an American writer and newspaper publisher.
1902 – Max Ophüls, German-American director and screenwriter (d. 1957), was a German-born film director who worked in Germany (1931–1933), France (1933–1940 and 1950–1957), and the United States (1947–1950). He made nearly 30 films, the latter ones being especially notable: La Ronde (1950), Le Plaisir (1952), The Earrings of Madame de… (1953) and Lola Montès (1955).
1856 – Robert Peary, American admiral and explorer (d. 1920), was an American explorer and United States Navy officer who made several expeditions to the Arctic in the late 19th and early 20th centuries. He is best known for claiming to have reached the geographic North Pole with his expedition on April 6, 1909.
1843 – Grove Karl Gilbert, American geologist and academic (d. 1918). Gilbert in academic literature, was an American geologist.
1827 – Hermann Raster, German-American journalist and politician (d. 1891), was a German American Forty-Eighter, editor, abolitionist, and Republican political boss best known for his career as chief editor and part-owner of the Illinois Staats-Zeitung between 1867 and 1891 and his term as Collector of Internal Revenue for the 1st District of Illinois. He returned to Europe in 1890 when his health began to fail him and died filling the role of American Consul General in Berlin.
1797 – Joseph Brackett, American religious leader and composer (d. 1882), was an American songwriter, author, and elder of The United Society of Believers in Christ's Second Appearing, better known as the Shakers. The most famous song attributed to Brackett, "Simple Gifts", is still widely performed and adapted.
Deaths
2015 – Denise McCluggage, American race car driver and journalist (b. 1927)
2015 – Jim Wright, American soldier, lawyer, and politician, 56th Speaker of the United States House of Representatives (b. 1922)
2014 – Billy Harrell, American baseball player and scout (b. 1928)
2014 – William H. Dana, American pilot, engineer, and astronaut (b. 1930)
2012 – James Isaac, American director and producer (b. 1960)
2012 – James R. Browning, American lieutenant, lawyer, and judge (b. 1918)
2009 – Kevin Grubb, American race car driver (b. 1978)
2007 – Curtis Harrington, American actor, director, and screenwriter (b. 1926)
2004 – Barney Kessel, American guitarist and composer (b. 1923)
2004 – Philip Kapleau, American monk and educator (b. 1912)
2004 – Virginia Capers, American actress and singer (b. 1925)
2003 – Art Houtteman, American baseball player and journalist (b. 1927)
2002 – Otis Blackwell, American singer-songwriter and pianist (b. 1932)
1992 – Marlene Dietrich, German-American actress and singer (b. 1901)
1990 – Charles Farrell, American actor (b. 1901)
1989 – Earl Blaik, American football player and coach (b. 1897)
1987 – William J. Casey, American politician, 13th Director of Central Intelligence (b. 1913)
1983 – Ezra Jack Keats, American author and illustrator (b. 1916)
1983 – Kai Winding, Danish-American trombonist and composer (b. 1922)
1963 – Monty Woolley, American raconteur, actor, and director (b. 1888)
1963 – Ted Weems, American violinist, trombonist, and bandleader (b. 1901)
1963 – Theodore von Kármán, Hungarian-American mathematician, physicist, and engineer (b. 1881)
1959 – Ragnar Nurkse, Estonian-American economist and academic (b. 1907)
1919 – L. Frank Baum, American novelist (b. 1856)
1902 – Bret Harte, American author and poet (b. 1836)
1862 – Henry David Thoreau, American essayist, poet, and philosopher (b. 1817)
National Nurse Week and National Nurses Day or National RN Recognition Day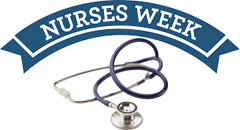 Each year from May 6 to May 12, we recognize the invaluable work of nurses during National Nurses Week. Nurses are the first line of defense in the prevention of illness ..→