Sunday 10 May 2020 Calendar with holidays, observances and special days
Calendars:
American Samoa
,
Environmental Dates
,
Pet and Animal Holidays
,
Womenís Days
,
Worldwide Holidays
,
Anguilla
,
Antigua and Barbuda
,
Aruba
,
Australia
,
Austria
,
Bahamas
,
Barbados
,
Botswana
,
Canada
,
Childrenís Days
,
Fatherís Days
,
Fiji
,
Food holidays
,
Germany
,
Ghana
,
Guyana
,
Health Calendar
,
India
,
Italy
,
Jamaica
,
Japan
,
Malaysia
,
Malta
,
New Zealand
,
Puerto Rico
,
Samoa
,
Singapore
,
South Africa
,
Sri Lanka
,
The Philippines
,
Tonga
,
Trinidad and Tobago
,
Unusual Holidays
Holidays and observances
Children's Day in Maldives
Clean Up Your Room Day
Father's Day in Romania
Global Move for Health Day
Golden Spike Day (The golden spike also known as The Last Spike is the ceremonial final spike driven by Leland Stanford to join the rails of the First Transcontinental Railroad across the United States connecting the Central Pacific and Union Pacific railroads on May 10, 1869, at Promontory Summit, Utah Territory)
Independence Day or King's Day in Romania (celebrates the declaration of independence of Romania from the Ottoman Empire in 1877)
Mother's Day (El Salvador, Guatemala, and Mexico)
Motherís Day (Anguilla, Antigua and Barbuda, Aruba, Australia, Austria, Bahamas, Bangladesh, Barbados, Belgium, Belize, Bermuda, Bhutan, Bonaire, Botswana, Brazil, Brunei, Canada, Cambodia, Cayman Islands, Central African Republic, Chad, Chile, China, Colombia, Congo, Dem. Rep., Congo, Rep., Cote d'Ivoire, Croatia, Cuba, Curaçao, Cyprus, Czech Republic, Denmark, Dominica, Ecuador, Equatorial Guinea, Estonia, Ethiopia, Faroe Islands, Fiji, Finland, Germany, Gabon, Gambia, Greenland, Ghana, Greece, Grenada, Guyana, Honduras, Hong Kong, Iceland, India, Italy, Jamaica, Japan, Kenya, Latvia, Liberia, Liechtenstein, Macau, Malaysia, Malta, Myanmar, Namibia, Netherlands, New Zealand, Pakistan, Papua New Guinea, Peru, Philippines, Puerto Rico, Saint Kitts and Nevis, Saint Lucia, Saint Vincent and the Grenadines, Samoa, Singapore, Sint Maarten, Slovakia, South Africa, Sri Lanka, Suriname, Switzerland, Taiwan, Tanzania, Tonga, Trinidad and Tobago, Turkey, Uganda, Ukraine, United States, Uruguay, Vietnam, Venezuela, Zambia, Zimbabwe)
National Shrimp Day and National Liver and Onions Day in USA
Windmill Day
World Lupus Day
Events
2002 – FBI agent Robert Hanssen is sentenced to life imprisonment without the possibility of parole for selling United States secrets to Russia for $1.4 million in cash and diamonds.
1994 – Nelson Mandela is inaugurated as South Africa's first black president.
1981 – François Mitterrand wins the presidential election and becomes the first Socialist President of France in the French Fifth Republic.
1972 – In the Vietnam War, the US had two fighter ace crews. The USAF's Ritchie and DeBellevue scored their first kill while the USN's Cunningham and Driscoll scored their third, fourth and fifth kills.
1962 – Marvel Comics publishes the first issue of The Incredible Hulk.
1960 – The nuclear submarine USS Triton completes Operation Sandblast, the first underwater circumnavigation of the earth.
1954 – Bill Haley & His Comets release "Rock Around the Clock", the first rock and roll record to reach number one on the Billboard charts.
1946 – First successful launch of an American V-2 rocket at White Sands Proving Ground.
1924 – J. Edgar Hoover is appointed first Director of the United States' Federal Bureau of Investigation (FBI), and remains so until his death in 1972.
1922 – The United States annexes the Kingman Reef.
1908 – Mother's Day is observed for the first time in the United States, in Grafton, West Virginia.
1904 – The Horch & Cir. Motorwagenwerke AG is founded. It would eventually become the Audi company.
1872 – Victoria Woodhull becomes the first woman nominated for President of the United States.
1869 – The First Transcontinental Railroad, linking the eastern and western United States, is completed at Promontory Summit, Utah with the golden spike.
1865 – American Civil War: In Kentucky, Union soldiers ambush and mortally wound Confederate raider William Quantrill, who lingers until his death on June 6.
1865 – American Civil War: Jefferson Davis is captured by U.S. troops near Irwinville, Georgia.
1864 – American Civil War: Colonel Emory Upton leads a 10-regiment "Attack-in-depth" assault against the Confederate works at The Battle of Spotsylvania, which, though ultimately unsuccessful, would provide the idea for the massive assault against the Bloody Angle on May 12. Upton is slightly wounded but is immediately promoted to brigadier general.
1857 – Indian Rebellion of 1857: In India, the first war of Independence begins. Sepoys mutiny against their commanding officers at Meerut.
1801 – First Barbary War: The Barbary pirates of Tripoli declare war on the United States of America.
1796 – War of the First Coalition: Napoleon I of France wins a victory against Austrian forces at Lodi bridge over the Adda River in Italy. The Austrians lose some 2,000 men.
1775 – American Revolutionary War: A small Colonial militia led by Ethan Allen and Colonel Benedict Arnold captures Fort Ticonderoga.
1775 – American Revolutionary War: Representatives from the Thirteen Colonies begin the Second Continental Congress in Philadelphia.
1773 – The Parliament of Great Britain passes the Tea Act, designed to save the British East India Company by granting it a monopoly on the North American tea trade.
1497 – Amerigo Vespucci allegedly leaves Cádiz for his first voyage to the New World.
Births
1996 – Tyus Jones, American basketball player
1995 – Missy Franklin, American swimmer
1987 – Wilson Chandler, American basketball player
1978 – Kenan Thompson, American actor
1975 – Adam Deadmarsh, Canadian-American ice hockey player
1971 – Craig Mack, American rapper and producer
1970 – Gabriela Montero, Venezuelan-American pianist
1969 – John Scalzi, American author and blogger
1965 – Rony Seikaly, Lebanese-American basketball player and radio host
1963 – Lisa Nowak, American commander and astronaut
1960 – Dean Heller, American lawyer and politician, 15th Secretary of State of Nevada
1959 – Danny Schayes, American basketball player
1959 – Victoria Rowell, American actress
1958 – Rick Santorum, American lawyer and politician
1955 – Mark David Chapman, American murderer
1948 – Meg Foster, American actress
1947 – Caroline B. Cooney, American author
1944 – Jim Abrahams, American director, producer, and screenwriter
1942 – Jim Calhoun, American basketball player and coach
1940 – Arthur Alexander, American country-soul singer-songwriter (d. 1993)
1940 – Wayne Dyer, American author and educator (d. 2015)
1938 – Henry Fambrough, American soul singer
1935 – Larry Williams, American singer-songwriter, pianist, and producer (d. 1980)
1933 – Barbara Taylor Bradford, English-American author
1930 – George E. Smith, American physicist and engineer, Nobel Prize laureate
1930 – Pat Summerall, American football player and sportscaster (d. 2013)
1929 – George Coe, American actor and producer (d. 2015)
1927 – Mike Souchak, American golfer (d. 2008)
1922 – Nancy Walker, American actress, singer, and director (d. 1992)
1918 – T. Berry Brazelton, American pediatrician and author
1916 – Milton Babbitt, American composer and educator (d. 2011)
1911 – Bel Kaufman, American author and educator (d. 2014)
1909 – Maybelle Carter, American autoharp player (d. 1978)
1908 – Carl Albert, American lawyer and politician, 54th Speaker of the United States House of Representatives (d. 2000)
1902 – Anatole Litvak, Ukrainian-American director, producer, and screenwriter (d. 1974)
1902 – David O. Selznick, American director and producer (d. 1965)
1901 – Hildrus Poindexter, American bacteriologist (d. 1987)
1900 – Cecilia Payne-Gaposchkin, English-American astronomer and astrophysicist (d. 1979)
1899 – Fred Astaire, American actor, singer, and dancer (d. 1987)
1898 – Ariel Durant, American historian and author (d. 1981)
1894 – Dimitri Tiomkin, Ukrainian-American composer and conductor (d. 1979)
1893 – Tonita Peña, San Ildefonso Pueblo (Native American) artist (d. 1949)
1889 – Mae Murray, American actress (d. 1965)
1888 – Max Steiner, Austrian-American composer and conductor (d. 1971)
1886 – Felix Manalo, Filipino religious leader, founded Iglesia ni Cristo (d. 1963)
1841 – James Gordon Bennett, Jr., American publisher and broadcaster, co-founded Commercial Cable Company (d. 1918)
1838 – John Wilkes Booth, American actor, assassin of Abraham Lincoln (d. 1865)
1813 – Montgomery Blair, American lieutenant and politician, 20th United States Postmaster General (d. 1883)
1755 – Robert Gray, American captain and explorer (d. 1806)
Deaths
2015 – Chris Burden, American sculptor, illustrator, and academic (b. 1946)
2014 – Patrick Lucey, American soldier and politician, 38th Governor of Wisconsin (b. 1918)
2012 – Carroll Shelby, American race car driver and designer (b. 1923)
2010 – Frank Frazetta, American illustrator and painter (b. 1928)
2006 – A. M. Rosenthal, Canadian-American journalist (b. 1922)
2006 – Soraya, Colombian-American singer-songwriter, guitarist, and producer (b. 1969)
2005 – David Wayne, American singer-songwriter (b. 1958)
2003 – Milan Vukcevich, Serbian-American chemist and chess player (b. 1937)
2000 – Dick Sprang, American illustrator (b. 1915)
1999 – Shel Silverstein, American poet, author, and illustrator (b. 1930)
1990 – Walker Percy, American novelist and essayist (b. 1916)
1989 – Woody Shaw, American trumpet player, composer, and bandleader (b. 1944)
1977 – Joan Crawford, American actress (year of birth disputed)
1974 – Hal Mohr, American director and cinematographer (b. 1894)
1968 – Scotty Beckett, American actor and singer (b. 1929)
1868 – Henry Bennett, American lawyer and politician (b. 1808)
1863 – Stonewall Jackson, American general (b. 1824)
1818 – Paul Revere, American engraver and soldier (b. 1735)
1717 – John Hathorne, American merchant and politician (b. 1641)
Sunday 10 May 2020
Confederate Memorial Day in North and South Carolina (State holiday)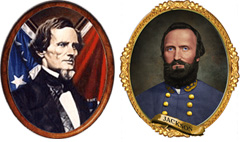 In North and South Carolina, May 10 marks the anniversaries of the death of Thomas Jonathan íStonewallí Jackson (a general in the Confederate army) in 1863 and the captur..→