Thursday 23 May 2019 Calendar with holidays, observances and special days
Holidays and observances
Constitution Day in Germany
Don't Fry Day
Eid al-Fitr (also called the "Festival of Breaking the Fast", is a religious holiday celebrated by Muslims worldwide that marks the end of Ramadan)
Labour Day in Jamaica
Lucky Penny Day
National Taffy Day in USA
Statehood Day (South Carolina, 1788)
Title Track Day
World Turtle Day (sponsored yearly since 2000 by American Tortoise Rescue, is to bring attention to, and increase knowledge of and respect for, turtles and tortoises, and encourage human action to help them survive and thrive)
Events
1995 – The first version of the Java programming language is released.
1934 – Infamous American bank robbers Bonnie and Clyde are ambushed by police and killed in Bienville Parish, Louisiana.
1907 – The unicameral Parliament of Finland gathers for its first plenary session.
1900 – American Civil War: Sergeant William Harvey Carney is awarded the Medal of Honor for his heroism in the Assault on the Battery Wagner in 1863.
1846 – Mexican–American War: President Mariano Paredes of Mexico unofficially declares war on the United States.
1829 – Accordion patent granted to Cyrill Demian in Vienna, Austrian Empire.
1793 – Battle of Famars during the Flanders Campaign of the War of the First Coalition.
1788 – South Carolina ratifies the United States Constitution as the eighth American state.
Births
1998 – Luca de la Torre, American footballer
1997 – Coy Craft, American footballer
1996 – John Requejo, American footballer
1995 – Tyus Bowser, American football player
1993 – Andy Janovich, American football player
1993 – Stephon Tuitt, American football player
1991 – Aaron Donald, American football player
1988 – Morgan Pressel, American golfer
1987 – Bray Wyatt, American wrestler
1986 – Ryan Coogler, American film director and screenwriter
1979 – Rasual Butler, American basketball player
1978 – Mike Gonzalez, American baseball player
1978 – Scott Raynor, American drummer
1974 – Jewel, American singer-songwriter, guitarist, actress, and poet
1973 – Maxwell, American singer-songwriter and producer
1970 – Bryan Herta, American race car driver and businessman, co-founded Bryan Herta Autosport
1970 – Matt Flynn, American drummer and producer
1970 – Nanette Burstein, American director, producer, and screenwriter
1969 – Mindi Abair, American saxophonist and composer
1968 – Guinevere Turner, American actress and screenwriter
1962 – Karen Duffy, American actress
1958 – Drew Carey, American actor, game show host, and entrepreneur
1958 – Lea DeLaria, American actress and singer
1958 – Mitch Albom, American journalist, author, and screenwriter
1958 – Shelly West, American country singer
1956 – Buck Showalter, American baseball player, coach, and manager
1954 – Marvelous Marvin Hagler, American boxer and actor
1950 – Martin McGuinness, Irish republican and Sinn Féin politician, Deputy First Minister of Northern Ireland (d. 2017)
1949 – Daniel DiNardo, American cardinal
1947 – Jane Kenyon, American poet and translator (d. 1995)
1944 – Tiki Fulwood, American R&B/funk/jazz drummer (d. 1979)
1943 – Alan Walden, American businessman and manager, co-founded Capricorn Records
1943 – General Johnson, American singer-songwriter and producer (d. 2010)
1941 – Martin Puryear, American sculptor
1941 – Zalman King, American director, producer, and screenwriter (d. 2012)
1939 – Michel Colombier, French-American composer and conductor (d. 2004)
1936 – Charles Kimbrough, American actor
1934 – Robert Moog, electronic engineer and inventor of the Moog synthesizer (d. 2005)
1931 – Barbara Barrie, American actress
1930 – Charles Kelman, American ophthalmologist (d. 2004)
1930 – Richard Anuszkiewicz, American painter and sculptor
1928 – Rosemary Clooney, American singer and actress (d. 2002)
1925 – Joshua Lederberg, American biologist and geneticist, Nobel Prize laureate (d. 2008)
1925 – Mac Wiseman, American singer-songwriter and guitarist
1923 – Irving Millman, American virologist and microbiologist (d. 2012)
1920 – Helen O'Connell, American singer (d. 1993)
1919 – Betty Garrett, American actress, singer, and dancer (d. 2011)
1919 – Robert Bernstein, American author and playwright (d. 1988)
1917 – Edward Norton Lorenz, American mathematician and meteorologist (d. 2008)
1915 – S. Donald Stookey, American physicist and chemist, invented CorningWare (d. 2014)
1914 – Celestine Sibley, American journalist and author (d. 1999)
1912 – John Payne, American actor (d. 1989)
1910 – Artie Shaw, American clarinet player, composer, and bandleader (d. 2004)
1910 – Franz Kline, American painter and academic (d. 1962)
1910 – Margaret Wise Brown, American author and educator (d. 1952)
1910 – Scatman Crothers, American actor and comedian (d. 1986)
1908 – John Bardeen, American physicist and engineer, Nobel Prize laureate (d. 1991)
1899 – Jeralean Talley, American super-centenarian (d. 2015)
1898 – Scott O'Dell, American soldier, journalist, and author (d. 1989)
1890 – Herbert Marshall, English-American actor and singer (d. 1966)
1888 – Zack Wheat, American baseball player and police officer (d. 1972)
1883 – Douglas Fairbanks, American actor, director, producer, and screenwriter (d. 1939)
1875 – Alfred P. Sloan, American businessman and philanthropist (d. 1966)
1864 – William O'Connor, American fencer (d. 1939)
1837 – Anatole Mallet, Swiss mechanical engineer and inventor (d. 1919)
1824 – Ambrose Burnside, American general and politician, 30th Governor of Rhode Island (d. 1881)
1820 – James Buchanan Eads, American engineer, designed the Eads Bridge (d. 1887)
1820 – Lorenzo Sawyer, American lawyer and judge (d. 1891)
1810 – Margaret Fuller, American journalist and critic (d. 1850)
1795 – Charles Barry, English architect, designed the Upper Brook Street Chapel and Halifax Town Hall (d. 1860)
Deaths
2017 – Cortez Kennedy, American football player (b. 1968)
2015 – Alicia Nash, Salvadoran-American physicist and engineer (b. 1933)
2015 – Anne Meara, American actress, comedian and playwright (b. 1929)
2015 – John Forbes Nash, Jr., American mathematician and academic, Nobel Prize laureate (b. 1928)
2015 – Leo Berman, American businessman and politician (b. 1935)
2014 – Michael Gottlieb, American director, producer, and screenwriter (b. 1945)
2013 – Flynn Robinson, American basketball player (b. 1941)
2013 – William Demby, American author (b. 1922)
2012 – Hal Jackson, American journalist and radio host (b. 1915)
2012 – Paul Fussell, American historian, author, and academic (b. 1924)
2012 – T. Garry Buckley, American soldier, pilot, and politician, 72nd Lieutenant Governor of Vermont (b. 1922)
2012 – William C. Wampler, American soldier and politician (b. 1926)
2010 – José Lima, Dominican-American baseball player (b. 1972)
2008 – Utah Phillips, American singer-songwriter and poet (b. 1935)
2006 – Clifford Antone, American businessman (b. 1949)
2006 – Ian Copeland, Syrian-American talent agent (b. 1949)
2006 – Lloyd Bentsen, American colonel and politician, 69th United States Secretary of the Treasury (b. 1921)
2002 – Sam Snead, American golfer and journalist (b. 1912)
1999 – Owen Hart, Canadian-American wrestler (b. 1965)
1998 – Telford Taylor, American general and lawyer (b. 1908)
1986 – Sterling Hayden, American actor (b. 1916)
1981 – Gene Green, American baseball player (b. 1933)
1981 – George Jessel, American actor, singer, and producer (b. 1898)
1975 – Moms Mabley, American comedian and actor (b. 1894)
1965 – Earl Webb, American baseball player and coach (b. 1897)
1960 – Georges Claude, French engineer and inventor, created Neon lighting (b. 1870)
1938 – Frederick Ruple, Swiss-American painter (b. 1871)
1937 – John D. Rockefeller, American businessman and philanthropist, founded the Standard Oil Company and Rockefeller University (b. 1839)
1934 – Bonnie Parker, American criminal (b. 1910)
1934 – Clyde Barrow, American criminal (b. 1909)
1868 – Kit Carson, American general (b. 1809)
1815 – Gotthilf Heinrich Ernst Muhlenberg, American clergyman and botanist (b. 1753)
1783 – James Otis, Jr., American lawyer and politician (b. 1725)
1754 – John Wood, the Elder, English architect, designed The Circus and Queen Square (b. 1704)
1752 – William Bradford, English-American printer (b. 1663)
1524 – Ismail I, First Emperor of Safavid Empire (b. 1487)
Thursday 23 May 2019
Crohn's and Colitis Awareness Day in Ohio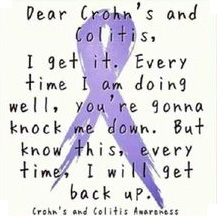 Crohn's disease, also known as Crohn syndrome and regional enteritis, is a type of inflammatory bowel disease that may affect any part of the gastrointestinal tract from ..→