Tuesday 30 July 2019 Calendar with holidays, observances and special days
Holidays and observances
Events
1974 – Watergate scandal: U.S. President Richard Nixon releases subpoenaed White House recordings after being ordered to do so by the Supreme Court of the United States.
1971 – Apollo program: Apollo 15 Mission: David Scott and James Irwin on the Apollo Lunar Module Falcon land on the Moon with the first Lunar Rover.
1932 – Premiere of Walt Disney's Flowers and Trees, the first cartoon short to use Technicolor and the first Academy Award winning cartoon short.
1930 – In Montevideo, Uruguay wins the first FIFA World Cup.
1864 – American Civil War: Battle of the Crater: Union forces attempt to break Confederate lines at Petersburg, Virginia by exploding a large bomb under their trenches.
1863 – American Indian Wars: Representatives of the United States and tribal leaders including Chief Pocatello (of the Shoshone) sign the Treaty of Box Elder.
1859 – First ascent of Grand Combin, one of the highest summits in the Alps.
1825 – Malden Island is discovered by captain George Byron, 7th Baron Byron.
1733 – The first Masonic Grand Lodge in the future United States is constituted in Massachusetts.
1619 – In Jamestown, Virginia, the first representative assembly in the Americas, the House of Burgesses, convenes for the first time.
1419 – First Defenestration of Prague: A crowd of radical Hussites kill seven members of the Prague city council.
762 – Baghdad is founded.
Births
1993 – Jacob Faria, American baseball player
1987 – Sam Saunders, American golfer
1984 – Gabrielle Christian, American actress and singer
1984 – Kevin Pittsnogle, American basketball player
1981 – Hope Solo, American soccer player
1981 – Nicky Hayden, American motorcycle racer (d. 2017)
1980 – Seth Avett, American folk-rock singer-songwriter and musician
1977 – Bootsy Thornton, American basketball player
1977 – Jaime Pressly, American actress
1977 – Misty May-Treanor, American volleyball player and coach
1975 – Kate Starbird, American basketball player and computer scientist
1974 – Hilary Swank, American actress and producer
1973 – Clementa C. Pinckney, American minister and politician (d. 2015)
1972 – Jim McIlvaine, American basketball player and sportscaster
1971 – Elvis Crespo, American-Puerto Rican singer
1970 – Christopher Nolan, English-American director, producer, and screenwriter
1970 – Dean Edwards, American comedian, actor, and singer
1968 – Terry Crews, American football player and actor
1964 – Alek Keshishian, Lebanese-American director, producer, and screenwriter
1964 – Ron Block, American singer-songwriter and banjo player
1964 – Vivica A. Fox, American actress
1963 – Chris Mullin, American basketball player and manager
1963 – Lisa Kudrow, American actress and producer
1962 – Alton Brown, American chef, author, and producer
1962 – Jay Feaster, American ice hockey player and manager
1961 – Laurence Fishburne, American actor and producer
1960 – Jennifer Barnes, American-English musicologist and academic
1960 – Richard Linklater, American director and screenwriter
1957 – Bill Cartwright, American basketball player and coach
1957 – Clint Hurdle, American baseball player and manager
1956 – Anita Hill, American lawyer and academic
1956 – Delta Burke, American actress
1956 – Soraida Martinez, American painter and educator
1954 – Ken Olin, American actor, director, and producer
1950 – Frank Stallone, American singer-songwriter and actor
1950 – Mike Starr, American character actor
1949 – Duck Baker, American guitarist
1948 – Billy Paultz, American basketball player
1948 – John Briscoe, South African-American epidemiologist, engineer, and academic (d. 2014)
1948 – Otis Taylor, American singer-songwriter and guitarist
1947 – Arnold Schwarzenegger, Austrian-American bodybuilder, actor, and politician, 38th Governor of California
1947 – Jonathan Mann, American physician and author (d. 1998)
1947 – William Atherton, American actor and producer
1946 – Neil Bonnett, American race car driver and sportscaster (d. 1994)
1945 – David Sanborn, American saxophonist and composer
1940 – Clive Sinclair, English businessman, founded Sinclair Radionics and Sinclair Research
1940 – Patricia Schroeder, American lawyer and politician
1939 – Eleanor Smeal, American activist, founded the Feminist Majority Foundation
1939 – Peter Bogdanovich, American actor, director, producer, and screenwriter
1936 – Buddy Guy, American singer-songwriter and guitarist
1929 – Sid Krofft, Canadian-American puppeteer and producer
1928 – Joe Nuxhall, American baseball player and sportscaster (d. 2007)
1927 – Pete Schoening, American mountaineer (d. 2004)
1927 – Victor Wong, American actor (d. 2001)
1922 – Henry W. Bloch, American banker and businessman, co-founded H&R Block
1921 – Grant Johannesen, American pianist and educator (d. 2005)
1913 – Lou Darvas, American soldier and cartoonist (d. 1987)
1910 – Edgar de Evia, Mexican-American photographer (d. 2003)
1890 – Casey Stengel, American baseball player and manager (d. 1975)
1881 – Smedley Butler, American general, Medal of Honor recipient (d. 1940)
1863 – Henry Ford, American engineer and businessman, founded the Ford Motor Company (d. 1947)
1859 – Henry Simpson Lunn, English minister and humanitarian, founded Lunn Poly (d. 1939)
1857 – Thorstein Veblen, American economist and sociologist (d. 1929)
1832 – George Lemuel Woods, American lawyer, judge, and politician, 3rd Governor of Oregon (d. 1890)
1809 – Charles Chiniquy, Canadian-American priest and theologian (d. 1899)
Deaths
2016 – Gloria DeHaven, American actress, singer, and dancer (b. 1925)
2015 – Francis Paul Prucha, American historian and academic (b. 1921)
2015 – Lynn Anderson, American singer (b. 1947)
2014 – Dick Smith, American make-up artist (b. 1922)
2014 – Dick Wagner, American singer-songwriter and guitarist (b. 1942)
2014 – Robert Drew, American director and producer (b. 1924)
2013 – Cecil Alexander, American architect, designed the State of Georgia Building (b. 1918)
2013 – Harry F. Byrd, Jr., American lieutenant, publisher, and politician (b. 1914)
2013 – Ossie Schectman, American basketball player (b. 1919)
2013 – Robert Neelly Bellah, American sociologist and author (b. 1927)
2012 – Bill Doss, American singer and guitarist (b. 1968)
2012 – Mary Louise Rasmuson, American colonel (b. 1911)
2011 – Bob Peterson, American basketball player (b. 1932)
2009 – Mohammed Yusuf, Nigerian militant leader, founded Boko Haram (b. 1970)
2008 – Anne Armstrong, American businesswoman and diplomat, United States Ambassador to the United Kingdom (b. 1927)
2007 – Bill Walsh, American football player and coach (b. 1931)
2006 – Anthony Galla-Rini, American accordion player and composer (b. 1904)
2006 – Murray Bookchin, American philosopher and author (b. 1921)
2005 – Ray Cunningham, American baseball player (b. 1905)
2003 – Sam Phillips, American record producer, founded Sun Records (b. 1923)
1998 – Buffalo Bob Smith, American television host (b. 1917)
1996 – Claudette Colbert, French-American actress (b. 1903)
1992 – Brenda Marshall, Filipino-American actress and singer (b. 1915)
1992 – Joe Shuster, Canadian-American illustrator, co-created Superman (b. 1914)
1985 – Julia Robinson, American mathematician and theorist (b. 1919)
1983 – Howard Dietz, American songwriter and publicist (b. 1896)
1977 – Emory Holloway, American scholar, author, and educator (b. 1885)
1975 – James Blish, American author and critic (b. 1921)
1970 – George Szell, Hungarian-American conductor and composer (b. 1897)
1930 – Joan Gamper, Swiss-Spanish footballer and businessman, founded FC Barcelona (b. 1877)
1918 – Joyce Kilmer, American soldier, journalist, and poet (b. 1886)
1875 – George Pickett, American general (b. 1825)
1718 – William Penn, English businessman and philosopher, founded the Province of Pennsylvania (b. 1644)
Tuesday 30 July 2019
World Day against Trafficking in Persons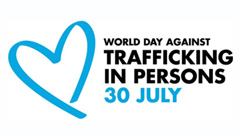 Human trafficking is a crime that exploits women, children and men for numerous purposes including forced labour and sex. The International Labour Organization estimates ..→