Friday 9 August 2019 Calendar with holidays, observances and special days
Holidays and observances
Events
2014 – Michael Brown, an 18-year-old African American male in Ferguson, Missouri, was shot and killed by a Ferguson police officer after reportedly assaulting the officer and attempting to steal his weapon, sparking protests and unrest in the city.
1974 – As a direct result of the Watergate scandal, Richard Nixon becomes the first President of the United States to resign from office. His Vice President, Gerald Ford, becomes president.
1945 – World War II: Nagasaki is devastated when an atomic bomb, Fat Man, is dropped by the United States B-29 Bockscar. Thirty-five thousand people are killed outright, including 23,200-28,200 Japanese war workers, 2,000 Korean forced workers, and 150 Japanese soldiers.
1944 – The United States Forest Service and the Wartime Advertising Council release posters featuring Smokey Bear for the first time.
1914 – Start of the Battle of Mulhouse, part of a French attempt to recover the province of Alsace and the first French offensive of World War I.
1907 – The first Boy Scout encampment concludes at Brownsea Island in southern England.
1892 – Thomas Edison receives a patent for a two-way telegraph.
1877 – Indian Wars: Battle of the Big Hole: A small band of Nez Percé Indians clash with the United States Army
1862 – American Civil War: Battle of Cedar Mountain: At Cedar Mountain, Virginia, Confederate General Stonewall Jackson narrowly defeats Union forces under General John Pope.
1842 – The Webster–Ashburton Treaty is signed, establishing the United States–Canada border east of the Rocky Mountains.
1810 – Napoleon annexes Westphalia as part of the First French Empire.
1610 – The First Anglo-Powhatan War begins in colonial Virginia.
1329 – Quilon, the first Indian Christian Diocese, is erected by Pope John XXII; the French-born Jordanus is appointed the first Bishop.
Births
1991 – Alexa Bliss, American bodybuilder and wrestler
1991 – Young Thug, American rapper
1990 – Sarah McBride, American LGBT Activist
1989 – Jason Heyward, American baseball player
1988 – Anthony Castonzo, American football player
1986 – Tyler "Telle" Smith, American singer-songwriter and bass player
1985 – Anna Kendrick, American actress and singer
1985 – Chandler Williams, American football player (d. 2013)
1985 – Hayley Peirsol, American swimmer
1985 – JaMarcus Russell, American football player
1982 – Joel Anthony, American basketball player
1982 – Tyson Gay, American sprinter
1981 – Jarvis Hayes, American basketball player
1979 – Tony Stewart, American football player
1977 – Adewale Ogunleye, American football player
1977 – Chamique Holdsclaw, American basketball player
1977 – Ime Udoka, American basketball player and coach
1977 – Jason Frasor, American baseball player
1976 – Jessica Capshaw, American actress
1975 – Mike Lamb, American baseball player
1974 – Derek Fisher, American basketball player and coach
1974 – Kirill Reznik, American lawyer and politician
1974 – Matt Morris, American baseball player
1973 – Gene Luen Yang, American author and illustrator
1970 – Chris Cuomo, American lawyer and journalist
1969 – Troy Percival, American baseball player and coach
1968 – Gillian Anderson, American actress and director
1968 – McG, American director and producer
1968 – Sam Fogarino, American drummer
1967 – Deion Sanders, American football and baseball player
1966 – Vinny Del Negro, American basketball player and coach
1964 – Brett Hull, Canadian-American ice hockey player and manager
1964 – Hoda Kotb, American journalist and television personality
1963 – Jay Leggett, American actor, director, producer, and screenwriter (d. 2013)
1963 – Whitney Houston, American singer-songwriter, producer, and actress (d. 2012)
1962 – John "Hot Rod" Williams, American basketball player (d. 2015)
1962 – Kevin Mack, American football player
1962 – Louis Lipps, American football player and radio host
1961 – Brad Gilbert, American tennis player and sportscaster
1959 – Kurtis Blow, American rapper, producer, and actor
1959 – Michael Kors, American fashion designer
1958 – Amanda Bearse, American actress, comedian and director
1958 – James Lileks, American journalist and blogger
1957 – Melanie Griffith, American actress and producer
1955 – John E. Sweeney, American lawyer and politician
1951 – Steve Swisher, American baseball player and manager
1949 – Jonathan Kellerman, American psychologist and author
1949 – Ted Simmons, American baseball player and coach
1948 – Bill Campbell, American baseball player and coach
1947 – Barbara Mason, American R&B/soul singer-songwriter
1947 – John Varley, American author
1946 – Jim Kiick, American football player
1945 – Barbara Delinsky, American author
1944 – Patricia McKissack, American soldier, engineer, and author
1944 – Sam Elliott, American actor and producer
1943 – Ken Norton, American boxer and actor (d. 2013)
1942 – Jack DeJohnette, American drummer, pianist, and composer
1942 – Tommie Agee, American baseball player (d. 2001)
1940 – Linda Keen, American mathematician and academic
1939 – Billy Henderson, American singer (d. 2007)
1939 – Butch Warren, American bassist (d. 2013)
1939 – The Mighty Hannibal, American singer-songwriter and producer (d. 2014)
1936 – Julián Javier, Dominican-American baseball player
1935 – Beverlee McKinsey, American actress (d. 2008)
1931 – Chuck Essegian, American baseball player and lawyer
1931 – James Freeman Gilbert, American geophysicist and academic (d. 2014)
1931 – Paula Kent Meehan, American businesswoman, co-founded Redken (d. 2014)
1930 – Milt Bolling, American baseball player and scout (d. 2013)
1928 – Bob Cousy, American basketball player and coach
1928 – Camilla Wicks, American violinist and educator
1928 – Dolores Wilson, American soprano and actress (d. 2010)
1927 – Daniel Keyes, American short story writer and novelist (d. 2014)
1925 – David A. Huffman, American computer scientist, developed Huffman coding (d. 1999)
1924 – Frank Martínez, American soldier and painter (d. 2013)
1921 – Ernest Angley, American evangelist and author
1921 – J. James Exon, American soldier and politician, 33rd Governor of Nebraska (d. 2005)
1919 – Ralph Houk, American baseball player and manager (d. 2010)
1918 – Albert Seedman, American police officer (d. 2013)
1918 – Kermit Beahan, American colonel (d. 1989)
1915 – Mareta West, American astronomer and geologist (d. 1998)
1911 – Eddie Futch, American boxer and trainer (d. 2001)
1911 – William Alfred Fowler, American astronomer and astrophysicist, Nobel Laureate (d. 1996)
1901 – Charles Farrell, American actor and singer (d. 1990)
1861 – Dorothea Klumpke, American astronomer and academic (d. 1942)
1788 – Adoniram Judson, American missionary and lexicographer (d. 1850)
1757 – Elizabeth Schuyler Hamilton, American humanitarian; wife of Alexander Hamilton (d. 1854)
1757 – Thomas Telford, Scottish architect and engineer, designed the Menai Suspension Bridge (d. 1834)
1674 – František Maxmilián Kaňka, Czech architect, designed the Veltrusy Mansion (d. 1766)
Deaths
2015 – Frank Gifford, American football player, sportscaster, and actor (b. 1930)
2015 – John Henry Holland, American computer scientist and academic (b. 1929)
2014 – Arthur G. Cohen, American businessman and philanthropist, co-founded Arlen Realty and Development Corporation (b. 1930)
2014 – Ed Nelson, American actor (b. 1928)
2013 – Harry Elliott, American baseball player and coach (b. 1923)
2013 – William Lynch, Jr., American lawyer and politician (b. 1947)
2012 – Al Freeman, Jr., American actor, director, and educator (b. 1934)
2012 – Carl Davis, American record producer (b. 1934)
2012 – Carmen Belen Richardson, Puerto Rican-American actress (b. 1930)
2012 – David Rakoff, Canadian-American actor and journalist (b. 1964)
2012 – Gene F. Franklin, American engineer, theorist, and academic (b. 1927)
2012 – Mel Stuart, American director and producer (b. 1928)
2010 – Calvin "Fuzz" Jones, American singer and bass player (b. 1926)
2010 – Ted Stevens, American soldier, lawyer, and politician (b. 1923)
2008 – Bernie Mac, American comedian, actor, screenwriter, and producer (b. 1957)
2007 – Joe O'Donnell, American photographer and journalist (b. 1922)
2006 – James Van Allen, American physicist and academic (b. 1914)
2005 – Judith Rossner, American author (b. 1935)
2004 – David Raksin, American composer and educator (b. 1912)
2004 – Tony Mottola, American guitarist and composer (b. 1918)
2003 – Gregory Hines, American actor, dancer, and choreographer (b. 1946)
2000 – John Harsanyi, Hungarian-American economist and academic, Nobel Prize laureate (b. 1920)
2000 – Nicholas Markowitz, American murder victim (b. 1984)
1996 – Frank Whittle, English soldier and engineer, invented the jet engine (b. 1907)
1995 – Jerry Garcia, American singer-songwriter and guitarist (b. 1942)
1980 – Jacqueline Cochran, American pilot (b. 1906)
1979 – Raymond Washington, American gang leader, founded the Crips (b. 1953)
1979 – Walter O'Malley, American businessman (b. 1903)
1978 – James Gould Cozzens, American novelist and short story writer (b. 1903)
1974 – Bill Chase, American trumpet player and bandleader (b. 1934)
1969 – Sharon Tate, American model and actress (b. 1943)
1969 – Wojciech Frykowski, Polish-American actor and author (b. 1936)
1963 – Patrick Bouvier Kennedy, American son of John F. Kennedy (b. 1963)
1949 – Edward Thorndike, American psychologist and academic (b. 1874)
1948 – Hugo Boss, German fashion designer, founded Hugo Boss (b. 1885)
1945 – Harry Hillman, American runner and coach (b. 1881)
1910 – Huo Yuanjia, Chinese martial artist, co-founded the Chin Woo Athletic Association (b. 1868)
Friday 9 August 2019
International Day of the World's Indigenous Peoples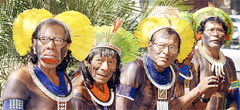 Every year, 9 August is commemorated as the International Day of the World's Indigenous Peoples. The day is celebrated with special events around the world, including at ..→