Thursday 12 September 2019 Calendar with holidays, observances and special days
Holidays and observances
Events
2001 – Ansett Australia, Australia's first commercial interstate airline, collapses due to increased strain on the international airline industry, leaving 10,000 people unemployed.
1992 – NASA launches Space Shuttle Endeavour on STS-47 which marked the 50th shuttle mission. On board are Mae Carol Jemison, the first African-American woman in space, Mamoru Mohri, the first Japanese citizen to fly in a US spaceship, and Mark Lee and Jan Davis, the first married couple in space.
1983 – A Wells Fargo depot in West Hartford, Connecticut, United States, is robbed of approximately US$7 million by Los Macheteros.
1974 – Juventude Africana Amílcar Cabral is founded in Guinea-Bissau.
1961 – The African and Malagasy Union is founded.
1959 – Bonanza premieres, the first regularly scheduled TV program presented in color.
1958 – Jack Kilby demonstrates the first working integrated circuit while working at Texas Instruments.
1942 – World War II: First day of the Battle of Edson's Ridge during the Guadalcanal Campaign. U.S. Marines protecting Henderson Field on Guadalcanal are attacked by Imperial Japanese Army forces.
1940 – Cave paintings are discovered in Lascaux, France.
1890 – Salisbury, Rhodesia, is founded.
1847 – Mexican–American War: the Battle of Chapultepec begins.
1814 – Battle of North Point: an American detachment halts the British land advance to Baltimore in the War of 1812.
1309 – The First Siege of Gibraltar takes place in the context of the Spanish Reconquista pitting the forces of the Kingdom of Castile against the Emirate of Granada resulting in a Castilian victory.
490 BC – Battle of Marathon: The conventionally accepted date for the Battle of Marathon. The Athenians and their Plataean allies, defeat the first Persian invasion force of Greece.
Births
1995 – Ryan Potter, American actor
1993 – Kelsea Ballerini, American Singer
1989 – Andrew Luck, American football player
1989 – Freddie Freeman, American-Canadian baseball player
1986 – Emmy Rossum, American singer and actress
1983 – Clayton Richard, American baseball player
1983 – Daniel Muir, American football player
1982 – Sal Rinauro, American wrestler
1981 – Jennifer Hudson, American singer and actress
1981 – Staciana Stitts, American swimmer
1980 – Sean Burroughs, American baseball player
1978 – Benjamin McKenzie, American actor
1978 – Ruben Studdard, American R&B, pop, and gospel singer
1977 – Jeff Irwin, American singer-songwriter and producer
1976 – Bizzy Bone, American rapper
1974 – Jennifer Nettles, American singer-songwriter
1973 – Paul Walker, American actor and producer (d. 2013)
1972 – Gideon Emery, English-American actor, producer, and screenwriter
1970 – Nathan Larson, American singer-songwriter and guitarist
1969 – James Frey, American author and screenwriter
1969 – Max Boot, Russian-American historian and author
1968 – Larry LaLonde, American guitarist and songwriter
1968 – Paul F. Tompkins, American comedian, actor, and writer
1967 – Louis C.K., American comedian, actor, producer, and screenwriter
1967 – Pat Listach, American baseball player, coach, and manager
1966 – Ben Folds, American singer-songwriter, guitarist, and producer
1965 – Vernon Maxwell, American basketball player
1964 – Greg Gutfeld, American television journalist and author
1962 – Amy Yasbeck, American actress
1960 – Evan Jenkins, American academic and politician
1959 – Deron Cherry, American football player and sportscaster
1959 – Scott Brown, American colonel and politician
1958 – Gregg Edelman, American actor and singer
1958 – Wilfred Benítez, American boxer
1956 – Chip Beck, American golfer
1956 – Ricky Rudd, American race car driver and sportscaster
1956 – Sam Brownback, American lawyer and politician, 46th Governor of Kansas
1954 – Robert Gober, American sculptor
1954 – Scott Hamilton, American saxophonist
1953 – Nan Goldin, American photographer
1952 – Gerry Beckley, American singer-songwriter and guitarist
1951 – Ali-Ollie Woodson, American singer-songwriter and keyboard player (d. 2010)
1951 – Joe Pantoliano, American actor and producer
1950 – Bruce Mahler, American actor and screenwriter
1949 – Charles Burlingame, American captain and pilot (d. 2001)
1948 – Steve Turre, American trombonist and educator
1946 – Tony Bellamy, American singer-songwriter and guitarist (d. 2009)
1945 – John Mauceri, American conductor and producer
1944 – Barry White, American singer-songwriter (d. 2003)
1944 – Lonnie Mayne, American wrestler (d. 1978)
1943 – Leonard Peltier, American political activist and convicted criminal
1943 – Maria Muldaur, American folk and blues singer
1940 – Linda Gray, American model and actress
1940 – Mickey Lolich, American baseball player
1940 – Stephen J. Solarz, American academic and politician (d. 2010)
1939 – Henry Waxman, American lawyer and politician
1939 – Phillip Ramey, American pianist and composer
1938 – Judy Clay, American soul and gospel singer (d. 2001)
1938 – Tatiana Troyanos, American operatic soprano (d. 1993)
1935 – Richard Hunt, American sculptor
1934 – Glenn Davis, American hurdler, sprinter, and football player (d. 2009)
1934 – Jaegwon Kim, South Korean-American philosopher and academic
1931 – George Jones, American singer-songwriter and guitarist (d. 2013)
1930 – Larry Austin, American composer and educator
1929 – Harvey Schmidt, American composer and illustrator
1928 – Ernie Vandeweghe, Canadian-American basketball player and physician (d. 2014)
1928 – Muriel Siebert, American businesswoman and philanthropist (d. 2013)
1928 – Robert Irwin, American painter and gardener
1925 – Dickie Moore, American actor (d. 2015)
1925 – Stan Lopata, American baseball player (d. 2013)
1922 – Jackson Mac Low, American poet, playwright, and composer (d. 2004)
1922 – Mark Rosenzweig, American psychologist and academic (d. 2009)
1921 – Frank McGee, American journalist (d. 1974)
1920 – Irene Dailey, American actress (d. 2008)
1916 – Tony Bettenhausen, American race car driver (d. 1961)
1913 – Jesse Owens, American sprinter and long jumper (d. 1980)
1904 – John Courtney Murray, American priest and theologian (d. 1967)
1904 – Lou Moore, American race car driver (d. 1956)
1902 – Marya Zaturenska, Ukrainian-American poet and author (d. 1982)
1900 – Haskell Curry, American mathematician, logician, and academic (d. 1982)
1898 – Ben Shahn, Lithuanian-American painter and photographer (d. 1969)
1897 – Walter B. Gibson, American magician and author (d. 1985)
1892 – Alfred A. Knopf, Sr., American publisher, founded Alfred A. Knopf Inc. (d. 1984)
1891 – Arthur Hays Sulzberger, American publisher (d. 1968)
1880 – H. L. Mencken, American journalist and critic (d. 1956)
1862 – Carl Eytel, German-American painter and illustrator (d. 1925)
1856 – Johann Heinrich Beck, American composer and conductor (d. 1924)
1830 – William Sprague, American businessman and politician, 27th Governor of Rhode Island (d. 1915)
1818 – Richard Jordan Gatling, American inventor, invented the Gatling gun (d. 1903)
1812 – Richard March Hoe, American engineer and businessman, invented the Rotary printing press (d. 1886)
1797 – Samuel Joseph May, American activist (d. 1871)
1768 – Benjamin Carr, English-American singer-songwriter, educator, and publisher (d. 1831)
Deaths
2017 – Edith Windsor, American LGBT rights activist and technology manager at IBM (b. 1929)
2015 – Al Monchak, American baseball player and coach (b. 1917)
2015 – Claudia Card, American philosopher and academic (b. 1940)
2015 – Frank D. Gilroy, American playwright and screenwriter (b. 1925)
2014 – Hugh Royer, Jr., American golfer (b. 1936)
2014 – Ian Paisley, Northern Irish evangelical pastor (Free Presbyterian Church) and politician, 2nd First Minister of Northern Ireland (b. 1926)
2014 – Joe Sample, American pianist and composer (b. 1939)
2013 – Candace Pert, American neuroscientist and pharmacologist (b. 1946)
2013 – Ray Dolby, American engineer and businessman, founded Dolby Laboratories (b. 1933)
2013 – Warren Giese, American football player, coach, and politician (b. 1924)
2012 – Tom Sims, American skateboarder and snowboarder, founded Sims Snowboards (b. 1950)
2009 – Jack Kramer, American tennis player and sportscaster (b. 1921)
2009 – Norman Borlaug, American agronomist and humanitarian, Nobel Prize laureate (b. 1914)
2008 – David Foster Wallace, American novelist, short story writer, and essayist (b. 1962)
2007 – Bobby Byrd, American singer-songwriter and producer (b. 1934)
2005 – Serge Lang, French-American mathematician, author and academic (b. 1927)
2003 – Johnny Cash, American singer-songwriter, guitarist, and actor (b. 1932)
2000 – Stanley Turrentine, American saxophonist, composer, and bandleader (b. 1934)
1999 – Bill Quackenbush, Canadian-American ice hockey player and coach (b. 1922)
1994 – Tom Ewell, American actor (b. 1909)
1993 – Raymond Burr, Canadian-American actor and director (b. 1917)
1992 – Anthony Perkins, American actor, singer, and director (b. 1932)
1987 – John Qualen, Canadian-American actor (b. 1899)
1977 – Robert Lowell, American poet (b. 1917)
1972 – William Boyd, American actor and producer (b. 1895)
1971 – Walter Egan, American golfer (b. 1881)
1968 – Tommy Armour, Scottish-American golfer and journalist (b. 1894)
1962 – Spot Poles, American baseball player and soldier (b. 1887)
1953 – Lewis Stone, American actor (b. 1879)
1927 – Sarah Frances Whiting, American physicist and astronomer (b. 1847)
1870 – Fitz Hugh Ludlow, American journalist, explorer, and author (b. 1836)
Thursday 12 September 2019
United Nations Day for South-South Cooperation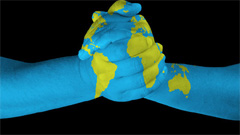 South-South cooperation, as an important element of international cooperation for development, offers viable opportunities for developing countries and countries with eco..→