Public Sleeping Day
Public Sleeping Day is held on February 28. This event in the third decade of the month February is annual.
Help us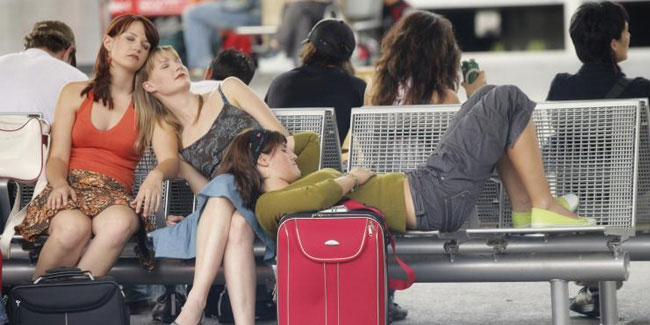 For most people home is where we go to sleep. Well, National Public Sleeping Day encourages you to be brave enough to take a nap outside the cozy comfort of your bedroom. It's literally leaving the comfort zone, isn't it?
Public Sleeping Day may seem just one of many funny holidays that have appeared in recent years. Yhea, why not grab your favorite pillow and doze off somewhere on a bench in a park. Just for fun. But, if you think of it, maybe there's something deeper to this special day.
In fact, not so many people will actually agree to fall asleep in public place. And the February weather is not the only reason. There is our society's unspoken taboo against sleeping the presence of others.
Writing in 1939, the sociologist Norbert Elias described sleeping — like other bodily functions such as blowing one's nose or evacuating waste — as an activity that Europeans of the 18th and 19th centuries decided must be undertaken in private in a "civilized" society. Around this time, middle-class homes began to feature a novel architectural arrangement: the bedroom. Dozing in public increasingly became an affront to refined sensibilities, a reminder of the body's basic functions that were supposed to be tidily managed behind closed doors. Accordingly, public sleeping came to be associated with indecency, vagrancy, lack of willpower, moral or economic failure. Such ideas about sleeping in public don't seem to have changed much since then. 43% of 187 American cities still have laws that prohibit sleeping in vehicles and 53% ban sitting or lying down in certain public places. Under certain circumstances, public sleeping is tolerated if it appears to be a choice rather than a need. Sleeping on a plane or commuter train seems like a sensible way to store up energy for business or to mitigate jet lag.
Catching sleep in public - a concept known as inemuri-is considered absolutely normal in Japan. Countless people nap on public transportation during daily commute. Some even sleep while standing up. Many doze during work meetings, classes and lectures. People there have little inhibition about falling asleep when and wherever they felt like doing so.
On a certain level, such public sleeping is not considered sleep at all. Even though the sleeper might be mentally 'away', they have to be able to return to the social situation at hand when active contribution is required. They also have to maintain the impression of fitting in with the environment by means of body posture, body language, dress code and the like. But as soon as public spaces become associated with too much sleeping, or the "wrong" people sleeping, conflict ensues. Very often prejudice and discrimination are
directed against  homeless people, sleeping in public places.
So, sleeping in public is a very interesting cultural and sociological phenomenon, that reveals not only social norms, but also some essential structures and values of our society. Public Sleeping Day may be seen as an opportunity to raise the issue of meeting one of the basic human needs – the need to sleep and rest - when and wherever it's needed. Studies have shown certain types of naps fuel the brain and recharge our batteries. Naps can improve productivity, decrease health risks and even improve morale.
Anyone and everyone should be able to take a nap on a blanket at the beach, at the park, in the movie theater, on a bus, train, or subway or any other public place that may work for them without being judged.
Similar holidays and events, festivals and interesting facts

No Brainer Day on February 27
(This day was created by Adrienne Sioux Koopersmith, 'America's Premier Eventologist' - per Insight Magazine - Washington, DC - August, 1995, and 'The Premier Eventologist in the History of the World - per The Chicago Tribune - Chicago, Il - January 2001);

World Spay Day on February 27
(Last Tuesday in February);

Floral Design Day on February 28
(Massachusetts Governonr William F. Weld proclaimed this day in 1995);

Inconvenience Yourself Day on February 28
(is celebrated on the fourth Wednesday of February of every year);

Tooth Fairy Day on February 28
;

World Compliment Day on March 1
(appeared after many successful editions of "National Compliment Day" in the Netherlands);

Horse Protection Day on March 1
(Horse Protection Day was first observed in 2005 when it was founded by pet lifestyle expert and animal behaviorist Colleen Page);

Plan A Solo Vacation Day on March 1
;

Share a Smile Day on March 1
;

National Procrastination Week in the UK on March 1
(the goal is to leave unnecessary tasks at a later time, provide mental and emotional relief, help reduce stress and anxiety);

Theatre for Life Month in USA on March 1