Sloth International Day
Sloth International Day is held on October 21. Celebrated on the third Saturday in October. This event in the third decade of the month October is annual.
Help us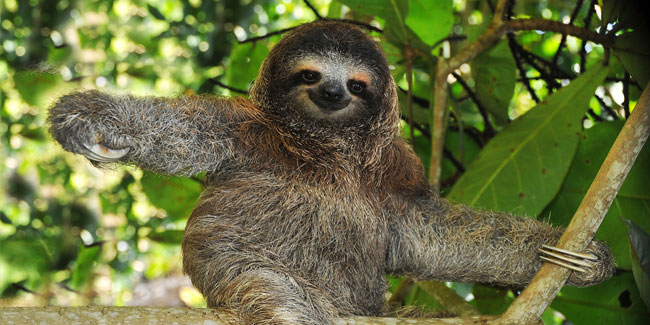 There are 2 groups of sloth in the world. Different sloth groups can be easily identified by the number of long, curved claws on their forelimbs. The two-toed sloths, as the name suggests, have two claws on their front limbs, while the three-toed sloths have three claws on all four limbs. The two-toed sloths are also slightly larger than their three-toed counterparts, and both fall under different taxonomic Family. Altogether, there are six sloth species that are found in the Americas, mainly in the tropical rainforests of Central and South America.
Sloth International Day was created as a necessity to bring the world of sloths and their habitat to everyday people to raise awareness towards other living beings and our environment. It is important to know more about sloths, so special, cryptic and shy creatures that inspire and awake our tenderness.
Sloth International Day was created by the foundation AIUNAU as a compromise acquired on the first Sloth International Meeting about the wellbeing and conservation of sloths, held in Medellin, Colombia, in November of 2010. According to Sarita Kendall and Tinka Plese, who organized this day, it was established Saturday of a third week in October which is a month of the childhood and animal month.
Similar holidays and events, festivals and interesting facts

International Pediatrics Day on October 20
(The Day of Pediatrics or Día Internacional de Pediatría was instituted in 1973, during the World Congress of Pediatrics held in Argentina, in commemoration of the founding of Argentine Pediatric Society);

World Champagne Day on October 20
(Celebrated on the penultimate Friday of October);

International Mastocytosis & Mast Cell Diseases Awareness Day on October 20
;

National Pets for Veterans Day in USA on October 21
;

International Day of the Nacho on October 21
(nachos first appeared in 1943 in Piedras Negras, a small Mexican city which is very near to the U.S. military base Fort Duncan, in Texas);

Global Iodine Deficiency Disorder Prevention Day or World Iodine Deficiency Day on October 21
;

International Day of Culture for Concord and Peace on October 21
(organized by Aljabart Charitable Foundation);

Wombat Day on October 22
(Australia);

International Caps Lock Day on October 22
;

Fechner Day on October 22
(International observance);

Internation Lead Poisoning Prevention Week on October 22
(Held from Sunday to the last full week of October);

International Day for the Protecting Men's Nervous System From Women's Violence on October 22
;

World Traditional Medicine Day on October 22