Thursday 17 October 2019 Calendar with holidays, observances and special days
Holidays and observances
Digital Society Day in India
Edge Day (International observance, Straight Edge Movement)
Get Smart About Credit Day (was established by the ABA - American Bankers Association)
International ShakeOut Day (Drop, Cover and Hold On! If nothing else, remember to take those three steps if and when an earthquake strikes)
Spreadsheet Day
Wear Something Gaudy Day
World Trauma Day
Events
In 2017 Qualcomm announces the first 5G mobile connection, which has a connection speed of 1 Gbit/s.
In 2016 a team at Australia's University of New South Wales create a new quantum bit that remains in a stable superposition for 10 times longer than previously achieved.
2001 – Israeli tourism minister Rehavam Ze'evi becomes the first Israeli minister to be assassinated in a terrorist attack.
1980 – As part of the Holy See–United Kingdom relations a British monarch makes the first state visit to the Vatican
1956 – Donald Byrne and Bobby Fischer play a famous chess game called The Game of the Century. Fischer beat Byrne and wins a Brilliancy prize.
1956 – The first commercial nuclear power station is officially opened by Queen Elizabeth II in Sellafield, in Cumbria, England.
1941 – World War II: a German submarine attacks an American ship for the first time in the war.
1933 – Albert Einstein flees Nazi Germany and moves to the United States.
1912 – Bulgaria, Greece and Serbia declare war on the Ottoman Empire, joining Montenegro in the First Balkan War.
1907 – Guglielmo Marconi's company begins the first commercial transatlantic wireless service between Glace Bay, Nova Scotia, Canada and Clifden, Ireland.
1888 – Thomas Edison files a patent for the Optical Phonograph (the first movie).
1860 – First The Open Championship (referred to in North America as the British Open).
1781 – American Revolutionary War: British General Charles, Earl Cornwallis surrenders at the Siege of Yorktown.
1777 – American Revolutionary War: British General John Burgoyne surrenders his army at Saratoga, New York.
1558 – Poczta Polska, the Polish postal service, is founded.
Births
1984 – Luke Rockhold, American mixed martial artist
1984 – Randall Munroe, American author and illustrator
1983 – Mitch Talbot, American baseball player
1977 – Alimi Ballard, American actor and producer
1977 – Bryan Bertino, American actor, director, producer, and screenwriter
1977 – Ryan McGinley, American photographer
1975 – Francis Bouillon, American-Canadian ice hockey player
1974 – Ariel Levy, American journalist and author
1974 – John Rocker, American baseball player
1972 – Eminem, American rapper, producer, and actor
1972 – Joe McEwing, American baseball player, coach, and manager
1971 – Chris Kirkpatrick, American singer-songwriter and dancer
1970 – Blues Saraceno, American guitarist, songwriter, and producer
1970 – John Mabry, American baseball player, coach, and sportscaster
1969 – Wyclef Jean, Haitian-American rapper, producer, and actor
1966 – Danny Ferry, American basketball player and manager
1966 – Tommy Kendall, American race car driver and sportscaster
1962 – Glenn Braggs, American baseball player
1962 – Mike Judge, American animator, director, screenwriter, producer and actor
1961 – David Means, American short story writer
1960 – Philippe Sands, American lawyer and academic
1960 – Rob Marshall, American director, producer, and choreographer
1959 – Richard Roeper, American journalist and critic
1959 – Ron Drummond, American author and scholar
1958 – Alan Jackson, American singer-songwriter
1958 – Howard Alden, American guitarist
1957 – Lawrence Bender, American actor and producer
1957 – Steve McMichael, American football player, wrestler, and sportscaster
1957 – Vincent Van Patten, American tennis player and actor
1956 – Fran Cosmo, American singer-songwriter and guitarist
1956 – Mae Jemison, American physician, academic, and astronaut
1956 – Pat McCrory, American businessman and politician, 74th Governor of North Carolina
1956 – Stephen Palumbi, American academic and author
1954 – Carlos Buhler, American mountaineer
1953 – Joseph Bowie, American trombonist and bandleader
1951 – Shari Ulrich, American-Canadian singer-songwriter and violinist
1950 – Howard Rollins, American actor (d. 1996)
1949 – Bill Hudson, American musician and actor
1948 – George Wendt, American actor and comedian
1948 – Margot Kidder, Canadian-American actress
1948 – Robert Jordan, American soldier and author (d. 2007)
1947 – Gene Green, American lawyer and politician
1947 – Michael McKean, American singer-songwriter, actor, and director
1947 – Robert Post, American educator and academic
1946 – Bob Seagren, American pole vaulter
1946 – Michael Hossack, American drummer (d. 2012)
1946 – Ronni Chasen, American publicist (d. 2010)
1942 – Gary Puckett, American pop singer-songwriter and guitarist
1942 – Steve Jones, American basketball player and sportscaster
1941 – Earl Thomas Conley, American country singer-songwriter and guitarist
1941 – Jim Seals, American singer-songwriter, guitarist, and violinist
1940 – Stephen Kovacevich, American pianist and conductor
1938 – Evel Knievel, American motorcycle rider and stuntman (d. 2007)
1936 – Hiroo Kanamori, Japanese-American seismologist and academic
1935 – Michael Eavis, English farmer, founded the Glastonbury Festival
1934 – Rico Rodriguez, American trombonist (d. 2015)
1933 – William Anders, Hong Kong-American general and astronaut
1930 – Jimmy Breslin, American journalist and author
1930 – Robert Atkins, American physician and cardiologist, created the Atkins diet (d. 2003)
1926 – Beverly Garland, American actress (d. 2008)
1926 – Julie Adams, American actress
1924 – Don Coryell, American football player and coach (d. 2010)
1923 – Barney Kessel, American guitarist and composer (d. 2004)
1923 – Charles McClendon, American football player and coach (d. 2001)
1922 – Pierre Juneau, Canadian broadcaster and politician, co-founded the Montreal World Film Festival (d. 2012)
1921 – Priscilla Buckley, American journalist and author (d. 2012)
1921 – Tom Poston, American actor and comedian (d. 2007)
1920 – Montgomery Clift, American actor (d. 1966)
1918 – Ralph Wilson, American businessman, founded the Buffalo Bills (d. 2014)
1918 – Rita Hayworth, American actress, singer and dancer (d. 1987)
1917 – Adele Stimmel Chase, American painter and sculptor (d. 2000)
1917 – Marsha Hunt, American actress and singer
1917 – Norman Leyden, American composer and conductor (d. 2014)
1917 – Sumner Locke Elliott, Australian-American author and playwright (d. 1991)
1915 – Arthur Miller, American playwright and screenwriter (d. 2005)
1914 – Jerry Siegel, American author and illustrator (d. 1996)
1912 – Jack Owens, American singer-songwriter and pianist (d. 1982)
1912 – Theodore Marier, American composer and educator, founded the Boston Archdiocesan Choir School (d. 2001)
1910 – Ester Wier, American author (d. 2000)
1909 – Cozy Cole, American drummer (d. 1981)
1908 – Red Rolfe, American baseball player, coach, and manager (d. 1969)
1906 – Paul Derringer, American baseball player (d. 1987)
1903 – Nathanael West, American author and screenwriter (d. 1940)
1902 – Irene Ryan, American actress (d. 1973)
1900 – Jean Arthur, American actress (d. 1991)
1886 – Spring Byington, American actress (d. 1971)
1865 – James Rudolph Garfield, American lawyer and politician, 23rd United States Secretary of the Interior (d. 1950)
1859 – Childe Hassam, American painter and illustrator (d. 1935)
1845 – John J. Gardner, American politician (d. 1921)
1811 – Albertus van Raalte, Dutch-American pastor and educator (d. 1876)
1711 – Jupiter Hammon, American poet (d. 1806)
503 – Lý Nam Đế, first emperor of Vietnam (d. 548)
Deaths
2015 – Tom Smith, American businessman and politician (b. 1947)
2014 – Berndt von Staden, German diplomat, German Ambassador to the United States (b. 1919)
2014 – Edwards Barham, American farmer and politician (b. 1937)
2014 – Tom Shaw, American bishop (b. 1945)
2013 – Lou Scheimer, American animator, producer, and voice actor, co-founded the Filmation Company (b. 1928)
2013 – Mother Antonia, American-Mexican nun and activist (b. 1926)
2013 – Rene Simpson, Canadian-American tennis player (b. 1966)
2012 – Henry Friedlander, German-American historian and author (b. 1930)
2012 – Stanford R. Ovshinsky, American scientist and businessman, co-founded Energy Conversion Devices (b. 1922)
2011 – Carl Lindner, Jr., American businessman (b. 1919)
2009 – Norma Fox Mazer, American author and educator (b. 1931)
2009 – Vic Mizzy, American composer (b. 1916)
2008 – Ben Weider, Canadian businessman, co-founded the International Federation of BodyBuilding & Fitness (b. 1923)
2008 – Levi Stubbs, American singer (b. 1936)
2007 – Joey Bishop, American actor and talk show host (b. 1918)
2007 – Suzy Covey, American scholar and academic (b. 1939)
2007 – Teresa Brewer, American singer (b. 1931)
2006 – Christopher Glenn, American journalist (b. 1938)
2001 – Jay Livingston, American singer-songwriter (b. 1915)
2000 – Leo Nomellini, Italian-American football player and wrestler (b. 1924)
1999 – Nicholas Metropolis, Greek-American mathematician and physicist (b. 1915)
1997 – Larry Jennings, American magician and author (b. 1933)
1993 – Criss Oliva, American guitarist and songwriter (b. 1963)
1991 – Tennessee Ernie Ford, American singer and actor (b. 1919)
1979 – S. J. Perelman, American humorist and screenwriter (b. 1904)
1978 – George Clark, American racing driver (b. 1890)
1970 – Quincy Wright, American political scientist and academic (b. 1890)
1970 – Vola Vale, American actress (b. 1897)
1966 – Sidney Hatch, American runner and soldier (b. 1883)
1965 – Bart King, American cricketer (b. 1873)
1958 – Paul Outerbridge, American photographer (b. 1896)
1948 – Royal Cortissoz, American art critic (b. 1869)
1910 – Julia Ward Howe, American poet and songwriter (b. 1819)
Thursday 17 October 2019
International Day for the Eradication of Poverty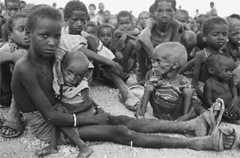 We are living in the world, where every fourth person tries to survive for 1 US dollar a day. Even in the most technologically developed country, USA, every 7th person is..→