Tuesday 31 March 2020 Calendar with holidays, observances and special days
Holidays and observances
Events
2004 – Iraq War in Anbar Province: In Fallujah, Iraq, four American private military contractors working for Blackwater USA, are killed after being ambushed.
1992 – The USS Missouri, the last active United States Navy battleship, is decommissioned in Long Beach, California.
1985 – The first WrestleMania, the biggest wrestling event from the WWE (then the WWF), takes place in Madison Square Garden in New York City.
1966 – The Soviet Union launches Luna 10 which later becomes the first space probe to enter orbit around the Moon.
1951 – Remington Rand delivers the first UNIVAC I computer to the United States Census Bureau.
1945 – World War II: A defecting German pilot delivers a Messerschmitt Me 262A-1, the world's first operational jet-powered fighter aircraft, to the Americans, the first to fall into Allied hands.
1933 – The Civilian Conservation Corps is established with the mission of relieving rampant unemployment in the United States.
1918 – Daylight saving time goes into effect in the United States for the first time.
1917 – The United States takes possession of the Danish West Indies after paying $25 million to Denmark, and renames the territory the United States Virgin Islands.
1906 – The Intercollegiate Athletic Association of the United States (later the National Collegiate Athletic Association) is established to set rules for college sports in the United States.
1899 – Malolos, capital of the First Philippine Republic, is captured by American forces.
1854 – Commodore Matthew Perry signs the Convention of Kanagawa with the Tokugawa Shogunate, opening the ports of Shimoda and Hakodate to American trade.
1774 – American Revolutionary War: The Kingdom of Great Britain orders the port of Boston, Massachusetts closed pursuant to the Boston Port Act.
1561 – The city of San Cristóbal, Táchira is founded.
1146 – Bernard of Clairvaux preaches his famous sermon in a field at Vézelay, urging the necessity of a Second Crusade. Louis VII is present, and joins the Crusade.
Births
1998 – Jakob Chychrun, American-born Canadian ice hockey player
1990 – George Iloka, American football player
1988 – DeAndre Liggins, American basketball player
1988 – Dorin Dickerson, American football player
1987 – Justin Braun, American soccer player
1987 – Winston Venable, American football player
1985 – Jo-Lonn Dunbar, American football player
1985 – Kory Sheets, American football player
1984 – James Jones, American football player
1982 – Audrey Kawasaki, American painter
1982 – Bam Childress, American football player
1981 – Ryan Bingham, American singer-songwriter and guitarist
1980 – Kate Micucci, American singer-songwriter, guitarist, and actress
1979 – Charlie Manning, American baseball player
1979 – Jonna Mendes, American skier
1978 – Jarrod Cooper, American football player
1976 – Howard Frier, American basketball player
1975 – Adam Green, American director, producer, and screenwriter
1975 – Ryan Rupe, American baseball player
1972 – Andrew Bowen, American actor, producer, and screenwriter
1972 – Evan Williams, American businessman, co-founded Twitter and Pyra Labs
1971 – Craig McCracken, American animator, producer, and screenwriter
1970 – Samantha Brown, American television host
1969 – Steve Smith, American basketball player and sportscaster
1966 – Nick Firestone, American race car driver
1965 – Patty Fendick, American tennis player and coach
1965 – Steven T. Seagle, American author and screenwriter
1965 – Tom Barrasso, American ice hockey player and coach
1965 – William McNamara, American actor and producer
1961 – Howard Gordon, American screenwriter and producer
1961 – Ron Brown, American sprinter and football player
1953 – Dennis Kamakahi, American guitarist and composer (d. 2014)
1950 – Ed Marinaro, American football player and actor
1950 – Sandra Morgen, American anthropologist and academic
1948 – Al Gore, American soldier and politician, 45th Vice President of the United States and Nobel Prize laureate
1948 – Rhea Perlman, American actress
1947 – Augustin Banyaga, Rwandan-American mathematician and academic
1947 – Wendy Overton, American tennis player
1945 – Edwin Catmull, American computer scientist and engineer
1945 – Gabe Kaplan, American actor and comedian
1944 – Angus King, American politician
1943 – Christopher Walken, American actor
1942 – Hugh McCracken, American guitarist and producer (d. 2013)
1942 – Michael Savage, American radio host and author
1940 – Barney Frank, American lawyer and politician
1940 – Patrick Leahy, American lawyer and politician
1939 – Israel Horovitz, American actor, director, and screenwriter
1939 – Walker David Miller, American lawyer and judge (d. 2013)
1938 – Arthur B. Rubinstein, American pianist, composer, and conductor
1936 – Marge Piercy, American poet and novelist
1936 – Walter E. Williams, American economist and academic
1935 – Herb Alpert, American singer-songwriter, trumpet player, and producer
1935 – Judith Rossner, Jewish-American author (d. 2005)
1934 – John D. Loudermilk, American singer-songwriter and guitarist (d. 2016)
1934 – Richard Chamberlain, American actor
1934 – Shirley Jones, American actress and singer
1933 – Anita Carter, American singer-songwriter and bassist (d. 1999)
1932 – John Jakes, American author
1931 – Miller Barber, American golfer (d. 2013)
1930 – Jim Mutscheller, American football player and coach (d. 2015)
1930 – Yehuda Nir, Polish Jewish-American psychiatrist (d. 2014)
1929 – Bert Fields, American lawyer and author
1929 – Liz Claiborne, Belgian-American fashion designer, founded Liz Claiborne Inc. (d. 2007)
1928 – Lefty Frizzell, American singer-songwriter and guitarist (d. 1975)
1927 – Cesar Chavez, American labor union leader and activist (d. 1993)
1927 – Elmer Diedtrich, American businessman and politician (d. 2013)
1927 – William Daniels, American actor
1926 – Rocco Petrone, American colonel and engineer (d. 2006)
1924 – Charles Guggenheim, American director and producer (d. 2002)
1924 – Leo Buscaglia, American author and academic (d. 1998)
1922 – Richard Kiley, American actor and singer (d. 1999)
1921 – Lowell Fulson, African-American blues singer-songwriter and guitarist (d. 1999)
1921 – Peggy Rea, American actress and casting director (d. 2011)
1919 – Frank Akins, American football player (d. 1993)
1918 – Ted Post, American director (d. 2013)
1917 – Dorothy DeLay, American violinist and educator (d. 2002)
1916 – John H. Wood, Jr., American lawyer and judge (d. 1979)
1916 – Lucille Bliss, American voice actress (d. 2012)
1916 – Tommy Bolt, American golfer (d. 2008)
1913 – Etta Baker, Afrian-American singer and guitarist (d. 2006)
1912 – William Lederer, American soldier and author (d. 2009)
1911 – Freddie Green, American guitarist (d. 1987)
1908 – Red Norvo, American vibraphone player and composer (d. 1999)
1895 – Vardis Fisher, American author and academic (d. 1968)
1891 – Victor Varconi, Hungarian-American actor and director (d. 1976)
1890 – Ben Adams, American jumper (d. 1961)
1885 – Pascin, Sephardi Jewish Bulgarian-American painter and illustrator (d. 1930)
1884 – Adriaan van Maanen, Dutch-American astronomer and academic (d. 1946)
1878 – Jack Johnson, American boxer (d. 1946)
1872 – Sergei Diaghilev, Russian ballet manager and critic, founded the Ballets Russes (d. 1929)
1855 – Alfred E. Hunt, American businessman (d. 1899)
1823 – Mary Boykin Chesnut, American author (d. 1886)
1794 – Thomas McKean Thompson McKennan, American lawyer and politician, 2nd United States Secretary of the Interior (d. 1852)
Deaths
2017 – Gilbert Baker, American artist and LGBT rights activist (b. 1951)
2016 – Zaha Hadid, Iraqi-born English architect and academic, designed the Bridge Pavilion (b. 1950)
2015 – Riccardo Ingram, American baseball player and coach (b. 1966)
2014 – Charles Keating, American lawyer, businessman, and criminal (b. 1923)
2013 – Bob Clarke, American illustrator (b. 1926)
2013 – Helena Carroll, Scottish-American actress (b. 1928)
2012 – Bernard O. Gruenke, American stained glass artist (b. 1914)
2012 – Dale R. Corson, American physicist and academic (b. 1914)
2012 – Halbert White, American economist and academic (b. 1950)
2012 – Jerry Lynch, American baseball player (b. 1930)
2011 – Gil Clancy, American boxer and trainer (b. 1922)
2011 – Henry Taub, American businessman and philanthropist (b. 1927)
2008 – Bill Keightley, American equipment manager (b. 1926)
2008 – Jules Dassin, American director, producer, screenwriter, and actor (b. 1911)
2007 – Paul Watzlawick, Austrian-American psychologist and philosopher (b. 1921)
2006 – Jackie McLean, American saxophonist and composer (b. 1931)
2005 – Frank Perdue, American businessman (b. 1920)
2005 – Stanley J. Korsmeyer, American oncologist and academic (b. 1951)
2004 – Scott Helvenston, American soldier (b. 1965)
2003 – Anne Gwynne, American actress (b. 1918)
2001 – Clifford Shull, American physicist and academic, Nobel Prize laureate (b. 1915)
1998 – Bella Abzug, American lawyer, activist, and politician (b. 1920)
1998 – Joel Ryce-Menuhin, American pianist (b. 1933)
1998 – Tim Flock, American race car driver (b. 1924)
1996 – Jeffrey Lee Pierce, American singer-songwriter and guitarist (b. 1958)
1995 – Selena, American singer-songwriter (b. 1971)
1993 – Brandon Lee, American actor and martial artist (b. 1965)
1993 – Mitchell Parish, Lithuanian-American songwriter (b. 1900)
1980 – Jesse Owens, American sprinter and long jumper (b. 1913)
1978 – Charles Herbert Best, American-Canadian physiologist and biochemist, co-discovered Insulin (b. 1899)
1976 – Paul Strand, American photographer and director (b. 1890)
1968 – Grover Lowdermilk, American baseball player (b. 1885)
1956 – Ralph DePalma, Italian-American race car driver and actor (b. 1884)
1952 – Wallace H. White, Jr., American lawyer and politician (b. 1877)
1935 – Georges V. Matchabelli, Georgian-American businessman and diplomat, founded Prince Matchabelli perfume (b. 1885)
1931 – Knute Rockne, American football player and coach (b. 1888)
1913 – J. P. Morgan, American banker and financier (b. 1837)
1850 – John C. Calhoun, American lawyer and politician, 7th Vice President of the United States (b. 1782)
Tuesday 31 March 2020
Cesar Chavez Day in California and Texas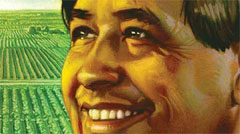 During a 25-day fast in 1972, Chavez and Huerta coined the slogan "Si, se puede," Spanish for "Yes, it can be done." It became the United Farm Workers..→