Sunday 17 November 2019 Calendar with holidays, observances and special days
Holidays and observances
Martyrs' Day in Orissa, India
National Baklava Day and Homemade Bread Day in USA
National Black Cat Day in US
National Hiking Day in USA
Take a Hike Day
World Prematurity Day
Events
1993 – United States House of Representatives passes a resolution to establish the North American Free Trade Agreement.
1983 – The Zapatista Army of National Liberation is founded in Mexico.
1979 – Brisbane Suburban Railway Electrification. The first stage from Ferny Grove to Darra is commissioned.
1970 – Luna programme: The Soviet Union lands Lunokhod 1 on Mare Imbrium (Sea of Rains) on the Moon. This is the first roving remote-controlled robot to land on another world and is released by the orbiting Luna 17 spacecraft.
1969 – Cold War: Negotiators from the Soviet Union and the United States meet in Helsinki, Finland to begin SALT I negotiations aimed at limiting the number of strategic weapons on both sides.
1968 – Viewers of the Raiders–Jets football game in the eastern United States are denied the opportunity to watch its exciting finish when NBC broadcasts Heidi instead, prompting changes to sports broadcasting in the U.S.
1947 – American scientists John Bardeen and Walter Houser Brattain observe the basic principles of the transistor, a key element for the electronics revolution of the 20th century.
1933 – United States recognizes Soviet Union.
1911 – Omega Psi Phi Fraternity Incorporated, which is the first black Greek-lettered organization founded at an American historically black college or university, was founded on the campus of Howard University in Washington, D.C.
1896 – The Western Pennsylvania Hockey League, which later became the first ice hockey league to openly trade and hire players, began play at Pittsburgh's Schenley Park Casino.
1894 – H. H. Holmes, one of the first modern serial killers, is arrested in Boston, Massachusetts.
1878 – First assassination attempt against Umberto I of Italy by anarchist Giovanni Passannante, who was armed with a dagger. The King survived with a slight wound in an arm. Prime Minister Benedetto Cairoli blocked the aggressor, receiving an injury in a leg.
1863 – American Civil War: Siege of Knoxville begins: Confederate forces led by General James Longstreet place Knoxville, Tennessee, under siege.
1856 – American Old West: On the Sonoita River in present-day southern Arizona, the United States Army establishes Fort Buchanan in order to help control new land acquired in the Gadsden Purchase.
1839 – Oberto, Giuseppe Verdi's first opera, opens at the Teatro alla Scala in Milan, Italy.
1820 – Captain Nathaniel Palmer becomes the first American to see Antarctica. (The Palmer Peninsula is later named after him.)
1800 – The United States Congress holds its first session in Washington, D.C.
1777 – Articles of Confederation (United States) are submitted to the states for ratification.
Births
1989 – Ryan Griffin, American football player
1984 – Amanda Evora, American figure skater
1983 – Christopher Paolini, American author
1983 – Nick Markakis, American baseball player
1983 – Ryan Bradley, American figure skater
1983 – Ryan Braun, American baseball player
1983 – Scott Moore, American baseball player
1983 – Trevor Crowe, American baseball player
1982 – Katie Feenstra-Mattera, American basketball player
1980 – Isaac Hanson, American singer-songwriter and guitarist
1980 – Jay Bradley, American wrestler
1978 – Reggie Wayne, American football player
1976 – Diane Neal, American actress and director
1975 – Jerome James, American basketball player
1975 – Lord Infamous, American rapper (d. 2013)
1973 – Eli Marrero, Cuban-American baseball player, coach, and manager
1973 – Leslie Bibb, American actress and producer
1972 – Kimya Dawson, American singer-songwriter and guitarist
1972 – Leonard Roberts, American actor
1969 – Rebecca Walker, American author
1968 – Sean Miller, American basketball player and coach
1967 – Ronnie DeVoe, American singer, producer, and actor
1967 – Tab Benoit, American singer-songwriter and guitarist
1966 – Ben Allison, American bassist and composer
1966 – Daisy Fuentes, Cuban-American model and actress
1966 – Jeff Buckley, American singer-songwriter and guitarist (d. 1997)
1966 – Richard Fortus, American guitarist, songwriter, and producer
1964 – Mitch Williams, American baseball player and sportscaster
1964 – Susan Rice, American academic and politician, 24th United States National Security Advisor
1961 – Pat Toomey, American businessman and politician
1961 – Robert Stethem, American soldier (d. 1985)
1960 – RuPaul, American drag queen performer, actor, and singer
1959 – William R. Moses, American actor and producer
1958 – Mary Elizabeth Mastrantonio, American actress and singer
1955 – Yolanda King, American actress and activist (d. 2007)
1951 – Butch Davis, American football player and coach
1951 – Dean Paul Martin, American singer, actor, and pilot (d. 1987)
1951 – Stephen Root, American actor
1950 – Tom Walkinshaw, Scottish race car driver and businessman, founded Tom Walkinshaw Racing (d. 2010)
1949 – John Boehner, American businessman and politician, 61st Speaker of the United States House of Representatives
1948 – East Bay Ray, American guitarist
1948 – Howard Dean, American physician and politician, 79th Governor of Vermont
1946 – Terry Branstad, American soldier, lawyer, and politician, 39th Governor of Iowa
1945 – Elvin Hayes, American basketball player and sportscaster
1944 – Danny DeVito, American actor, director, and producer
1944 – Jim Boeheim, American basketball player and coach
1944 – Lorne Michaels, Canadian-American screenwriter and producer, created Saturday Night Live
1944 – Rem Koolhaas, Dutch architect and academic, designed the Seattle Central Library
1944 – Sammy Younge Jr., American civil rights activist (d. 1966)
1944 – Tom Seaver, American baseball player and sportscaster
1943 – Lauren Hutton, American model and actress
1942 – Bob Gaudio, American singer-songwriter, keyboard player, and producer
1942 – Martin Scorsese, American director, producer, screenwriter, and actor
1935 – Bobby Joe Conrad, American football player
1934 – Jim Inhofe, American soldier and politician, senior senator of Oklahoma
1934 – Terry Rand, American basketball player (d. 2014)
1933 – Dan Osinski, American baseball player (d. 2013)
1933 – Orlando Peña, Cuban-American baseball player and scout
1930 – Bob Mathias, American decathlete, actor, and politician (d. 2006)
1929 – Norm Zauchin, American baseball player (d. 1999)
1928 – Arman, French-American painter and sculptor (d. 2005)
1928 – Rance Howard, American actor, producer, and screenwriter
1927 – Robert Drasnin, American clarinet player and composer (d. 2015)
1925 – Charles Mackerras, American-Australian oboe player and conductor (d. 2010)
1925 – Jean Faut, American baseball player and bowler
1925 – Rock Hudson, American actor (d. 1985)
1923 – Mike Garcia, American baseball player (d. 1986)
1922 – Stanley Cohen, American biochemist and academic, Nobel Prize laureate
1917 – Ruth Aaronson Bari, American mathematician (d. 2005)
1916 – Shelby Foote, American historian and author (d. 2005)
1906 – Rollie Stiles, American baseball player (d. 2007)
1906 – Soichiro Honda, Japanese engineer and businessman, co-founded the Honda Motor Company (d. 1991)
1905 – Mischa Auer, Russian-American actor (d. 1967)
1904 – Isamu Noguchi, American sculptor and architect (d. 1988)
1901 – Lee Strasberg, Ukrainian-American actor and director (d. 1982)
1899 – Douglas Shearer, Canadian-American engineer (d. 1971)
1897 – Frank Fay, American actor, singer, and screenwriter (d. 1961)
1891 – Lester Allen, American screen, stage, vaudeville, circus actor, and film director (d. 1949)
1886 – Walter Terence Stace, English-American philosopher, academic, and civil servant (d. 1967)
1878 – Augustus Goessling, American swimmer and water polo player (d. 1963)
1878 – Grace Abbott, American social worker (d. 1939)
1866 – Voltairine de Cleyre, American author and activist (d. 1912)
1835 – Andrew L. Harris, American general and politician, 44th Governor of Ohio (d. 1915)
1753 – Gotthilf Heinrich Ernst Muhlenberg, American pastor and botanist (d. 1815)
1749 – Nicolas Appert, French chef, invented canning (d. 1841)
Deaths
2014 – Bill Frenzel, American lieutenant and politician (b. 1928)
2014 – John T. Downey, American CIA agent and judge (b. 1930)
2014 – Patrick Suppes, American psychologist and philosopher (b. 1922)
2014 – Ray Sadecki, American baseball player (b. 1940)
2013 – Mary Nesbitt Wisham, American baseball player (b. 1925)
2013 – Syd Field, American screenwriter and producer (b. 1935)
2013 – Zeke Bella, American baseball player (b. 1930)
2012 – Billy Scott, American singer-songwriter (b. 1942)
2012 – Freddy Schmidt, American baseball player (b. 1916)
2012 – Lea Gottlieb, Hungarian-Israeli fashion designer, founded the Gottex Company (b. 1918)
2011 – Kurt Budke, American basketball player and coach (b. 1961)
2008 – George Stephen Morrison, American admiral (b. 1919)
2008 – Pete Newell, American basketball player and coach (b. 1915)
2006 – Bo Schembechler, American football player and coach (b. 1929)
2006 – Ruth Brown, American singer-songwriter and actress (b. 1928)
2003 – Arthur Conley, American-Dutch singer-songwriter (b. 1946)
2002 – Frank McCarthy, American painter and illustrator (b. 1924)
2001 – Harrison A. Williams, American lieutenant, lawyer, and politician (b. 1919)
1998 – Esther Rolle, American actress (b. 1920)
1992 – Audre Lorde, American poet, essayist, memoirist, and activist (b. 1934)
1990 – Robert Hofstadter, American physicist and academic, Nobel Prize laureate (b. 1915)
1989 – Costabile Farace, American criminal (b. 1960)
1988 – Sheilah Graham Westbrook, English-American actress, author, and journalist (b. 1904)
1987 – Paul Derringer, American baseball player (b. 1906)
1958 – Mort Cooper, American baseball player (b. 1913)
1955 – James P. Johnson, American pianist and composer (b. 1894)
1940 – Raymond Pearl, American biologist and academic (b. 1879)
1936 – Ernestine Schumann-Heink, German-American singer (b. 1861)
1932 – Charles W. Chesnutt, American lawyer, author, and activist (b. 1858)
1929 – Herman Hollerith, American statistician and businessman (b. 1860)
1910 – Ralph Johnstone, American pilot (b. 1886)
1897 – George Hendric Houghton, American pastor and theologian (b. 1820)
1865 – James McCune Smith, American physician and author (b. 1813)
1808 – David Zeisberger, Czech-American pastor and missionary (b. 1721)
Sunday 17 November 2019
World Day of Remembrance for Road Traffic Victims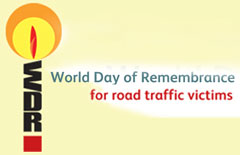 About 1.25 million people die each year as a result of road traffic crashes. Road traffic injuries are the leading cause of death among young people, aged 15–29 years. 90..→