Sunday 19 November 2023 Calendar with holidays, observances and special days
Calendars
:
Environmental Dates
,
Fatherís Days
,
Health Calendar
,
Puerto Rico
,
Thailand
,
US Holidays
,
United Nations Holidays
,
Unusual Holidays (Weird and Funny Holidays)
,
Worldwide Holidays
,
Argentina
,
Brazil
,
Canada
,
Career Holidays (Recognition Holidays)
,
Childrenís Days
,
Chile
,
Fiji
,
Food holidays
,
Germany
,
India
,
Israel
,
Jamaica
,
Mexico
,
Monaco
,
Spain
,
United Kingdom
,
Venezuela
,
Womenís Days
Holidays and observances
Events
2010 – The first of four explosions takes place at the Pike River Mine in New Zealand; 29 people are killed in the nation's worst mining disaster since 1914.
1999 – Shenzhou 1: The People's Republic of China launches its first Shenzhou spacecraft.
1998 – Lewinsky scandal: The United States House of Representatives Judiciary Committee begins impeachment hearings against U.S. President Bill Clinton.
1994 – In the United Kingdom, the first National Lottery draw is held. A £1 ticket gave a one-in-14-million chance of correctly guessing the winning six out of 49 numbers.
1985 – Cold War: In Geneva, U.S. President Ronald Reagan and Soviet Union leader Mikhail Gorbachev meet for the first time.
1985 – Pennzoil wins a US$10.53 billion judgment against Texaco, in the largest civil verdict in the history of the United States, stemming from Texaco executing a contract to buy Getty Oil after Pennzoil had entered into an unsigned, yet still binding, buyout contract with Getty.
1979 – Iran hostage crisis: Iranian leader Ayatollah Ruhollah Khomeini orders the release of 13 female and black American hostages being held at the US Embassy in Tehran.
1967 – The establishment of TVB, the first wireless commercial television station in Hong Kong.
1955 – National Review publishes its first issue.
1912 – First Balkan War: The Serbian Army captures Bitola, ending the five-century-long Ottoman rule of Macedonia.
1863 – American Civil War: U.S. President Abraham Lincoln delivers the Gettysburg Address at the dedication ceremony for the military cemetery at Gettysburg, Pennsylvania.
1794 – The United States and the Kingdom of Great Britain sign Jay's Treaty, which attempts to resolve some of the lingering problems left over from the American Revolutionary War.
1493 – Christopher Columbus goes ashore on an island he first saw the day before. He names it San Juan Bautista (later renamed Puerto Rico).
Births
1990 – Marquise Goodwin, American football player. Marquise Derell Goodwin (born November 19, 1990) is an American football wide receiver and kick returner for the San Francisco 49ers of the National Football League (NFL) and an Olympian who competed in the long jump in track and field.
1989 – Tyga, American rapper. Micheal Ray Stevenson (born November 19, 1989), known by his stage name Tyga (a backronym for Thank you God always), is an American rapper, singer, songwriter, actor, and television personality.
1988 – Patrick Kane, American ice hockey player. Patrick Timothy Kane II (born November 19, 1988) is an American professional ice hockey right winger for the Chicago Blackhawks of the National Hockey League (NHL).
1986 – Jeannie Ortega, American singer-songwriter, dancer, and actress. The album featured the hit single "Crowded", which reached the Billboard Hot 100.
1986 – Veronica Scott, American fashion designer, co-founded Fuchsia Clothing. Scott also co-owns the fashion company and design house Fuchsia with business partner Lawren Pope.
1985 – Alex Mack, American football player. Javon Alexander "Alex" Mack (born November 19, 1986) is an American football center for the Atlanta Falcons of the National Football League (NFL).
1984 – Brittany Maynard, American activist (d. 2014), was an American activist with terminal cancer who decided that she would end her own life "when the time seemed right." She was an advocate for the legalization of assisted death.
1983 – Adam Driver, American actor. He is the recipient of numerous accolades, including a Volpi Cup, as well as nominations for two Academy Awards, two Golden Globe Awards, two BAFTA awards, three Emmy Awards and a Tony Award.
1981 – Marcus Banks, American basketball player. Arthur Lemarcus "Marcus" Banks III (born November 19, 1981), is an American former professional basketball player.
1980 – Courtney Anderson, American football player. He was drafted by the Oakland Raiders in the seventh round of the 2004 NFL Draft and spent three seasons with that team.
1980 – Otis Grigsby, American football player. He played college football at Kentucky.
1979 – John-Ford Griffin, American baseball player. He played in Major League Baseball (MLB) for the Toronto Blue Jays.
1979 – Keith Buckley, American singer-songwriter. Keith Buckley (born November 19, 1979) is an American rock musician, best known as the vocalist and lyricist of the metalcore band Every Time I Die and the heavy metal supergroup The Damned Things.
1979 – Ryan Howard, American baseball player. Ryan James Howard (born November 19, 1979), nicknamed "The Big Piece", is an American former professional baseball first baseman.
1978 – Dries Buytaert, Belgian computer programmer, founded Acquia. Dries Buytaert (born 19 November 1978 in Wilrijk, Antwerp, Belgium) is an open-source software programmer notable as founder and lead developer of the Drupal content management system.
1977 – Kerri Strug, American gymnast and runner. She was a member of the Magnificent Seven, the victorious all-around women's gymnastics team that represented the United States at the Atlanta Olympics in 1996, and is best remembered for performing the vault despite having injured her ankle and for subsequently being carried to the podium by her coach, Béla Károlyi.
1976 – Jack Dorsey, American businessman, co-founded Twitter. Jack Patrick Dorsey (born November 19, 1976) is an American computer programmer and Internet entrepreneur who is the co-founder and CEO of Twitter, and the founder and CEO of Square, a mobile payments company.
1975 – Toby Bailey, American basketball player and agent. He is currently a sports agent.
1973 – Billy Currington, American singer-songwriter and guitarist. Signed to Mercury Records Nashville in 2003, he has released six studio albums for the label: his self-titled debut (2003), Doin' Somethin' Right (2005), Little Bit of Everything (2008), Enjoy Yourself (2010), We Are Tonight (2013), and most recently Summer Forever (2015).
1973 – Django Haskins, American singer-songwriter and guitarist. Originally from Florida, Haskins now resides in North Carolina where he is the frontman of pop-noir musical group The Old Ceremony.
1973 – Savion Glover, American dancer and choreographer. Savion Glover (born November 19, 1973) is an American tap dancer, actor, and choreographer.
1972 – Sandrine Holt, English-American model and actress. Sandrine Claire Holt (born Sandrine Vanessa Ho; 19 November 1972) is a British Canadian model and actress.
1971 – Alice Peacock, American singer-songwriter. Alice Peacock (born November 19, 1969) is an American folk singer and has recorded five independent albums and an album released by Aware/Columbia Records (2002).
1971 – Jeremy McGrath, American motorcycle racer. Jeremy McGrath (born November 19, 1971) is one of the most popular American Motocross/Supercross champions in the history of the sport, racking up 7 Supercross championships.
1971 – Tony Rich, American R&B singer-songwriter and musician. Antonio Jeffries Jr. (born November 19, 1971), better known as Tony Rich and The Tony Rich Project, is an American Grammy-award winning R&B singer-songwriter best known for his hit single "Nobody Knows".
1969 – Erika Alexander, American actress and screenwriter. Erika Rose Alexander (born November 19, 1969) is an American actress, writer, producer, entrepreneur and activist best known for her roles as Pam Tucker on the NBC sitcom The Cosby Show (1990–1992), and Maxine Shaw on the FOX sitcom Living Single (1993–1998).
1967 – Randi Kaye, American journalist. She is based in New York and is currently serving as an investigative reporter for Anderson Cooper 360°.
1966 – Gail Devers, American sprinter and hurdler. She won a third Olympic gold medal in the 4 × 100 m relay in 1996.
1966 – Jason Scott Lee, American actor and martial artist. Jason Scott Lee (Chinese: 李截; pinyin: Lǐ Jié; born November 19, 1966) is an American actor and martial artist who is perhaps best known for his roles as Bruce Lee (no relation) in the 1993 martial arts film Dragon: The Bruce Lee Story and Mowgli in Disney's 1994 live action adaptation of The Jungle Book.
1966 – Rocco DiSpirito, American chef and author. Rocco DiSpirito (born November 19, 1966) is an American chef based in New York City.
1966 – Shmuley Boteach, American rabbi and author. Shmuel "Shmuley" Boteach (שמואל (שמולי) בוטח, /ˈʃmuːli boʊˈteɪ.ək/ SHMOO-lee boh-TAY-ək; born November 19, 1966) is an American Orthodox Jewish rabbi, author, TV host and public speaker.
1964 – Eric Musselman, American basketball player and coach. Eric Patrick Musselman (born November 19, 1964) is an American college basketball coach who is the current head men's basketball coach at the University of Arkansas.
1964 – Fred Diamond, American-English mathematician and academic. Fred Irvin Diamond (born November 19, 1964) is a mathematician, known for his role in proving the modularity theorem for elliptic curves.
1964 – Nicholas Patrick, English-American engineer and astronaut. His flight on the 2006 Discovery STS-116 mission made him the fourth person born in the United Kingdom to go into space.
1964 – Shawn Holman, American baseball pitcher. Shawn Leroy Holman (born November 19, 1964) is a former baseball pitcher who appeared in five games for the Detroit Tigers in 1989.
1964 – Vincent Herring, American saxophonist and flute player. Vincent Herring (born November 19, 1964) is an American jazz saxophonist and flautist.
1963 – Jon Potter, English-American field hockey player. Jonathan Nicholas Mark Potter (born 19 November 1963) is executive vice president of brands for Moet Hennessy USA.
1962 – Jodie Foster, American actress, director, and producer. DeMille Award.
1962 – Sean Parnell, American lawyer and politician, 12th Governor of Alaska. Parnell was elected governor in his own right in 2010 with 59.06% of the vote, as the largest percentage margin of any Alaska governor since statehood.
1961 – Jim L. Mora, American football player and coach, was most recently the head coach of the UCLA Bruins of the Pac-12 Conference. Prior to taking the job at UCLA, Mora served as a head coach in the National Football League (NFL), coaching the Atlanta Falcons from 2004 to 2006 and Seattle Seahawks in 2009.
1961 – Meg Ryan, American actress and producer. Subsequently, she began to appear in supporting roles in films during the mid 1980s like box office hit Top Gun, achieving recognition in independent films such as Promised Land (1987) before her performance in the Rob Reiner-directed romantic comedy When Harry Met Sally... (1989) brought her widespread attention and her first Golden Globe nomination.
1960 – Matt Sorum, American drummer, songwriter, and producer. Sorum is currently a member of the touring project, Kings of Chaos, and is a former member of both the Cult and Y Kant Tori Read.
1960 – Miss Elizabeth, American wrestler and manager (d. 2003), was an American professional wrestling manager, occasional professional wrestler and professional wrestling TV announcer. She gained international fame from 1985 to 1992 in the World Wrestling Federation (WWF, now WWE) and from 1996 to 2000 in World Championship Wrestling (WCW), in her role as the manager to wrestler "Macho Man" Randy Savage, as well as other wrestlers of that period.
1959 – Allison Janney, American actress. A prolific character actress, Janney has received many accolades, including an Academy Award, seven Primetime Emmy Awards, a BAFTA Award, and a Golden Globe Award.
1959 – Jo Bonner, American U.S. Representative for Alabama's 1st congressional district. He is a member of the Republican Party.
1959 – Robert Barron, American bishop, author, and theologian. Robert Emmet Barron (born November 19, 1959) is an American prelate of the Catholic Church serving as auxiliary bishop of the Archdiocese of Los Angeles.
1958 – Annette Gordon-Reed, American historian, author, and academic. Pforzheimer Professor at the Radcliffe Institute for Advanced Study and a professor of history in the university's Faculty of Arts & Sciences.
1958 – Charlie Kaufman, American director, producer, and screenwriter. Charles Stuart Kaufman (/ˈkɔːfmən/; born November 19, 1958) is an American screenwriter, producer, director, lyricist, and novelist.
1958 – Michael Wilbon, American sportscaster and journalist. Michael "Willie" Ray Wilbon (/ˈwɪlbɒn/; born November 19, 1958) is an ESPN commentator and former sportswriter and columnist for The Washington Post.
1958 – Terrence C. Carson, American actor and singer. Carson (born November 19, 1958) is an American singer and stage, voice, and television actor.
1956 – Ann Curry, Guamanian-American journalist. Ann Curry (born November 19, 1956) is an American journalist and photojournalist, who has been a reporter for more than 30 years, focused on human suffering in war zones and natural disasters.
1956 – Eileen Collins, American colonel, pilot, and astronaut. Eileen Marie Collins (born November 19, 1956) is a retired NASA astronaut and United States Air Force colonel.
1956 – Glynnis O'Connor, American actress. She also co-starred with Robby Benson in the films Jeremy in 1973 and Ode to Billy Joe in 1976, as well as with Jan-Michael Vincent in the film Baby Blue Marine in 1976.
1955 – Sam Hamm, American screenwriter and producer. As a result of his work, he was invited to write for Detective Comics.
1954 – Kathleen Quinlan, American actress. Her other film appearances include Airport '77 (1977), The Promise (1979), The Runner Stumbles (1979), Sunday Lovers (1980), Sunset (1988), Clara's Heart (1988), The Doors (1991), Breakdown (1997), and Breach (2007).
1953 – Alexander O'Neal, American R&B singer-songwriter. Alexander O'Neal (born November 15, 1953) is an American R&B singer, songwriter and arranger from Natchez, Mississippi.
1953 – Robert Beltran, American actor. Robert Adame Beltran (born November 19, 1953) is an American actor, known for his role as Commander Chakotay on the 1990s television series Star Trek: Voyager.
1952 – Stephen Soldz, American psychoanalyst and activist. Soldz is director of the Social Justice and Human Rights program at the Boston Graduate School of Psychoanalysis.
1949 – Ahmad Rashād, American football player and sportscaster. Ahmad Rashād(born November 19, 1949) is an American sportscaster (mostly with NBC Sports) and former professional football player.
1947 – Bob Boone, American baseball player and manager, was a four-time All-Star. Born in San Diego, California, Bob Boone is the son of a Major League player, the late third baseman Ray Boone, and he is the father of two Major Leaguers: former second baseman Bret Boone and former utility infielder Aaron Boone.
1947 – Lamar S. Smith, American lawyer and politician. Lamar Seeligson Smith (born November 19, 1947) is an American politician of the Republican Party who served in the United States House of Representatives for Texas's 21st congressional district for 16 terms.
1945 – Bobby Tolan, American baseball player and manager. Robert Tolan (born November 19, 1945) is an American former professional baseball center fielder / right fielder, and coach, who played in Major League Baseball (MLB) for the St.
1943 – Aurelio Monteagudo, Cuban-American baseball player and manager (d. 1990), was a right-handed screwball pitcher who played in Major League Baseball. He was the son of former big-leaguer René Monteagudo.
1943 – Fred Lipsius, American saxophonist and educator. Fred Lipsius (born 19 November 1943 in the Bronx) is the original saxophonist and arranger for the jazz-rock band Blood, Sweat & Tears, for which he played alto saxophone and piano.
1942 – Calvin Klein, American fashion designer, founded Calvin Klein Inc. In addition to clothing, he also has given his name to a range of perfumes, watches, and jewelry.
1942 – Larry Gilbert, American golfer (d. 1998), was an American professional golfer best known for winning the 1997 Senior Players Championship, one of the major championships on the Senior PGA Tour.
1942 – Sharon Olds, American poet and academic. She teaches creative writing at New York University.
1941 – Dan Haggerty, American actor and producer (d. 2016), was an American actor who is best known for playing the title role in the film and television series The Life and Times of Grizzly Adams.
1941 – Tommy Thompson, American captain and politician, 19th United States Secretary of Health and Human Services, was a state legislator in Wisconsin, and 42nd Governor of Wisconsin from 1987 to 2001, making him the longest serving governor in the state's history. During his tenure as governor he was also chair of Amtrak, the nation's passenger rail service.
1939 – Jane Mansbridge, American political scientist and academic. Adams Professor of Political Leadership and Democratic Values in the Kennedy School of Government at Harvard University.
1939 – Richard Zare, American chemist and academic. Richard Neil Zare (born November 19, 1939 in Cleveland, Ohio) is the Marguerite Blake Wilbur Professor in Natural Science and a Professor of Chemistry at Stanford University.
1939 – Tom Harkin, American commander, lawyer, and politician. Thomas Richard Harkin (born November 19, 1939) is an American politician, lawyer, and author who served as a United States Senator from Iowa from 1985 to 2015.
1938 – Ted Turner, American businessman and philanthropist, founded Turner Broadcasting System. Robert Edward Turner III (born November 19, 1938) is an American media proprietor, producer, and philanthropist.
1936 – Dick Cavett, American actor and talk show host. Richard Alva Cavett (/ˈkævɪt/; born November 19, 1936) is an American television personality, comedian and former talk show host notable for his conversational style and in-depth discussions.
1936 – Yuan T. Lee, Taiwanese-American chemist and academic, Nobel Prize laureate. Yuan Tseh Lee (Chinese: 李遠哲; pinyin: Lǐ Yuǎnzhé; Wade–Giles: Li³ Yüan³-che²; Pe̍h-ōe-jī: Lí Oán-tiat; born 19 November 1936) is a Taiwanese chemist and a Professor Emeritus at the University of California, Berkeley.
1935 – Jack Welch, American engineer, businessman, and author. John Francis "Jack" Welch Jr. (born November 19, 1935) is an American business executive, author, and chemical engineer.
1935 – Rashad Khalifa, Egyptian-American biochemist and scholar (d. 1990), was an Egyptian-American biochemist, closely associated with the United Submitters International (USI), an offshoot reform Islamic group. His teachings, some of which depended on numerological analysis of the Quran, were opposed by Traditionalist Muslims.
1933 – Jerry Sheindlin, American judge and author. Gerald "Jerry" Sheindlin (born November 19, 1933) is an American author, television personality, jurist and attorney.
1933 – Larry King, American journalist and talk show host. Larry King (born Lawrence Harvey Zeiger; November 19, 1933) is an American television and radio host, whose work has been recognized with awards including two Peabodys, an Emmy award, and 10 Cable ACE Awards.
1932 – Eleanor F. Helin, American astronomer (d. 2009). She was principal investigator of the Near-Earth Asteroid Tracking (NEAT) program of NASA's Jet Propulsion Laboratory. (Some sources give her name as Eleanor Kay Helin.) She retired in 2002, and then died in 2009, at 76 years old.
1929 – Norman Cantor, Canadian-American historian and scholar (d. 2004), was a Canadian-American historian who specialized in the medieval period. Known for his accessible writing and engaging narrative style, Cantor's books were among the most widely read treatments of medieval history in English.
1926 – Jeane Kirkpatrick, American academic and diplomat, 16th United States Ambassador to the United Nations (d. 2006), was an American diplomat and political scientist who played a major policy role in the foreign policy of the Ronald Reagan administration. An ardent anticommunist, she was a longtime Democrat who became a neoconservative and switched to the Republican Party in 1985.
1923 – Louis D. Rubin, Jr., American author, critic, and academic (d. 2013), was a noted American literary scholar and critic, writing teacher, publisher, and writer. He is credited with helping to establish Southern literature as a recognized area of study within the field of American literature, as well as serving as a teacher and mentor for writers at Hollins College and the University of North Carolina at Chapel Hill; and for founding Algonquin Books of Chapel Hill, a publishing company nationally recognized for fiction by Southern writers.
1921 – Peter Ruckman, American pastor and educator (d. 2016), was an American Independent Baptist pastor and founder of Pensacola Bible Institute in Pensacola, Florida (not to be confused with Pensacola Christian College, also in Pensacola, Florida).
1921 – Roy Campanella, American baseball player and coach (d. 1993). He made his Major League Baseball (MLB) debut in 1948.
1920 – Gene Tierney, American actress and singer (d. 1991), was an American film and stage actress. Acclaimed as a great beauty, she became established as a leading lady.
1915 – Earl Wilbur Sutherland, Jr., American pharmacologist and biochemist, Nobel Prize laureate (d. 1974), was an American pharmacologist and biochemist born in Burlingame, Kansas. Sutherland won a Nobel Prize in Physiology or Medicine in 1971 "for his discoveries concerning the mechanisms of the action of hormones," especially epinephrine, via second messengers, namely cyclic adenosine monophosphate, or cyclic AMP.
1912 – Bernard Joseph McLaughlin, American bishop (d. 2015), was an American bishop of the Roman Catholic Church. He served as the Auxiliary Bishop of Buffalo and also held the titular see of Mottola.
1912 – George Emil Palade, Romanian-American biologist and physician, Nobel Prize laureate (d. 2008), was a Romanian-American cell biologist. Described as "the most influential cell biologist ever", in 1974 he was awarded the Nobel Prize in Physiology and Medicine along with Albert Claude and Christian de Duve.
1909 – Peter Drucker, Austrian-American theorist, educator, and author (d. 2005), was an Austrian-born American management consultant, educator, and author, whose writings contributed to the philosophical and practical foundations of the modern business corporation. He was also a leader in the development of management education, he invented the concept known as management by objectives and self-control, and he has been described as "the founder of modern management".
1907 – Jack Schaefer, American author (d. 1991), was an American writer known for his Westerns. His best-known work is Shane, which was made into the film Shane, and the short story "Stubby Pringle's Christmas" (1964).
1905 – Eleanor Audley, American actress (d. 1991), was an American actress who had a distinctive voice in radio and animation, in addition to her TV and film roles. She is best remembered on television as Oliver Douglas's mother, Eunice Douglas, on the CBS sitcom, Green Acres (1965–69); and for providing Disney animated features with the villainess voices of Lady Tremaine in Cinderella (1950); and Maleficent in Sleeping Beauty (1959).
1905 – Tommy Dorsey, American trombonist, composer and bandleader (The California Ramblers) (d. 1956), was an American jazz trombonist, composer, conductor and bandleader of the big band era. He was known as the "Sentimental Gentleman of Swing" because of his smooth-toned trombone playing.
1904 – Nathan Freudenthal Leopold, Jr., American murderer (d. 1971). Nathan Freudenthal Leopold Jr. (November 19, 1904 – August 29, 1971) and Richard Albert Loeb (/ˈloʊb/; June 11, 1905 – January 28, 1936), usually referred to collectively as Leopold and Loeb, were two wealthy students at the University of Chicago who in May 1924 kidnapped and murdered 14-year-old Bobby Franks in Chicago.
1899 – Allen Tate, American poet and critic (d. 1979), was an American poet, essayist, social commentator, and Poet Laureate from 1943 to 1944.
1898 – Arthur R. von Hippel, German-American physicist and academic (d. 2003), was a German American materials scientist and physicist. Von Hippel was a pioneer in the study of dielectrics, ferromagnetic and ferroelectric materials, and semiconductors and was a codeveloper of radar during World War II.
1897 – Quentin Roosevelt, American lieutenant and pilot (d. 1918), was the youngest son of President Theodore Roosevelt and First Lady Edith Roosevelt. Inspired by his father and siblings, he joined the United States Army Air Service where he became a pursuit pilot during World War I.
1895 – Louise Dahl-Wolfe, American photographer (d. 1989). She is known primarily for her work for Harper's Bazaar, in association with fashion editor Diana Vreeland.
1889 – Clifton Webb, American actor, singer, and dancer (d. 1966), was an American actor, dancer, and singer remembered for his roles in such films as Laura (1944), The Razor's Edge (1946), and Sitting Pretty (1948). Webb was Oscar-nominated for all three.
1888 – José Raúl Capablanca, Cuban-American chess player and theologian (d. 1942), was a Cuban chess player who was world chess champion from 1921 to 1927. A chess prodigy, he is considered by many one of the greatest players of all time, widely renowned for his exceptional endgame skill and speed of play.
1887 – James B. Sumner, American chemist and academic, Nobel Prize laureate (d. 1955). He discovered that enzymes can be crystallized, for which he shared the Nobel Prize in Chemistry in 1946 with John Howard Northrop and Wendell Meredith Stanley.
1883 – Ned Sparks, Canadian-American actor and singer (d. 1957), was a Canadian-born character actor of the American stage and screen. Sparks was known for his deadpan expression and deep, gravelly voice.
1877 – Giuseppe Volpi, Italian businessman and politician, founded the Venice Film Festival (d. 1947). Count Volpi developed utilities which brought electricity to Venice, northeast Italy, and the Balkans by 1903.
1862 – Billy Sunday, American baseball player and evangelist (d. 1935), was an American athlete who, after being a popular outfielder in baseball's National League during the 1880s, became the most celebrated and influential American evangelist during the first two decades of the 20th century.
1843 – C. X. Larrabee, American businessman (d. 1914), was a 19th-century businessman and a co-founder of the town of Fairhaven, Washington. Later in life, Larrabee and his wife Frances donated much land for civic purposes, including schools and parks, and were considered stewards of the city of Bellingham.
1831 – James A. Garfield, American general, lawyer, and politician, 20th President of the United States (d. 1881), was the 20th president of the United States, serving from March 4, 1881 until his death by assassination six and a half months later. He was the first sitting member of the United States House of Representatives to be elected to the presidency, and remains the only sitting House member to gain the White House.
1802 – Solomon Foot, American lawyer and politician (d. 1866), was a Vermont politician and attorney. He held numerous offices during his career, including Speaker of the Vermont House of Representatives, State's Attorney for Rutland County, member of the United States House of Representatives, and United States Senator.
1752 – George Rogers Clark, American general (d. 1818). George Rogers Clark (November 19, 1752 – February 13, 1818) was an American surveyor, soldier, and militia officer from Virginia who became the highest-ranking American patriot military officer on the northwestern frontier during the American Revolutionary War.
1722 – Benjamin Chew, American lawyer and judge (d. 1810), was a fifth-generation American, a Quaker-born legal scholar, a prominent and successful Philadelphia lawyer, head of the Pennsylvania Judiciary System under both Colony and Commonwealth, and Chief Justice of the Supreme Court of the Province of Pennsylvania. Chew was well known for his precision and brevity in making legal arguments as well as his excellent memory, judgment, and knowledge of statutory law.
Deaths
2015 – Allen E. Ertel, American lawyer and politician (b. 1937)
2015 – Mal Whitfield, American runner and diplomat (b. 1924)
2014 – Mike Nichols, German-American actor, director, producer, and screenwriter (b. 1931)
2014 – Pete Harman, American businessman (b. 1919)
2014 – Richard A. Jensen, American theologian, author, and academic (b. 1934)
2013 – Babe Birrer, American baseball player (b. 1928)
2013 – Charlotte Zolotow, American author and poet (b. 1915)
2013 – Dora Dougherty Strother, American pilot and academic (b. 1921)
2012 – Warren Rudman, American lawyer and politician (b. 1930)
2011 – Ruth Stone, American poet and author (b. 1915)
2007 – Kevin DuBrow, American singer-songwriter (b. 1955)
2005 – Steve Belichick, American football player, coach and scout (b. 1919)
2004 – Terry Melcher, American singer-songwriter and producer (b. 1942)
2004 – Trina Schart Hyman, American author and illustrator (b. 1939)
1999 – Alexander Liberman, Russian-American artist and publisher (b. 1912)
1998 – Alan J. Pakula, American director, producer, and screenwriter (b. 1928)
1998 – Ted Fujita, Japanese-American meteorologist and academic (b. 1920)
1992 – Bobby Russell, American singer-songwriter (b. 1941)
1992 – Diane Varsi, American actress (b. 1938)
1991 – Reggie Nalder, Austrian-American actor (b. 1907)
1989 – Grant Adcox, American race car driver (b. 1950)
1988 – Christina Onassis, American-Greek businesswoman (b. 1950)
1988 – Peggy Parish, American author (b. 1927)
1985 – Stepin Fetchit, American actor, singer, and dancer (b. 1907)
1976 – Basil Spence, Indian-Scottish architect and academic, designed the Coventry Cathedral (b. 1907)
1975 – Roger D. Branigin, American colonel, lawyer, and politician, 42nd Governor of Indiana (b. 1902)
1974 – George Brunies, American trombonist (b. 1902)
1974 – Louise Fitzhugh, American author and illustrator (b. 1928)
1970 – Lewis Sargent, American actor (b. 1903)
1967 – Charles J. Watters, American priest and soldier, Medal of Honor recipient (b. 1927)
1963 – Henry B. Richardson, American archer (b. 1889)
1960 – Phyllis Haver, American actress (b. 1899)
1956 – Francis L. Sullivan, English-American actor (b. 1903)
1955 – Marquis James, American journalist and author (b. 1891)
1924 – Thomas H. Ince, American actor, director, producer, and screenwriter (b. 1882)
1918 – Joseph F. Smith, American religious leader, 6th President of The Church of Jesus Christ of Latter-day Saints (b. 1838)
1915 – Joe Hill, Swedish-born American labor activist (b. 1879)
1897 – William Seymour Tyler, American historian and academic (b. 1810)
1887 – Emma Lazarus, American poet (b. 1849)
1850 – Richard Mentor Johnson, American colonel, lawyer, and politician, 9th Vice President of the United States (b. 1780)
1772 – William Nelson, American politician, Colonial Governor of Virginia (b. 1711)
Puerto Rican Culture and Puerto Rico Discovery Day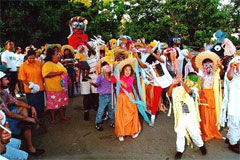 Celebration of Puerto Rican Culture and Puerto Rico Discovery Day is connected with the fact of discovery of the land by Christopher Columbus in 1493. He set sail on his ..→
World Day of Remembrance for Road Traffic Victims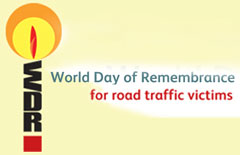 About 1.25 million people die each year as a result of road traffic crashes. Road traffic injuries are the leading cause of death among young people, aged 15Ė29 years. 90..→