Tuesday 19 November 2019 Calendar with holidays, observances and special days
Calendars:
Environmental Dates
,
Fatherís Days
,
Health Calendar
,
Puerto Rico
,
Unusual Holidays
,
Worldwide Holidays
,
Career Holidays (Recognition Holidays)
,
Food holidays
,
Germany
,
India
,
Womenís Days
Holidays and observances
Day of Discovery of Puerto Rico (Puerto Rico)
Have a Bad Day Day
Martyrs' Day in Uttar Pradesh, India
National Camp Day in USA
National Macchiato Day in USA
National Soup Day in Germany
Women's Entrepreneurship Day
Events
2010 – The first of four explosions takes place at the Pike River Mine in New Zealand; 29 people are killed in the nation's worst mining disaster since 1914.
1999 – Shenzhou 1: The People's Republic of China launches its first Shenzhou spacecraft.
1998 – Lewinsky scandal: The United States House of Representatives Judiciary Committee begins impeachment hearings against U.S. President Bill Clinton.
1994 – In the United Kingdom, the first National Lottery draw is held. A £1 ticket gave a one-in-14-million chance of correctly guessing the winning six out of 49 numbers.
1985 – Cold War: In Geneva, U.S. President Ronald Reagan and Soviet Union leader Mikhail Gorbachev meet for the first time.
1985 – Pennzoil wins a US$10.53 billion judgment against Texaco, in the largest civil verdict in the history of the United States, stemming from Texaco executing a contract to buy Getty Oil after Pennzoil had entered into an unsigned, yet still binding, buyout contract with Getty.
1979 – Iran hostage crisis: Iranian leader Ayatollah Ruhollah Khomeini orders the release of 13 female and black American hostages being held at the US Embassy in Tehran.
1967 – The establishment of TVB, the first wireless commercial television station in Hong Kong.
1955 – National Review publishes its first issue.
1912 – First Balkan War: The Serbian Army captures Bitola, ending the five-century-long Ottoman rule of Macedonia.
1863 – American Civil War: U.S. President Abraham Lincoln delivers the Gettysburg Address at the dedication ceremony for the military cemetery at Gettysburg, Pennsylvania.
1794 – The United States and the Kingdom of Great Britain sign Jay's Treaty, which attempts to resolve some of the lingering problems left over from the American Revolutionary War.
1493 – Christopher Columbus goes ashore on an island he first saw the day before. He names it San Juan Bautista (later renamed Puerto Rico).
Births
1990 – John Moore, American ice hockey player
1990 – Marquise Goodwin, American football player
1989 – Tyga, American rapper
1988 – Patrick Kane, American ice hockey player
1986 – Jeannie Ortega, American singer-songwriter, dancer, and actress
1986 – Veronica Scott, American fashion designer, co-founded Fuchsia Clothing
1985 – Alex Mack, American football player
1984 – Brittany Maynard, American activist (d. 2014)
1983 – Adam Driver, American actor
1981 – Marcus Banks, American basketball player
1980 – Courtney Anderson, American football player
1980 – Otis Grigsby, American football player
1979 – John-Ford Griffin, American baseball player
1979 – Keith Buckley, American singer-songwriter
1979 – Larry Johnson, American football player
1979 – Ryan Howard, American baseball player
1978 – Dries Buytaert, Belgian computer programmer, founded Acquia
1977 – Kerri Strug, American gymnast and runner
1976 – Jack Dorsey, American businessman, co-founded Twitter
1975 – Toby Bailey, American basketball player and agent
1973 – Billy Currington, American singer-songwriter and guitarist
1973 – Django Haskins, American singer-songwriter and guitarist
1973 – Savion Glover, American dancer and choreographer
1972 – Sandrine Holt, English-American model and actress
1971 – Alice Peacock, American singer-songwriter
1971 – Jeremy McGrath, American motorcycle racer
1971 – Tony Rich, American R&B singer-songwriter and musician
1969 – Erika Alexander, American actress and screenwriter
1967 – Randi Kaye, American journalist
1966 – Gail Devers, American sprinter and hurdler
1966 – Jason Scott Lee, American actor and martial artist
1966 – Rocco DiSpirito, American chef and author
1966 – Shmuley Boteach, American rabbi and author
1965 – Paul Weitz, American actor, director, producer, screenwriter, and playwright
1964 – Crystal Waters, American singer-songwriter
1964 – Eric Musselman, American basketball player and coach
1964 – Fred Diamond, American-English mathematician and academic
1964 – Nicholas Patrick, English-American engineer and astronaut
1964 – Shawn Holman, American baseball pitcher
1964 – Vincent Herring, American saxophonist and flute player
1963 – Jon Potter, English-American field hockey player
1963 – Terry Farrell, American actress
1962 – Jodie Foster, American actress, director, and producer
1962 – Sean Parnell, American lawyer and politician, 12th Governor of Alaska
1961 – Jim L. Mora, American football player and coach
1961 – Meg Ryan, American actress and producer
1960 – Matt Sorum, American drummer, songwriter, and producer
1960 – Miss Elizabeth, American wrestler and manager (d. 2003)
1959 – Allison Janney, American actress
1959 – Jo Bonner, American U.S. Representative for Alabama's 1st congressional district
1959 – Robert Barron, American bishop, author, and theologian
1958 – Annette Gordon-Reed, American historian, author, and academic
1958 – Charlie Kaufman, American director, producer, and screenwriter
1958 – Michael Wilbon, American sportscaster and journalist
1958 – Terrence C. Carson, American actor and singer
1956 – Ann Curry, Guamanian-American journalist
1956 – Eileen Collins, American colonel, pilot, and astronaut
1956 – Glynnis O'Connor, American actress
1955 – Sam Hamm, American screenwriter and producer
1954 – Kathleen Quinlan, American actress
1953 – Alexander O'Neal, American R&B singer-songwriter
1953 – Robert Beltran, American actor
1952 – Stephen Soldz, American psychoanalyst and activist
1949 – Ahmad Rashād, American football player and sportscaster
1947 – Bob Boone, American baseball player and manager
1947 – Lamar S. Smith, American lawyer and politician
1945 – Bobby Tolan, American baseball player and manager
1943 – Aurelio Monteagudo, Cuban-American baseball player and manager (d. 1990)
1943 – Fred Lipsius, American saxophonist and educator
1942 – Calvin Klein, American fashion designer, founded Calvin Klein Inc.
1942 – Larry Gilbert, American golfer (d. 1998)
1942 – Sharon Olds, American poet and academic
1941 – Dan Haggerty, American actor and producer (d. 2016)
1941 – Tommy Thompson, American captain and politician, 19th United States Secretary of Health and Human Services
1939 – Jane Mansbridge, American political scientist and academic
1939 – Richard Zare, American chemist and academic
1939 – Tom Harkin, American commander, lawyer, and politician
1938 – Ted Turner, American businessman and philanthropist, founded Turner Broadcasting System
1936 – Dick Cavett, American actor and talk show host
1936 – Ray Collins, American singer (d. 2012)
1936 – Yuan T. Lee, Taiwanese-American chemist and academic, Nobel Prize laureate
1935 – Jack Welch, American engineer, businessman, and author
1935 – Rashad Khalifa, Egyptian-American biochemist and scholar (d. 1990)
1933 – Jerry Sheindlin, American judge and author
1933 – Larry King, American journalist and talk show host
1932 – Eleanor F. Helin, American astronomer (d. 2009)
1929 – Norman Cantor, Canadian-American historian and scholar (d. 2004)
1926 – Jeane Kirkpatrick, American academic and diplomat, 16th United States Ambassador to the United Nations (d. 2006)
1923 – Louis D. Rubin, Jr., American author, critic, and academic (d. 2013)
1921 – Peter Ruckman, American pastor and educator (d. 2016)
1921 – Roy Campanella, American baseball player and coach (d. 1993)
1920 – Gene Tierney, American actress and singer (d. 1991)
1915 – Earl Wilbur Sutherland, Jr., American pharmacologist and biochemist, Nobel Prize laureate (d. 1974)
1912 – Bernard Joseph McLaughlin, American bishop (d. 2015)
1912 – George Emil Palade, Romanian-American biologist and physician, Nobel Prize laureate (d. 2008)
1912 – Robert Simpson, American meteorologist and author (d. 2014)
1909 – Peter Drucker, Austrian-American theorist, educator, and author (d. 2005)
1907 – Jack Schaefer, American author (d. 1991)
1905 – Eleanor Audley, American actress (d. 1991)
1905 – Tommy Dorsey, American trombonist, composer and bandleader (The California Ramblers) (d. 1956)
1904 – Nathan Freudenthal Leopold, Jr., American murderer (d. 1971)
1899 – Allen Tate, American poet and critic (d. 1979)
1898 – Arthur R. von Hippel, German-American physicist and academic (d. 2003)
1897 – Quentin Roosevelt, American lieutenant and pilot (d. 1918)
1895 – Louise Dahl-Wolfe, American photographer (d. 1989)
1889 – Clifton Webb, American actor, singer, and dancer (d. 1966)
1888 – José Raúl Capablanca, Cuban-American chess player and theologian (d. 1942)
1887 – James B. Sumner, American chemist and academic, Nobel Prize laureate (d. 1955)
1883 – Ned Sparks, Canadian-American actor and singer (d. 1957)
1877 – Giuseppe Volpi, Italian businessman and politician, founded the Venice Film Festival (d. 1947)
1862 – Billy Sunday, American baseball player and evangelist (d. 1935)
1843 – C. X. Larrabee, American businessman (d. 1914)
1831 – James A. Garfield, American general, lawyer, and politician, 20th President of the United States (d. 1881)
1802 – Solomon Foot, American lawyer and politician (d. 1866)
1752 – George Rogers Clark, American general (d. 1818)
1722 – Benjamin Chew, American lawyer and judge (d. 1810)
Deaths
2015 – Allen E. Ertel, American lawyer and politician (b. 1937)
2015 – Mal Whitfield, American runner and diplomat (b. 1924)
2014 – Mike Nichols, German-American actor, director, producer, and screenwriter (b. 1931)
2014 – Pete Harman, American businessman (b. 1919)
2014 – Richard A. Jensen, American theologian, author, and academic (b. 1934)
2013 – Babe Birrer, American baseball player (b. 1928)
2013 – Charlotte Zolotow, American author and poet (b. 1915)
2013 – Dora Dougherty Strother, American pilot and academic (b. 1921)
2012 – Warren Rudman, American lawyer and politician (b. 1930)
2011 – Ruth Stone, American poet and author (b. 1915)
2007 – Kevin DuBrow, American singer-songwriter (b. 1955)
2005 – Steve Belichick, American football player, coach and scout (b. 1919)
2004 – Terry Melcher, American singer-songwriter and producer (b. 1942)
2004 – Trina Schart Hyman, American author and illustrator (b. 1939)
1999 – Alexander Liberman, Russian-American artist and publisher (b. 1912)
1998 – Alan J. Pakula, American director, producer, and screenwriter (b. 1928)
1998 – Ted Fujita, Japanese-American meteorologist and academic (b. 1920)
1992 – Bobby Russell, American singer-songwriter (b. 1941)
1992 – Diane Varsi, American actress (b. 1938)
1991 – Reggie Nalder, Austrian-American actor (b. 1907)
1989 – Grant Adcox, American race car driver (b. 1950)
1988 – Christina Onassis, American-Greek businesswoman (b. 1950)
1988 – Peggy Parish, American author (b. 1927)
1985 – Stepin Fetchit, American actor, singer, and dancer (b. 1907)
1976 – Basil Spence, Indian-Scottish architect and academic, designed the Coventry Cathedral (b. 1907)
1975 – Roger D. Branigin, American colonel, lawyer, and politician, 42nd Governor of Indiana (b. 1902)
1974 – George Brunies, American trombonist (b. 1902)
1974 – Louise Fitzhugh, American author and illustrator (b. 1928)
1970 – Lewis Sargent, American actor (b. 1903)
1967 – Charles J. Watters, American priest and soldier, Medal of Honor recipient (b. 1927)
1963 – Henry B. Richardson, American archer (b. 1889)
1960 – Phyllis Haver, American actress (b. 1899)
1956 – Francis L. Sullivan, English-American actor (b. 1903)
1955 – Marquis James, American journalist and author (b. 1891)
1924 – Thomas H. Ince, American actor, director, producer, and screenwriter (b. 1882)
1918 – Joseph F. Smith, American religious leader, 6th President of The Church of Jesus Christ of Latter-day Saints (b. 1838)
1915 – Joe Hill, Swedish-born American labor activist (b. 1879)
1897 – William Seymour Tyler, American historian and academic (b. 1810)
1887 – Emma Lazarus, American poet (b. 1849)
1850 – Richard Mentor Johnson, American colonel, lawyer, and politician, 9th Vice President of the United States (b. 1780)
1772 – William Nelson, American politician, Colonial Governor of Virginia (b. 1711)
Tuesday 19 November 2019
George Rogers Clark Day in Ohio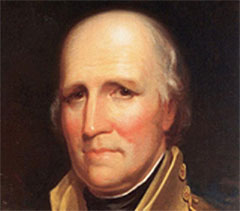 Lt. Col. George Rogers Clark and his frontiersmen captured Fort Sackville from British Lt. Governor Henry Hamilton and his soldiers on February 25, 1779. The heroic march..→
Tuesday 19 November 2019
Puerto Rican Culture and Puerto Rico Discovery Day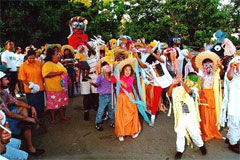 Celebration of Puerto Rican Culture and Puerto Rico Discovery Day is connected with the fact of discovery of the land by Christopher Columbus in 1493. He set sail on his ..→