National French Onion Soup Day
National French Onion Soup Day is held on March 8. This event in the first decade of the month March is annual.
Help us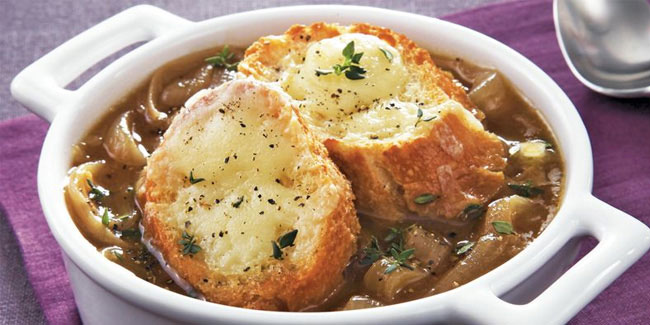 Onion soups have been popular at least as far back as Roman times. Throughout history, they were seen as food for poor people, as onions were plentiful and easy to grow. The modern version of this soup originates in Paris, France in the 18th century, made from beef broth, and caramelized onions. One serving of a traditionally prepared French Onion Soup generally has about 200 calories.
Similar holidays and events, festivals and interesting facts

National Cereal Day and Crown Roast of Pork Day in USA on March 7
;

National Peanut Cluster Day in USA on March 8
;

International Women's Collaboration Brew Day on March 8
;

National Meatball Day and National Crab / Crabmeat Day in USA on March 9
;

Tortilla Day or Saint Joan's Day in Spain on March 9
;

National Ranch Dressing Day in USA on March 10
;

National Blueberry Popover Day in USA on March 10
;

Pretzel Sunday or Bretzelsonndeg in Luxembourg on March 10
(Fourth Sunday in Lent)