National Pumpkin Cheesecake Day in USA
National Pumpkin Cheesecake Day in USA is held on October 21. This event in the third decade of the month October is annual.
Help us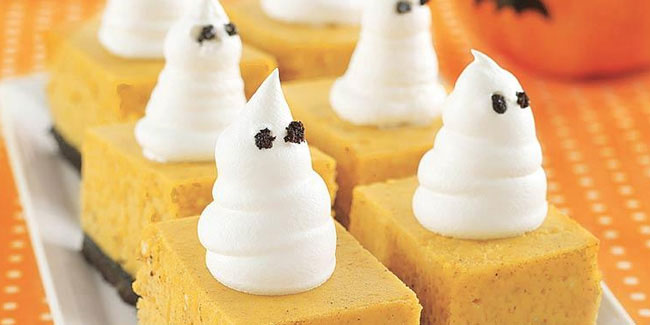 Fall – or, Pumpkin Cheesecake season as we like to call it – is here, and that means that pints of this autumnal classic are chilling on freezer shelves far and wide. So carve out a place in your own freezer, and get ready to dig in. It's an American classic.
This day is celebrated to enjoy the autumn season fall fruit 'Pumpkin' mixed with cheesecake. The cheesecake was originated in Greece.
This creamy dessert is made with loads of rich, smooth cream cheese, impressive amounts of real pumpkin (the pumpkins we use are no longer round by the time they get this far), and seasonal pumpkin pie spices. It makes a quick and easy dessert for a special occasion or a weeknight supper with the family.
Similar holidays and events, festivals and interesting facts

National Brandied Fruit Day in USA on October 20
;

World Champagne Day on October 20
(Celebrated on the penultimate Friday of October);

National Office Chocolate Day in USA on October 20
;

Cook's Day in El Salvador on October 20
(Día del cocinero);

International Day of the Nacho on October 21
(nachos first appeared in 1943 in Piedras Negras, a small Mexican city which is very near to the U.S. military base Fort Duncan, in Texas);

Apple Day on October 21
(United Kingdom);

Sweetest Day in Great Lakes region on October 21
(is celebrated on the third Saturday in October);

National Tequeño Day in Venezuela on October 21
;

National Nut Day in USA on October 22
;

Austrian Sparkling Wine Day on October 22