National Tequeño Day in Venezuela
National Tequeño Day in Venezuela is held on October 21. This event in the third decade of the month October is annual.
Help us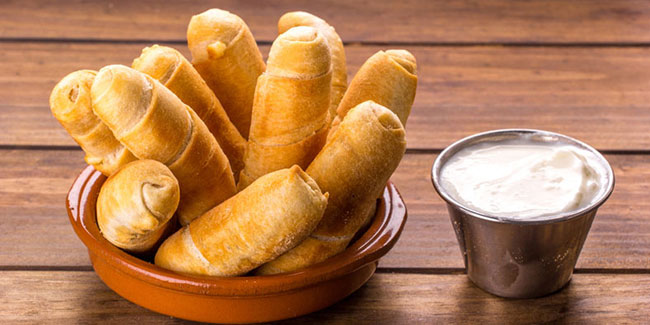 The tequeño (fried breaded cheese sticks or a piece of bread dough with a queso blanco filling in the middle), the famous Venezuelan pasapalo that in recent years has become very popular in the world, has been declared Cultural Heritage of Venezuela. This was announced by the Minister of Culture, Ernesto Villegas, through his Twitter account.
"Let Raimundo and everyone know: the tequeño is Cultural Heritage of Venezuela. Today, April 20, I had the pleasure of signing the certificate that certifies the inscription of this gastronomic delicacy from the Altos Mirandinos in the Venezuelan Cultural Heritage Registry," he wrote.
In 2021, the Organization of Venezuelans around the World, as well as many other compatriots, declared October 21 as the International Tequeño Day. This, with the idea of defending a typical food of the country, on a date that coincides with the founding of Los Teques, the city of Mirandina where it was created.
Similar holidays and events, festivals and interesting facts

National Brandied Fruit Day in USA on October 20
;

World Champagne Day on October 20
(Celebrated on the penultimate Friday of October);

National Office Chocolate Day in USA on October 20
;

Cook's Day in El Salvador on October 20
(Día del cocinero);

International Day of the Nacho on October 21
(nachos first appeared in 1943 in Piedras Negras, a small Mexican city which is very near to the U.S. military base Fort Duncan, in Texas);

Apple Day on October 21
(United Kingdom);

Sweetest Day in Great Lakes region on October 21
(is celebrated on the third Saturday in October);

National Pumpkin Cheesecake Day in USA on October 21
;

National Nut Day in USA on October 22
;

Austrian Sparkling Wine Day on October 22