Wednesday 8 May 2019 Calendar with holidays, observances and special days
Holidays and observances
Earliest day on which Mother's Day can fall, while May 14 is the latest; celebrated on the second Sunday of May. (United States and others)
Emancipation Day (Columbus, Mississippi)
Furry Dance (Helston, UK)
Iris Day
Military Spouse Appreciation Day in United States (celebrated on Friday before Mother's Day)
National Animal Disaster Preparedness Day in US
National Coconut Cream Pie Day in USA
No Socks Day
Parents' day in South Korea
Veterans Day in Norway
Victory Day in Poland and Czech (Narodowy Dzień Zwycięstwa in Poland established in 2015)
White Lotus Day (Theosophy)
Events
1978 – The first ascent of Mount Everest without supplemental oxygen, by Reinhold Messner and Peter Habeler.
1976 – The rollercoaster The New Revolution, the first steel coaster with a vertical loop, opens at Six Flags Magic Mountain.
1973 – A 71-day standoff between federal authorities and the American Indian Movement members occupying the Pine Ridge Reservation at Wounded Knee, South Dakota ends with the surrender of the militants.
1942 – World War II: The Battle of the Coral Sea comes to an end with Imperial Japanese Navy aircraft carrier aircraft attacking and sinking the United States Navy aircraft carrier USS Lexington. The battle marks the first time in the naval history that two enemy fleets fight without visual contact between warring ships.
1927 – Attempting to make the first non-stop transatlantic flight from Paris to New York, French war heroes Charles Nungesser and François Coli disappear after taking off aboard The White Bird biplane.
1912 – Paramount Pictures is founded.
1899 – The Irish Literary Theatre in Dublin produced its first play.
1898 – The first games of the Italian football league system are played.
1886 – Pharmacist John Pemberton first sells a carbonated beverage named "Coca-Cola" as a patent medicine.
1877 – At Gilmore's Gardens in New York City, the first Westminster Kennel Club Dog Show opens.
1861 – American Civil War: Richmond, Virginia is named the capital of the Confederate States of America.
1846 – Mexican–American War: The Battle of Palo Alto: Zachary Taylor defeats a Mexican force north of the Rio Grande in the first major battle of the war.
Births
1992 – Kevin Hayes, American ice hockey player
1990 – Kemba Walker, American basketball player
1987 – Felix Jones, American football player
1986 – Galen Rupp, American runner
1986 – Marvell Wynne, American soccer player
1985 – Tommaso Ciampa, American wrestler
1985 – Usama Young, American football player
1983 – Bershawn Jackson, American hurdler
1983 – Lawrence Vickers, American football player
1982 – Adrian Gonzalez, American baseball player
1981 – John Maine, American baseball player
1981 – Manny Gamburyan, Armenian-American mixed martial artist
1980 – Keyon Dooling, American basketball player
1977 – Joe Bonamassa, American singer-songwriter and guitarist
1976 – Gonçalo Abecasis, Portuguese-American biochemist and academic
1976 – Martha Wainwright, Canadian-American singer-songwriter and guitarist
1975 – Enrique Iglesias, Spanish-American singer-songwriter, producer, and actor
1974 – Korey Stringer, American football player (d. 2001)
1971 – Candice Night, American singer-songwriter
1971 – Chuck Huber, American voice actor, director, and screenwriter
1969 – Akebono Tarō, American-Japanese sumo wrestler, the 64th Yokozuna
1964 – Bobby Labonte, American race car driver
1964 – Melissa Gilbert, American actress and director
1963 – Rick Zombo, American ice hockey player and coach
1961 – Bill de Blasio, American politician, 109th Mayor of New York City
1961 – David Winning, Canadian-American director, producer, and screenwriter
1960 – Eric Brittingham, American bass player
1959 – Ronnie Lott, American football player and sportscaster
1958 – Brooks Newmark, American-English businessman and politician, Lord of the Treasury
1958 – Lovie Smith, American football player and coach
1957 – Bill Cowher, American football player and coach
1955 – Stephen Furst, American actor and director
1954 – David Keith, American actor and director
1954 – John Michael Talbot, American singer-songwriter and guitarist
1954 – Pam Arciero, American puppeteer and voice actress
1953 – Alex Van Halen, Dutch-American drummer
1953 – Billy Burnette, American singer-songwriter, guitarist, and actor
1951 – Chris Frantz, American drummer and producer
1951 – Mike D'Antoni, American basketball player and coach
1951 – Philip Bailey, American singer-songwriter, drummer, and actor
1950 – Robert Mugge, American director and producer
1948 – Stephen Stohn, American-Canadian lawyer and producer
1948 – Steve Braun, American baseball player and coach
1947 – H. Robert Horvitz, American biologist and academic, Nobel Prize laureate
1945 – Keith Jarrett, American pianist and composer
1945 – Mike German, Baron German, Welsh educator and politician, Deputy First Minister for Wales
1943 – Danny Whitten, American singer-songwriter and guitarist (d. 1972)
1941 – Bill Lockyer, American academic and politician, 30th Attorney General of California
1941 – James Traficant, American lawyer and politician (d. 2014)
1941 – John Fred, American singer-songwriter (d. 2005)
1940 – Peter Benchley, American author and screenwriter (d. 2006)
1940 – Ricky Nelson, American singer-songwriter, guitarist, and actor (d. 1985)
1940 – Toni Tennille, American singer-songwriter and keyboard player
1939 – Paul Drayton, American sprinter (d. 2010)
1937 – Mike Cuellar, Cuban-American baseball player (d. 2010)
1937 – Thomas Pynchon, American novelist
1930 – Doug Atkins, American football player (d. 2015)
1930 – Gary Snyder, American poet, essayist, and translator
1929 – Miyoshi Umeki, Japanese-American actress and singer (d. 2007)
1928 – Robert Conley, American journalist (d. 2013)
1928 – Ted Sorensen, American lawyer, 8th White House Counsel (d. 2010)
1926 – Don Rickles, American comedian and actor (d. 2017)
1922 – Mary Q. Steele, American naturalist and author (d. 1992)
1920 – Saul Bass, American graphic designer and director (d. 1996)
1920 – Sloan Wilson, American author and poet (d. 2003)
1919 – Lex Barker, American actor (d. 1973)
1917 – John Anderson, Jr., American lawyer and politician, 36th Governor of Kansas (d. 2014)
1915 – Milton Meltzer, American historian and author (d. 2009)
1913 – Bob Clampett, American animator, director, and producer (d. 1984)
1911 – Robert Johnson, American singer-songwriter and guitarist (d. 1938)
1910 – Andrew E. Svenson, American author and publisher (d. 1975)
1910 – Mary Lou Williams, American pianist and composer (d. 1981)
1905 – Red Nichols, American cornet player, composer, and bandleader (d. 1965)
1901 – Turkey Stearnes, American baseball player (d. 1979)
1899 – Arthur Q. Bryan, American actor, voice actor, comedian and radio personality (d. 1959)
1895 – Edmund Wilson, American critic, essayist, and editor (d. 1972)
1895 – Fulton J. Sheen, American archbishop (d. 1979)
1895 – James H. Kindelberger, American businessman (d. 1962)
1893 – Edd Roush, American baseball player and coach (d. 1988)
1893 – Francis Ouimet, American golfer (d. 1967)
1884 – Harry S. Truman, American colonel and politician, 33rd President of the United States (d. 1972)
1879 – Wesley Coe, American shot putter, discus thrower, and tug of war competitor (d. 1926)
1853 – Dan Brouthers, American baseball player and manager (d. 1932)
1850 – Ross Barnes, American baseball player and manager (d. 1915)
1846 – Oscar Hammerstein I, American businessman and composer (d. 1919)
1829 – Louis Moreau Gottschalk, American pianist and composer (d. 1869)
1828 – Henry Dunant, Swiss businessman and activist, co-founded the Red Cross, Nobel Prize laureate (d. 1910)
1824 – William Walker, American physician, lawyer, journalist and mercenary (d. 1860)
1821 – William Henry Vanderbilt, American businessman and philanthropist (d. 1885)
1815 – Edward Tompkins, American lawyer and politician (d. 1872)
Deaths
2016 – Tom M. Apostol, American analytic number theorist (b. 1923)
2016 – William Schallert, American actor; president (1979–81) of the Screen Actors Guild (b. 1922)
2014 – Joseph P. Teasdale, American lawyer and politician, 48th Governor of Missouri (b. 1936)
2014 – Nancy Malone, American actress, director, and producer (b. 1935)
2014 – R. Douglas Stuart Jr., American businessman and diplomat, United States Ambassador to Norway (b. 1916)
2014 – Roger L. Easton, American scientist, co-invented the GPS (b. 1921)
2013 – Hugh J. Silverman, American philosopher and theorist (b. 1945)
2013 – Jeanne Cooper, American actress (b. 1928)
2012 – Everett Lilly, American singer-songwriter and guitarist (b. 1924)
2012 – Jerry McMorris, American businessman (b. 1941)
2012 – Maurice Sendak, American author and illustrator (b. 1928)
2012 – Roman Totenberg, Polish-American violinist and educator (b. 1911)
2012 – Stacy Robinson, American football player (b. 1962)
2009 – Bud Shrake, American journalist and author (b. 1931)
2009 – Dom DiMaggio, American baseball player (b. 1917)
2008 – Eddy Arnold, American singer-songwriter, guitarist, and actor (b. 1918)
2007 – Carson Whitsett, American keyboard player, songwriter, and producer (b. 1945)
2007 – Philip R. Craig, American author and poet (b. 1933)
2000 – Henry Nicols, American activist (b. 1973)
1999 – Dana Plato, American actress (b. 1964)
1999 – Ed Gilbert, American actor (b. 1931)
1998 – Charles Rebozo, American banker and businessman (b. 1912)
1996 – Garth Williams, American illustrator (b. 1912)
1996 – Larry Levis, American poet, author, and critic (b. 1946)
1994 – George Peppard, American actor and producer (b. 1928)
1993 – Avram Davidson, American soldier and author (b. 1923)
1992 – Joyce Ricketts, American baseball player (b. 1933)
1988 – Robert A. Heinlein, American science fiction writer and screenwriter (b. 1907)
1985 – Dolph Sweet, American actor (b. 1920)
1985 – Theodore Sturgeon, American author and critic (b. 1918)
1984 – Lila Bell Wallace, American publisher, co-founded Reader's Digest (b. 1890)
1983 – John Fante, American author and acreenwriter (b. 1909)
1982 – Neil Bogart, American record producer, co-founded Casablanca Records (b. 1943)
1975 – Avery Brundage, American businessman and art collector (b. 1887)
1969 – Remington Kellogg, American zoologist and paleontologist (b. 1892)
1952 – William Fox, Austrian businessman, founded Fox Theatres (b. 1879)
1947 – Harry Gordon Selfridge, American-English businessman, founded Selfridges (b. 1858)
1907 – Edmund G. Ross, American soldier and politician, 13th Governor of New Mexico Territory (b. 1826)
1822 – John Stark, American general (b. 1728)
Wednesday 8 May 2019
Day of the Teacher in California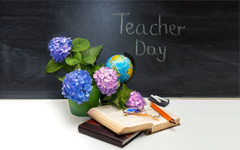 "Day of the Teacher" arose out of legislation co-sponsored by CTA and the Association of Mexican American Educators. Sen. Joseph Montoya wrote the bill and it was adopted..→
Wednesday 8 May 2019
Time of Remembrance and Reconciliation for Those Who Lost Their Lives during the Second World War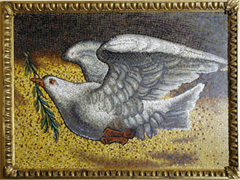 By resolution 59/26 of 22 November 2004, the UN General Assembly declared 8–9 May as a time of remembrance and reconciliation and, while recognizing that Member States ma..→