Monday 25 March 2019 Calendar with holidays, observances and special days
Holidays and observances
Historic start of the new year (Lady Day) in England, Wales, Ireland, and the future United States until the adoption of the Gregorian calendar in 1752. (The year 1751 began on 25 March; the year 1752 began on 1 January.) It is one of the four Quarter days in Ireland and England
International Day of the Unborn Child
International Waffle Day
Maryland Day (Maryland, United States)
Mother's Day in Slovenia
National Medal of Honor Day (United States)
Pisan New Year
Tolkien Reading Day
Events
1995 – WikiWikiWeb, the world's first wiki, and part of the Portland Pattern Repository, is made public by Ward Cunningham.
1988 – The Candle demonstration in Bratislava is the first mass demonstration of the 1980s against the communist regime in Czechoslovakia.
1979 – The first fully functional Space Shuttle orbiter, Columbia, is delivered to the John F. Kennedy Space Center to be prepared for its first launch.
1969 – During their honeymoon, John Lennon and Yoko Ono hold their first Bed-In for Peace at the Amsterdam Hilton Hotel (until March 31).
1957 – The European Economic Community is established with West Germany, France, Italy, Belgium, Netherlands and Luxembourg as the first members.
1957 – United States Customs seizes copies of Allen Ginsberg's poem "Howl" on obscenity grounds.
1948 – The first successful tornado forecast predicts that a tornado will strike Tinker Air Force Base, Oklahoma.
1894 – Coxey's Army, the first significant American protest march, departs Massillon, Ohio for Washington, D.C.
1865 – American Civil War: In Virginia, Confederate forces temporarily capture Fort Stedman from the Union.
1807 – The Swansea and Mumbles Railway, then known as the Oystermouth Railway, becomes the first passenger-carrying railway in the world.
1655 – Saturn's largest moon, Titan, is discovered by Christiaan Huygens.
1584 – Sir Walter Raleigh is granted a patent to colonize Virginia.
1555 – The city of Valencia is founded in present-day Venezuela.
Births
1989 – Aly Michalka, American singer-songwriter and guitarist
1988 – Ryan Lewis, American DJ, musician, record producer, and hip hop recording artist
1986 – Kyle Lowry, American basketball player
1986 – Megan Gibson, American softball player
1985 – Carmen Rasmusen, Canadian-American singer-songwriter and actress
1984 – Katharine McPhee, American singer-songwriter and actress
1981 – Danica Patrick, American race car driver
1974 – Lark Voorhies, American actress and singer
1973 – Bob Sura, American basketball player
1971 – Cammi Granato, American ice hockey player and sportscaster
1971 – Sheryl Swoopes, American basketball player and coach
1971 – Stacy Dragila, American pole vaulter and coach
1969 – Dale Davis, American basketball player
1967 – Debi Thomas, American figure skater and physician
1967 – Doug Stanhope, American comedian and actor
1967 – Matthew Barney, American sculptor and photographer
1966 – Tom Glavine, American baseball player and sportscaster
1965 – Avery Johnson, American basketball player and coach
1965 – Sarah Jessica Parker, American actress, producer, and designer
1962 – Marcia Cross, American actress
1961 – Mark Brooks, American golfer
1960 – Brenda Strong, American actress
1958 – John Ensign, American physician and politician
1958 – Ray Tanner, American baseball player and coach
1958 – Susie Bright, American journalist, author, and critic
1957 – Jim Uhls, American screenwriter and producer
1955 – Lee Mazzilli, American baseball player, coach, and manager
1954 – Thom Loverro, American journalist and author
1950 – Chuck Greenberg, American saxophonist, songwriter, and producer (d. 1995)
1950 – David Paquette, American-New Zealand pianist
1950 – Ronnie McDowell, American singer-songwriter
1948 – Bonnie Bedelia, American actress
1948 – Michael Stanley, American singer-songwriter and guitarist
1946 – Stephen Hunter, American author and critic
1943 – Paul Michael Glaser, American actor and director
1942 – Aretha Franklin, American singer-songwriter and pianist
1939 – D. C. Fontana, American screenwriter and producer
1939 – Toni Cade Bambara, American author, academic, and activist (d. 1995)
1938 – Hoyt Axton, American singer-songwriter and actor (d. 1999)
1937 – Tom Monaghan, American businessman, founded Domino's Pizza
1936 – Carl Kaufmann, American-German sprinter (d. 2008)
1934 – Gloria Steinem, American feminist activist, co-founded the Women's Media Center
1934 – Johnny Burnette, American singer-songwriter (d. 1964)
1932 – Wes Santee, American runner (d. 2010)
1930 – David Burge, American pianist, composer, and conductor (d. 2013)
1930 – Rudy Minarcin, American baseball player and coach (d. 2013)
1929 – Cecil Taylor, American pianist and composer
1928 – Jim Lovell, American captain, pilot, and astronaut
1926 – Gene Shalit, American journalist and critic
1925 – Flannery O'Connor, American short story writer and novelist (d. 1964)
1924 – Roberts Blossom, American actor (d. 2011)
1923 – Bonnie Guitar, American singer-songwriter and guitarist
1922 – Eileen Ford, American businesswoman, co-founded Ford Models (d. 2014)
1921 – Nancy Kelly, American actress (d. 1995)
1918 – Howard Cosell, American soldier, journalist, and author (d. 1995)
1914 – Norman Borlaug, American agronomist and humanitarian, Nobel Prize laureate (d. 2009)
1913 – Reo Stakis, Cypriot-Scottish businessman, founded Stakis Hotels (d. 2001)
1904 – Pete Johnson, American boogie-woogie and jazz pianist (d. 1967)
1903 – Binnie Barnes, English-American actress (d. 1998)
1903 – Frankie Carle, American pianist and bandleader (d. 2001)
1903 – Nahum Norbert Glatzer, Ukrainian-American theologian and scholar (d. 1990)
1901 – Ed Begley, American actor (d. 1970)
1881 – Patrick Henry Bruce, American painter and educator (d. 1936)
1879 – Amedee Reyburn, American swimmer and water polo player (d. 1920)
1876 – Irving Baxter, American jumper and pole vaulter (d. 1957)
1873 – Rudolf Rocker, German-American author and activist (d. 1958)
1872 – Horatio Nelson Jackson, American race car driver and physician (d. 1955)
1867 – Arturo Toscanini, Italian-American cellist and conductor (d. 1957)
1867 – Gutzon Borglum, American sculptor, designed Mount Rushmore (d. 1941)
1863 – Simon Flexner, American physician and academic (d. 1946)
1840 – Myles Keogh, Irish-American colonel (d. 1876)
1824 – Clinton L. Merriam, American banker and politician (d. 1900)
Deaths
2016 – Shannon Bolin, American actress and singer (b. 1917)
2015 – George Fischbeck, American journalist and educator (b. 1922)
2014 – Hank Lauricella, American football player and politician (b. 1930)
2014 – Jonathan Schell, American journalist and author (b. 1943)
2014 – Ralph Wilson, American businessman, founded the Buffalo Bills (b. 1918)
2014 – Sonny Ruberto, American baseball player, coach, and manager (b. 1946)
2013 – Anthony Lewis, American journalist and academic (b. 1927)
2013 – Ben Goldfaden, American basketball player and educator (b. 1913)
2013 – John F. Wiley, American lieutenant, football player, and coach (b. 1920)
2012 – Edd Gould, English animator and voice actor, founded Eddsworld (b. 1988)
2012 – Hal E. Chester, American actor, director, and producer (b. 1921)
2012 – John Crosfield, English businessman, founded Crosfield Electronics (b. 1915)
2012 – Len E. Blaylock, American businessman and politician (b. 1918)
2012 – Priscilla Buckley, American journalist and author (b. 1921)
2009 – Dan Seals, American musician (b. 1948)
2009 – Johnny Blanchard, American baseball player (b. 1933)
2009 – Kosuke Koyama, Japanese-American theologian and academic (b. 1929)
2008 – Abby Mann, American screenwriter and producer (b. 1927)
2008 – Ben Carnevale, American basketball player and coach (b. 1915)
2008 – Herb Peterson, American businessman, created the McMuffin (b. 1919)
2005 – Paul Henning, American screenwriter and producer (b. 1911)
2000 – Helen Martin, American actress (b. 1909)
1999 – Cal Ripken, Sr., American baseball player, coach, and manager (b. 1936)
1998 – Steven Schiff, American lawyer and politician (b. 1947)
1995 – James Samuel Coleman, American sociologist and academic (b. 1926)
1992 – Nancy Walker, American actress, singer, and director (b. 1922)
1988 – Robert Joffrey, American dancer, choreographer, and director, co-founded the Joffrey Ballet (b. 1930)
1986 – Gloria Blondell, American actress (b. 1910)
1983 – Bob Waterfield, American football player and coach (b. 1920)
1982 – Goodman Ace, American comedian and writer (b. 1899)
1980 – Milton H. Erickson, American psychiatrist and psychologist (b. 1901)
1976 – Benjamin Miessner, American radio engineer and inventor (b. 1890)
1976 – Josef Albers, German-American painter and educator (b. 1888)
1973 – Edward Steichen, Luxembourgian-American photographer, painter, and curator (b. 1879)
1969 – Max Eastman, American poet and activist (b. 1883)
1958 – Tom Brown, American trombonist (b. 1888)
1957 – Max Ophüls, German-American director and screenwriter (b. 1902)
1956 – Lou Moore, American race car driver (b. 1904)
1951 – Eddie Collins, American baseball player and manager (b. 1887)
1942 – William Carr, American rower (b. 1876)
1931 – Ida B. Wells, American journalist and activist (b. 1862)
1917 – Elizabeth Storrs Mead, American academic (b. 1832)
1908 – Durham Stevens, American diplomat (b. 1851)
1736 – Nicholas Hawksmoor, English architect, designed Easton Neston and Christ Church (b. 1661)
Monday 25 March 2019
International Day of Remembrance of the Victims of Slavery and the Transatlantic Slave Trade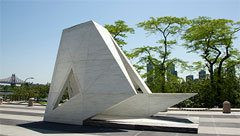 For over 400 years, more than 15 million men, women and children were the victims of the tragic transatlantic slave trade, one of the darkest chapters in human history. ..→
Monday 25 March 2019
International Day of Solidarity with Detained and Missing Staff Members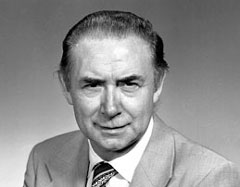 Beirut (AFP) - More than 50 UN staff members have been killed, imprisoned or gone missing in war-wracked Syria, the UN Office for the Coordination of Humanitarian Affairs..→