Monday 13 April 2020 Calendar with holidays, observances and special days
Calendars:
Albania
,
Anguilla
,
Antigua and Barbuda
,
Aruba
,
Austria
,
Bahamas
,
Ghana
,
Guyana
,
Jamaica
,
Kiribati
,
Samoa
,
Seychelles
,
Togo
,
Tonga
,
Trinidad and Tobago
,
Canada
,
Food holidays
,
Health Calendar
,
Pet and Animal Holidays
,
Poland
,
Unusual Holidays
Holidays and observances
Easter Monday (Påskedag in Norway)
FND Awareness Day in Canada (Functional Neurological Disorder [FND]/Conversion Disorder [CD])
Jefferson's Birthday (United States)
Katyn Memorial Day in Poland
Nanakshahi New Year, first day of the month of Chet (Sikhism)
National Dog Bite Prevention Week in US (the second full week of April )
National Peach Cobbler Day in USA
Scrabble Day (April 13th is the birthday of Alfred Butts, the inventor of the Scrabble game)
Events
1976 – The United States Treasury Department reintroduces the two-dollar bill as a Federal Reserve Note on Thomas Jefferson's 233rd birthday as part of the United States Bicentennial celebration.
1974 – Western Union (in cooperation with NASA and Hughes Aircraft) launches the United States' first commercial geosynchronous communications satellite, Westar 1.
1964 – At the Academy Awards, Sidney Poitier becomes the first African-American male to win the Best Actor award for the 1963 film Lilies of the Field.
1960 – The United States launches Transit 1-B, the world's first satellite navigation system.
1943 – World War II: The discovery of mass graves of Polish prisoners of war killed by Soviet forces in the Katyń Forest Massacre is announced, causing a diplomatic rift between the Polish government-in-exile in London from the Soviet Union, which denies responsibility.
1902 – James C. Penney opens his first store in Kemmerer, Wyoming.
1873 – The Colfax massacre, in which more than 60 African Americans are murdered, takes place.
1870 – The New York City Metropolitan Museum of Art is founded.
1865 – American Civil War: Raleigh, North Carolina is occupied by Union Forces.
1861 – American Civil War: Fort Sumter surrenders to Confederate forces.
1777 – American Revolutionary War: American forces are ambushed and defeated in the Battle of Bound Brook, New Jersey.
1613 – Samuel Argall captures Native American princess Pocahontas in Passapatanzy, Virginia to ransom her for some English prisoners held by her father; she is brought to Henricus as hostage.
Births
1993 – Tony Wroten, American basketball player
1991 – Josh Gordon, American football player
1989 – Ryan Bailey, American sprinter
1988 – Allison Williams, American actress and singer
1987 – Allison Weiss, American singer-songwriter
1987 – Brandon Hardesty, American actor, director, producer, and screenwriter
1986 – Lorenzo Cain, American baseball player
1986 – Michael Bingham, American-English sprinter
1983 – Hunter Pence, American baseball player
1982 – Nellie McKay, British-American singer-songwriter, musician, and actress
1981 – Nat Borchers, American soccer player
1980 – Colleen Clinkenbeard, American voice actress, director, producer, and screenwriter
1980 – Quentin Richardson, American basketball player
1979 – Baron Davis, American basketball player
1979 – Meghann Shaughnessy, American tennis player
1978 – Keydrick Vincent, American football player
1976 – Glenn Howerton, American actor, producer, and screenwriter
1976 – Jonathan Brandis, American actor (d. 2003)
1976 – Patrik Eliáš, Czech-American ice hockey player
1972 – Aaron Lewis, American singer-songwriter and guitarist
1971 – Bo Outlaw, American basketball player
1970 – Monty Brown, American football player and wrestler
1970 – Ricardo Rincón, Mexican-American baseball player
1970 – Ricky Schroder, American actor
1968 – Ted Washington, American football player
1967 – Dana Barros, American basketball player, coach, and sportscaster
1967 – Michael Eisen, American biologist and academic
1967 – Olga Tañón, Puerto Rican-American singer-songwriter
1966 – Marc Ford, American guitarist, songwriter, and producer
1964 – Davis Love III, American golfer and sportscaster
1964 – John Swinney, Scottish businessman and politician, Deputy First Minister of Scotland
1962 – Hillel Slovak, Israeli-American guitarist (d. 1988)
1961 – Hiro Yamamoto, American bass player and songwriter
1960 – Bob Casey, Jr., American lawyer and politician, senior senator of Pennsylvania
1957 – Amy Goodman, American journalist and author
1957 – Saundra Santiago, American actress
1956 – Edward Forbes Smiley III, American art thief and map dealer
1955 – Louis Johnson, American bass player and producer (d. 2015)
1955 – Steve Camp, American singer-songwriter and guitarist
1954 – Jimmy Destri, American keyboard player and songwriter
1952 – Sam Bush, American mandolin player
1951 – Max Weinberg, American drummer
1951 – Peabo Bryson, American singer-songwriter and producer
1950 – Ron Perlman, American actor
1949 – Christopher Hitchens, English-American essayist, literary critic, and journalist (d. 2011)
1947 – Rae Armantrout, American poet and academic
1946 – Al Green, American singer-songwriter, producer, and pastor
1945 – Bob Kalsu, American football player and lieutenant (d. 1970)
1945 – Ed Caruthers, American high jumper
1945 – Lowell George, American singer-songwriter, guitarist, and producer (d. 1979)
1945 – Tony Dow, American actor
1944 – Charles Burnett, American actor, director, producer, and screenwriter
1944 – Jack Casady, American bass guitarist (Jefferson Airplane)
1944 – Susan Davis, Russian-American social worker and politician
1943 – Billy Kidd, American skier
1942 – Bill Conti, American composer and conductor
1941 – Michael Stuart Brown, American geneticist and academic, Nobel Prize laureate
1940 – Lester Chambers, American singer and musician (The Chambers Brothers)
1940 – Max Mosley, English race car driver and engineer, co-founded March Engineering, former president of the FIA
1940 – Ruby Puryear Hearn, African-American biophysicist
1939 – Paul Sorvino, American actor and singer
1937 – Lanford Wilson, American playwright, co-founded the Circle Repertory Company (d. 2011)
1933 – Ben Nighthorse Campbell, American soldier and politician
1932 – Orlando Letelier, Chilean-American economist and politician, Chilean Minister of National Defense (d. 1976)
1931 – Dan Gurney, American race car driver and engineer
1931 – Jon Stone, American composer, producer, and screenwriter (d. 1997)
1929 – Marilynn Smith, American golfer
1927 – Antonino Rocca, Italian-American wrestler (d. 1977)
1924 – Jack T. Chick, American author, illustrator, and publisher (d. 2016)
1924 – John T. Biggers, American painter (d. 2001)
1924 – Stanley Donen, American director and choreographer
1923 – Don Adams, American actor and director (d. 2005)
1923 – Stanley Tanger, American businessman and philanthropist, founded the Tanger Factory Outlet Centers (d. 2010)
1919 – Howard Keel, American actor and singer (d. 2004)
1919 – Madalyn Murray O'Hair, American activist, founded American Atheists (d. 1995)
1917 – Bill Clements, American soldier, engineer, and politician, 15th United States Deputy Secretary of Defense (d. 2011)
1917 – Robert Orville Anderson, American businessman, founded Atlantic Richfield Oil Co. (d. 2007)
1916 – Phyllis Fraser, Welsh-American actress, journalist, and publisher, co-founded Beginner Books (d. 2006)
1913 – Dave Albritton, American high jumper and coach (d. 1994)
1913 – Kermit Tyler, American lieutenant and pilot (d. 2010)
1909 – Eudora Welty, American short story writer and novelist (d. 2001)
1909 – Stanislaw Ulam, Polish-American mathematician and academic (d. 1984)
1907 – Harold Stassen, American lawyer and politician, 25th Governor of Minnesota (d. 2001)
1906 – Bud Freeman, American saxophonist, composer, and bandleader (d. 1991)
1902 – Marguerite Henry, American author (d. 1997)
1900 – Sorcha Boru, American potter and ceramic sculptor (d. 2006)
1899 – Alfred Mosher Butts, American architect and game designer, created Scrabble (d. 1993)
1899 – Harold Osborn, American high jumper and decathlete (d. 1975)
1894 – Joie Ray, American runner (d. 1978)
1892 – Robert Watson-Watt, Scottish engineer, invented the Radar (d. 1973)
1891 – Nella Larsen, Danish/African-American nurse, librarian, and author (d. 1964)
1890 – Frank Murphy, American jurist and politician, 56th United States Attorney General (d. 1949)
1889 – Herbert Yardley, American cryptologist and author (d. 1958)
1885 – Vean Gregg, American baseball player (d. 1964)
1880 – Charles Christie, Canadian-American businessman, co-founded the Christie Film Company (d. 1955)
1879 – Edward Bruce, American lawyer and painter (d. 1943)
1875 – Ray Lyman Wilbur, American physician, academic, and politician, 31st United States Secretary of the Interior (d. 1949)
1873 – John W. Davis, American lawyer and politician, 14th United States Solicitor General (d. 1955)
1866 – Butch Cassidy, American criminal (d. 1908)
1852 – Frank Winfield Woolworth, American businessman, founded the F. W. Woolworth Company (d. 1919)
1851 – Robert Abbe, American surgeon and radiologist (d. 1928)
1808 – Antonio Meucci, Italian-American engineer (d. 1889)
1787 – John Robertson, American lawyer and politician (d. 1873)
1780 – Alexander Mitchell, Irish engineer, invented the Screw-pile lighthouse (d. 1868)
1743 – Thomas Jefferson, American lawyer and politician, 3rd President of the United States (d. 1826)
1735 – Isaac Low, American merchant and politician, founded the New York Chamber of Commerce (d. 1791)
1506 – Peter Faber, French priest and theologian, co-founded the Society of Jesus (d. 1546)
Deaths
2017 – Dan Rooney, American football executive and former United States Ambassador to Ireland (b. 1932)
2016 – Nera White, American basketball player (b. 1935)
2015 – Gerald Calabrese, American basketball player and politician (b. 1925)
2015 – Herb Trimpe, American author and illustrator (b. 1939)
2014 – Fred Enke, American football player (b. 1924)
2014 – Michael Ruppert, American journalist and author (b. 1951)
2013 – Chi Cheng, American bass player (b. 1970)
2013 – Dean Drummond, American composer and conductor (b. 1949)
2013 – Vincent Montana, Jr., American drummer and composer (b. 1928)
2012 – David S. Smith, American diplomat, United States Ambassador to Sweden (b. 1918)
2012 – William B. Buffum, American soldier and diplomat, United States Ambassador to Lebanon (b. 1921)
2009 – Bruce Snyder, American football player and coach (b. 1940)
2009 – Mark Fidrych, American baseball player (b. 1954)
2008 – John Archibald Wheeler, American physicist and academic (b. 1911)
2006 – Bill Baker, American baseball player, coach, and umpire (b. 1911)
2005 – Don Blasingame, American baseball player, coach, and manager (b. 1932)
2005 – Johnnie Johnson, American pianist and songwriter (b. 1924)
2005 – Phillip Pavia, American painter and sculptor (b. 1912)
2000 – Frenchy Bordagaray, American baseball player and manager (b. 1910)
1997 – Bryant Bowles, American soldier and activist, founded the National Association for the Advancement of White People (b. 1920)
1997 – Dorothy Frooks, American author and actress (b. 1896)
1993 – Wallace Stegner, American novelist, short story writer, and essayist (b. 1909)
1984 – Ralph Kirkpatrick, American harp player and musicologist (b. 1911)
1975 – Larry Parks, American actor and singer (b. 1914)
1962 – Culbert Olson, American lawyer and politician, 29th Governor of California (b. 1876)
1961 – John A. Bennett, American soldier (b. 1935)
1954 – Samuel Jones, American high jumper (b. 1880)
1945 – Ernst Cassirer, Polish-American philosopher and academic (b. 1874)
1941 – Annie Jump Cannon, American astronomer and academic (b. 1863)
1911 – George Washington Glick, American lawyer and politician, 9th Governor of Kansas (b. 1827)
1911 – John McLane, Scottish-American politician, 50th Governor of New Hampshire (b. 1852)
1890 – Samuel J. Randall, American captain, lawyer, and politician, 33rd Speaker of the United States House of Representatives (b. 1828)
1886 – John Humphrey Noyes, American religious leader, founded the Oneida Community (b. 1811)
1853 – James Iredell, Jr., American lawyer and politician, 23rd Governor of North Carolina (b. 1788)
Monday 13 April 2020
Easter Monday in U.S. Virgin Islands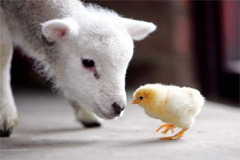 Easter Monday in U.S. Virgin Islands is the day after Easter Sunday and is a holiday in some countries. Easter Monday in the Western Christian liturgical calendar is the ..→