Tuesday 16 April 2019 Calendar with holidays, observances and special days
Holidays and observances
Birthday of José de Diego (Puerto Rico, United States)
Emancipation Day (Washington, D.C., United States)
Foursquare Day (4sqDay or Foursquare Day was coined by Nate Bonilla-Warford, an optometrist from Tampa, Florida on March 12, 2010 being the 4th month and the 16th being equal to four squared. The idea came to him while "thinking about new ways to promote his business". FitBy4sqDay has been a quest by foursquare users to reach new fitness goals and live in a healthier way and is an excellent opportunity for local businesses to shine)
Memorial Day for the Victims of the Holocaust in Hungary
National Eggs Benedict Day, National Baked Ham with Pineapple Day and Day of the Mushroom in USA
National Healthcare Decisions Day (United States)
Stress Awareness Day
Wear Your Pajamas To Work Day
Events
2012 – The Pulitzer Prize winners were announced, it was the first time since 1977 that no book won the Fiction Prize.
1990 – "Doctor Death", Jack Kevorkian, participates in his first assisted suicide.
1947 – Bernard Baruch first applies the term "Cold War" to describe the relationship between the United States and the Soviet Union.
1945 – The United States Army liberates Nazi Sonderlager (high security) prisoner-of-war camp Oflag IV-C (better known as Colditz).
1943 – Albert Hofmann accidentally discovers the hallucinogenic effects of the research drug LSD. He intentionally takes the drug three days later on April 19.
1912 – Harriet Quimby becomes the first woman to fly an airplane across the English Channel.
1910 – The oldest existing indoor ice hockey arena still used for the sport in the 21st century, Boston Arena, opens for the first time.
1863 – American Civil War: During the Siege of Vicksburg, gunboats commanded by Acting Rear Admiral David Dixon Porter run downriver past Confederate artillery batteries at Vicksburg.
1862 – American Civil War: Battle at Lee's Mills in Virginia.
1862 – American Civil War: The District of Columbia Compensated Emancipation Act, a bill ending slavery in the District of Columbia, becomes law.
1853 – The first passenger rail opens in India, from Bori Bunder, Bombay to Thane.
1818 – The United States Senate ratifies the Rush–Bagot Treaty, establishing the border with Canada.
1780 – The University of Münster in Münster, North Rhine-Westphalia, Germany is founded.
1457 BC – Likely date of the Battle of Megiddo between Thutmose III and a large Canaanite coalition under the King of Kadesh, the first battle to have been recorded in what is accepted as relatively reliable detail.
Births
1994 – Albert Almora, American baseball player
1994 – Will Fuller, American football player
1993 – Chance the Rapper, American rapper
1993 – Mirai Nagasu, American figure skater
1991 – Nolan Arenado, American baseball player
1990 – Reggie Jackson, American basketball player
1990 – Tony McQuay, American sprinter
1990 – Travis Shaw, American baseball player
1988 – Kyle Okposo, American ice hockey player
1984 – Teddy Blass, American composer and producer
1984 – Tucker Fredricks, American speed skater
1983 – Cat Osterman, American softball player
1983 – Marié Digby, American singer-songwriter, guitarist, and actress
1982 – Gina Carano, American mixed martial artist and actress
1982 – Jonathan Vilma, American football player
1976 – Lukas Haas, American actor and musician
1975 – Keon Clark, American basketball player
1973 – Akon, Senegalese-American singer, rapper and songwriter
1972 – Conchita Martínez, Spanish-American tennis player
1972 – Tracy K. Smith, American poet and educator
1971 – Selena, American singer-songwriter, actress, and fashion designer (d. 1995)
1970 – Walt Williams, American basketball player
1969 – Fernando Viña, American baseball player and sportscaster
1968 – Vickie Guerrero, American wrestler and manager
1966 – Jeff Varner, American newscaster and reality television personality
1965 – Jon Cryer, American actor, director, producer, and screenwriter
1965 – Martin Lawrence, American actor, director, producer, and screenwriter
1964 – Dave Pirner, American singer, songwriter and producer (Soul Asylum)
1964 – David Kohan, American screenwriter and producer
1963 – Jimmy Osmond, American singer (The Osmonds)
1962 – Douglas Elmendorf, American economist and politician
1962 – Ian MacKaye, American singer-songwriter, guitarist, and producer
1956 – David M. Brown, American captain, pilot, and astronaut (d. 2003)
1956 – T Lavitz, American keyboard player, composer, and producer (d. 2010)
1955 – Bruce Bochy, American baseball player and manager
1954 – Ellen Barkin, American actress
1953 – Jay O. Sanders, American actor
1952 – Bill Belichick, American football player and coach
1952 – Billy West, American voice actor, singer-songwriter, and comedian
1950 – David Graf, American actor (d. 2001)
1947 – Kareem Abdul-Jabbar, American basketball player and coach
1946 – Margot Adler, American journalist and author (d. 2014)
1946 – R. Carlos Nakai, American flute player
1945 – Tom Allen, American lawyer and politician
1942 – Frank Williams, English businessman, founded the Williams F1 Racing Team
1942 – Jim Lonborg, American baseball pitcher
1941 – Allan Segal, American director and producer (d. 2012)
1940 – Joan Snyder, American painter
1939 – John Amabile, American football player and coach (d. 2012)
1938 – Rich Rollins, American baseball player
1935 – Bobby Vinton, American singer
1933 – Ike Pappas, American journalist and actor (d. 2008)
1933 – Perry Botkin Jr., American composer, arranger and musician
1932 – Maury Meyers, American lawyer and politician (d. 2014)
1930 – Herbie Mann, American flute player and composer (d. 2003)
1929 – Ed Townsend, American singer-songwriter and producer (d. 2003)
1929 – Roy Hamilton, American singer (d. 1969)
1928 – Dick Lane, American football player and soldier (d. 2002)
1927 – Edie Adams, American actress and singer (d. 2008)
1926 – Pierre Fabre, French pharmacist, founded Laboratoires Pierre Fabre (d. 2013)
1924 – Henry Mancini, American composer and conductor (d. 1994)
1924 – Rudy Pompilli, American saxophonist (d. 1976)
1923 – Arch A. Moore, Jr., American sergeant, lawyer, and politician, 28th Governor of West Virginia (d. 2015)
1923 – Warren Barker, American composer (d. 2006)
1922 – Lawrence N. Guarino, American colonel (d. 2014)
1921 – Arlin M. Adams, American lawyer and judge (d. 2015)
1919 – Merce Cunningham, American dancer and choreographer (d. 2009)
1919 – Pedro Ramírez Vázquez, Mexican architect, designed the Tijuana Cultural Center and National Museum of Anthropology (d. 2013)
1918 – Hsuan Hua, Chinese-American monk and author (d. 1995)
1918 – Juozas Kazickas, Lithuanian-American businessman and philanthropist (d. 2014)
1917 – Barry Nelson, American actor (d. 2007)
1914 – John Hodiak, American actor (d. 1955)
1910 – Berton Roueché, American journalist and author (d. 1994)
1908 – Ellis Marsalis, Sr., American businessman and activist (d. 2004)
1907 – Joseph-Armand Bombardier, Canadian inventor and businessman, founded Bombardier Inc. (d. 1964)
1904 – Fifi D'Orsay, Canadian-American vaudevillian, actress, and singer (d. 1983)
1903 – Paul Waner, American baseball player and manager (d. 1965)
1900 – Polly Adler, Russian-American madam and author (d. 1962)
1896 – Robert Henry Best, American journalist (d. 1952)
1895 – Ove Arup, English-Danish engineer and businessman, founded Arup (d. 1988)
1893 – John Norton, American hurdler (d. 1979)
1892 – Howard Mumford Jones, American author, critic, and academic (d. 1980)
1891 – Dorothy P. Lathrop, American author and illustrator (d. 1980)
1890 – Gertrude Chandler Warner, American author and educator (d. 1979)
1886 – Michalis Dorizas, Greek-American football player and javelin thrower (d. 1957)
1882 – Seth Bingham, American organist and composer (d. 1972)
1867 – Wilbur Wright, American inventor (d. 1912)
1864 – Rose Talbot Bullard, American medical doctor and professor (d. 1915)
1847 – Hans Auer, Swiss-Austrian architect, designed the Federal Palace of Switzerland (d. 1906)
1808 – Caleb Blood Smith, American journalist, lawyer, and politician, 6th United States Secretary of the Interior (d. 1864)
1682 – John Hadley, English mathematician, invented the octant (d. 1744)
1661 – Charles Montagu, 1st Earl of Halifax, English poet and politician, First Lord of the Treasury (d. 1715)
1646 – Jules Hardouin-Mansart, French architect, designed the Château de Dampierre and Grand Trianon (d. 1708)
Deaths
2014 – Ernst Florian Winter, Austrian-American historian and political scientist (b. 1923)
2013 – George Beverly Shea, Canadian-American singer-songwriter (b. 1909)
2013 – Pat Summerall, American football player and sportscaster (b. 1930)
2013 – Pedro Ramírez Vázquez, Mexican architect, designed the Tijuana Cultural Center and National Museum of Anthropology (b. 1919)
2011 – Sol Saks, American screenwriter and producer (b. 1910)
2010 – Daryl Gates, American police officer, created the D.A.R.E. Program (b. 1926)
2008 – Edward Norton Lorenz, American mathematician and meteorologist (b. 1917)
2002 – Robert Urich, American actor (b. 1946)
2002 – Ruth Fertel, American businesswoman, founded Ruth's Chris Steak House (b. 1927)
2001 – Michael Ritchie, American director, producer, and screenwriter (b. 1938)
1999 – Skip Spence, Canadian-American singer-songwriter and guitarist (b. 1946)
1998 – Alberto Calderón, Argentinian-American mathematician and academic (b. 1920)
1996 – Lucille Bremer, American actress and dancer (b. 1917)
1994 – Ralph Ellison, American novelist and critic (b. 1913)
1992 – Andy Russell, American singer and actor (b. 1919)
1992 – Neville Brand, American actor (b. 1920)
1989 – Jocko Conlan, American baseball player and umpire (b. 1899)
1988 – Khalil al-Wazir, Palestinian commander, founded Fatah (b. 1935)
1985 – Scott Brady, American actor (b. 1924)
1980 – Morris Stoloff, American composer (b. 1898)
1978 – Lucius D. Clay, American officer and military governor in occupied Germany (b. 1898)
1970 – Richard Neutra, Austrian-American architect, designed the Los Angeles County Hall of Records (b. 1892)
1968 – Edna Ferber, American novelist, short story writer, and playwright (b. 1885)
1968 – Fay Bainter, American actress (b. 1893)
1961 – Carl Hovland, American psychologist and academic (b. 1912)
1946 – Arthur Chevrolet, Swiss-American race car driver and engineer (b. 1884)
1937 – Jay Johnson Morrow, American military engineer and politician, 3rd Governor of the Panama Canal Zone (b. 1870)
1928 – Henry Birks, Canadian businessman, founded Henry Birks and Sons (b. 1840)
1915 – Nelson W. Aldrich, American businessman and politician (b. 1841)
1914 – George William Hill, American astronomer and mathematician (b. 1838)
1850 – Marie Tussaud, French-English sculptor, founded the Madame Tussauds Wax Museum (b. 1761)
Tuesday 16 April 2019
Emancipation Day in District of Columbia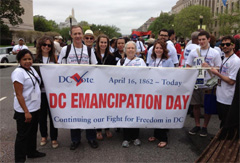 Emancipation Day Celebrations April 16. Sketch of the celebration of the Abolition of Slavery in DC. On that day in 1862, President Abraham Lincoln signed the Compensate..→