Saturday 9 December 2023 Calendar with holidays, observances and special days
Calendars
:
US Holidays
,
United Nations Holidays
,
Worldwide Holidays
,
Antigua and Barbuda
,
Argentina
,
Bolivia
,
Career Holidays (Recognition Holidays)
,
Children's Days
,
Chile
,
Cyber Holidays
,
Finland
,
Food holidays
,
France
,
Health Calendar
,
India
,
Mexico
,
Norway
,
Spain
,
Sri Lanka
,
Sweden
,
Unusual Holidays (Weird and Funny Holidays)
Holidays and observances
Events
1992 – American troops land in Somalia for Operation Restore Hope.
1987 – Israeli–Palestinian conflict: The First Intifada begins in the Gaza Strip and West Bank.
1979 – The eradication of the smallpox virus is certified, making smallpox the first and to date only human disease driven to extinction.
1965 – A Charlie Brown Christmas, first in a series of Peanuts television specials, debuts on CBS.
1965 – Kecksburg UFO incident: A fireball is seen from Michigan to Pennsylvania; witnesses report something crashing in the woods near Pittsburgh. In 2005 NASA admits that it examined the object.
1960 – The first episode of Coronation Street, the world's longest-running television soap opera, is broadcast in the United Kingdom.
1958 – The John Birch Society is founded in the United States.
1946 – The Constituent Assembly of India meets for the first time to write the Constitution of India.
1941 – World War II: The American 19th Bombardment Group attacks Japanese ships off the coast of Vigan, Luzon.
1935 – The Downtown Athletic Club Trophy, later renamed the Heisman Trophy, is awarded for the first time. The winner is halfback Jay Berwanger of the University of Chicago.
1935 – Walter Liggett, American newspaper editor and muckraker, is killed in a gangland murder.
1922 – Gabriel Narutowicz is elected the first president of Poland.
1917 – World War I: Field Marshal Allenby captures Jerusalem, Palestine.
1911 – A mine explosion near Briceville, Tennessee, kills 84 miners despite rescue efforts led by the United States Bureau of Mines.
1892 – English soccer club Newcastle United is founded
1875 – The Massachusetts Rifle Association, "America's Oldest Active Gun Club", is founded.
1872 – In Louisiana, P. B. S. Pinchback becomes the first African-American governor of a U.S. state.
1861 – American Civil War: The Joint Committee on the Conduct of the War is established by the U.S. Congress.
1851 – The first YMCA in North America is established in Montreal.
1835 – Texas Revolution: The Texian Army captures San Antonio, Texas.
1824 – Patriot forces led by General Antonio José de Sucre defeat a Royalist army in the Battle of Ayacucho, putting an end to the Peruvian War of Independence.
1793 – New York City's first daily newspaper, the American Minerva, is established by Noah Webster.
1775 – American Revolutionary War: British troops lose the Battle of Great Bridge, and leave Virginia soon afterward.
1531 – The Virgin of Guadalupe first appears to Juan Diego at Tepeyac, Mexico City.
1425 – The Catholic University of Leuven is founded.
480 – Odoacer, first King of Italy, occupies Dalmatia. He later establishes his political power with the co-operation of the Roman Senate.
Births
1996 – MyKayla Skinner, American gymnast. Domestically, she has won ten total medals at the USA Gymnastics National Championships during her senior career.
1995 – McKayla Maroney, American gymnast. Maroney was also a member of the gold-winning American team at the 2011 World Championships, where she won gold medals in the team and vault competitions.
1987 – Hikaru Nakamura, Japanese-American chess player. Hikaru Nakamura (ヒカル・ナカムラ (in katakana), 中村 光 (in kanji), Nakamura Hikaru, born December 9, 1987) is a Japanese-born American chess grandmaster.
1987 – Mat Latos, American baseball player. Mathew Adam Latos (/ˈleɪtoʊs/ LAY-tohs; born December 9, 1987) is an American professional baseball pitcher who is a free agent.
1984 – Leon Hall, American football player. Leon Lastarza Lafayette Lorenzo Hall (born December 9, 1984) is an American football cornerback who is currently a free agent.
1981 – Mardy Fish, American tennis player. He is one of several American tennis players who rose to prominence in the early 2000s.
1980 – Simon Helberg, American actor, comedian, and musician. He is known for playing Howard Wolowitz in the sitcom The Big Bang Theory (2007–2019), for which he won a Critics' Choice Television Award for Best Supporting Actor in a Comedy Series, and as Cosmé McMoon in the film Florence Foster Jenkins (2016), which earned him a Golden Globe Award nomination for Best Supporting Actor in a Motion Picture.
1979 – Olivia Lufkin, Japanese-American singer-songwriter. Her two younger siblings are Jeffrey Lufkin, a musician she regularly collaborates with, and Caroline Lufkin, an independent musician.
1978 – Jesse Metcalfe, American actor and musician. Metcalfe has also had notable roles on Passions and played the title role in John Tucker Must Die.
1977 – Shayne Graham, American football player. He played college football at Virginia Tech.
1976 – Chris Booker, American baseball player. Chris Booker (born May 20, 1971) is an American radio and TV personality.
1974 – Canibus, Jamaican-American rapper. Since releasing his debut album, Canibus has gone on to release 13 solo studio albums in total, as well as multiple collaboration albums and EPs with other rappers as a member of The Hrsmn, Sharpshooterz, Cloak N Dagga, The Undergods and one-half of T.H.E.M.
1974 – Wendy Dillinger, American soccer player, coach, and manager. She served as the head soccer coach at Washington University in St.
1973 – Bárbara Padilla, Mexican-American soprano. She is well known as a survivor of Hodgkin's lymphoma.
1972 – Michael Corcoran, American singer-songwriter and producer, was an Irish-born American general in the Union Army during the American Civil War and a close confidant of President Abraham Lincoln. As its colonel, he led the 69th New York Regiment to Washington, D.C. and was one of the first to serve in the defense of Washington by building Fort Corcoran.
1972 – Reiko Aylesworth, American actress. Aylesworth (born December 9, 1972) is an American film, television and stage actress, best known for her role on the television series 24 as Michelle Dessler.
1972 – Tré Cool, German-American drummer and songwriter. Frank Edwin Wright III (born December 9, 1972), known professionally as Tré Cool, is an American musician, singer, and songwriter, best known as the drummer for the punk rock band Green Day.
1971 – Nick Hysong, American pole vaulter and coach. Hysong (born December 9, 1971 in Winslow, Arizona) is an American athlete competing in the men's pole vault.
1970 – Kara DioGuardi, American singer-songwriter and producer. Kara Elizabeth DioGuardi (/ˈkærə diːoʊˈɡwɑːrdi/; born December 9, 1970) is an American singer, songwriter, record producer, Music Publisher, A&R Executive, Composer and television personality.
1970 – Lance Krall, American actor, director, producer, and screenwriter. He went on to create and star in The Lance Krall Show and Free Radio.
1969 – Jakob Dylan, American singer-songwriter and guitarist. He rose to fame as the lead singer and primary songwriter for the rock band the Wallflowers.
1969 – Lori Greiner, American businesswoman. Lori Greiner (born December 9, 1969) is an American television personality, inventor and entrepreneur.
1968 – Brent Price, American basketball player. Hartley Brent Price (born December 9, 1968) is an American retired professional basketball player who played for four teams in the National Basketball Association (NBA).
1968 – Brian Bell, American singer-songwriter and guitarist. Bell also fronts the rock band The Relationship, and was previously the lead vocalist and guitarist of the indie rock band Space Twins.
1967 – Joshua Bell, American violinist and conductor. He plays the Gibson Stradivarius.
1966 – Kirsten Gillibrand, American lawyer and politician. Kirsten Elizabeth Gillibrand (née Rutnik; /ˈkɪərstən ˈdʒɪlɪbrænd/ (listen) KEER-stən JIL-i-brand; born December 9, 1966) is an American lawyer and politician and a member of the Democratic Party.
1965 – Joe Ausanio, American baseball player and coach. Joseph John Ausanio (born December 9, 1965) is a former Major League Baseball relief pitcher who appeared in 41 games for the New York Yankees in 1994 and 1995.
1962 – Felicity Huffman, American actress and producer. She is the recipient of numerous accolades including a Primetime Emmy Award, a Golden Globe Award, three Screen Actors Guild Awards, and has been nominated for an Oscar.
1962 – Roxanne Swentzell, Santa Clara Pueblo (Native American) ceramic sculptor. Swentzell's work addresses personal and social commentary, reflecting respect for family, cultural heritage, and for the Earth.
1961 – David Anthony Higgins, American actor and screenwriter. He also recurred on the television series Mike & Molly as Harry.
1960 – Juan Samuel, Dominican-American baseball player and manager. Juan Milton Samuel (born December 9, 1960) is a Dominican former professional baseball second baseman/outfielder who spent sixteen seasons in Major League Baseball (MLB), with the Philadelphia Phillies (1983–1989), New York Mets (1989), Los Angeles Dodgers (1990–1992), Kansas City Royals (1992, 1995), Cincinnati Reds (1993), Detroit Tigers (1994–1995), and Toronto Blue Jays (1996–1998).
1960 – Stefen Fangmeier, American visual effects designer and director. Stefen Markus Fangmeier (born 9 December 1960 in El Paso, Texas, United States) is an American visual effects supervisor of numerous major feature films, including Lemony Snicket's A Series of Unfortunate Events, Saving Private Ryan, Terminator 2: Judgment Day, Twister, The Perfect Storm and Master and Commander: The Far Side of the World.
1960 – Terry Moran, American journalist. Terry Moran (born December 9, 1959) is an American journalist, currently Senior National Correspondent at ABC News.
1957 – Donny Osmond, American singer-songwriter, dancer, and actor. Then, in the early 1970s, Osmond began a solo career, earning several additional top ten hits, including "Go Away Little Girl," (U.S. #1) "Puppy Love," (U.S. #3) and later, "Soldier of Love" (U.S. #2).
1957 – Steve Taylor, American singer-songwriter and producer. In contrast to many Christian musical artists, his songs have often taken aim at other Christians with the use of satirical, sardonic lyrics.
1955 – Otis Birdsong, American basketball player and radio host. He spent twelve seasons (1977–1989) in the NBA and appeared in four NBA All-Star Games.
1954 – Phil Bryant, American academic and politician, 63rd Governor of Mississippi. He was the 31st lieutenant governor of Mississippi from 2008 to 2012 and 40th state auditor of Mississippi from 1996 to 2008.
1953 – John Malkovich, American actor and producer. He has appeared in more than 70 films, including The Killing Fields (1984), Empire of the Sun (1987), Dangerous Liaisons (1988), Of Mice and Men (1992), Mulholland Falls (1996), Con Air (1997), Rounders (1998), Being John Malkovich (1999), Shadow of the Vampire (2000), Ripley's Game (2002), Johnny English (2003), Burn After Reading (2008), Red (2010), Warm Bodies (2013), and Bird Box (2018), Velvet Buzzsaw (2019), as well as producing films such as Ghost World (2001), Juno (2007), and The Perks of Being a Wallflower (2012).
1953 – World B. Free, American basketball player. Free (born Lloyd Bernard Free; December 9, 1953) is an American retired professional basketball player who played in the National Basketball Association (NBA) from 1975 to 1988.
1949 – Tom Kite, American golfer and architect. He spent 175 weeks in the top-10 of the Official World Golf Ranking between 1989 and 1994.
1947 – Tom Daschle, American soldier, academic, and politician. Thomas Andrew Daschle (/ˈdæʃəl/; born December 9, 1947) is a retired American politician and lobbyist who served as a United States senator from South Dakota from 1987 to 2005.
1946 – Dennis Dunaway, American bass player and songwriter. Dennis Dunaway (born December 9, 1946 in Cottage Grove, Oregon) is an American musician, best known as the original bass guitarist for Alice Cooper (1962–1975, 1999, 2010, 2011, 2015, 2017).
1945 – Michael Nouri, American actor. His father, Edmond Nouri was born in Iraq.
1944 – Ki Longfellow, American author, playwright, and producer, was named Pamela) is an American novelist, playwright, theatrical producer, theater director and entrepreneur with dual citizenship in Britain. She is best known in the United States for her novel The Secret Magdalene (2005).
1942 – Dick Butkus, American football player, sportscaster, and actor. Through those nine seasons he was invited to eight Pro Bowls, named a first-team All-Pro six times, and was twice recognized by his peers as the NFL's Defensive Player of the Year.
1942 – Joe McGinniss, American journalist and author (d. 2014), was an American non-fiction writer and novelist. The author of twelve books, he first came to prominence with the best-selling The Selling of the President 1968 which described the marketing of then-presidential candidate Richard Nixon.
1941 – Beau Bridges, American actor, director, and producer. Bridges was awarded a star on the Hollywood Walk of Fame on April 7, 2003, at 7065 Hollywood Boulevard for his contributions to the television industry.
1938 – Deacon Jones, American football player, sportscaster, and actor (d. 2013), was an American professional football player who was a defensive end in the National Football League (NFL) for the Los Angeles Rams, San Diego Chargers, and the Washington Redskins. He was inducted into the Pro Football Hall of Fame in 1980.
1934 – Junior Wells, American blues singer-songwriter and harmonica player (d. 1998), was an American Chicago blues vocalist, harmonica player, and recording artist. He was one of the pioneers of the amplified blues harp-style associated with Chicago.
1933 – Ashleigh Brilliant, English-American author and illustrator. Ashleigh Ellwood Brilliant (born 9 December 1933) is an author and syndicated cartoonist born in London, UK, and living in Santa Barbara, California.
1933 – Milt Campbell, American decathlete and football player (d. 2012). In 1956, he became the first African American to win the gold medal in the decathlon of the Summer Olympic Games.
1933 – Morton Downey, Jr., American singer-songwriter, actor, and talk show host (d. 2001), was an American singer and entertainer popular in the United States of America in the first half of the 20th century, enjoying his greatest success in the late 1920s and early 1930s. Downey was nicknamed "The Irish Nightingale".
1933 – Orville Moody, American golfer (d. 2008), was an American professional golfer who won numerous tournaments in his career. He won the 1969 U.S.
1932 – Bill Hartack, American jockey (d. 2007), was a Hall of Fame jockey. Colver is in the northwestern part of Cambria Township, 7 miles (11 km) northwest of Ebensburg, the county seat.
1932 – Billy Edd Wheeler, American singer-songwriter, guitarist, and playwright. Billy Edward "Edd" Wheeler (born December 9, 1932, Boone County, West Virginia, United States) is an American songwriter, performer, writer, and visual artist.
1932 – Donald Byrd, American trumpet player and academic (d. 2013), was an American jazz and rhythm & blues trumpeter and vocalist. A sideman for many other jazz musicians of his generation, Byrd was known as one of the rare bebop jazz musicians who successfully explored funk and soul while remaining a jazz artist.
1931 – Paddi Edwards, English-American actress (d. 1999), was an English-born American actress. She worked steadily in film and television.
1931 – William Reynolds, American actor. William Reynolds is the name of:
1930 – Buck Henry, American actor, director, and screenwriter, was an American actor, screenwriter, and director. He was twice nominated for an Academy Award, for Best Adapted Screenplay for The Graduate (1967) and for Best Director for Heaven Can Wait (1978) alongside Warren Beatty.
1929 – John Cassavetes, American actor, director, and screenwriter (d. 1989), was an American actor, film director, and screenwriter of Greek descent. Cassavetes was a pioneer of American independent film, writing and directing over a dozen movies, which he partially self-financed, and pioneered the use of improvisation and a cinéma vérité style.
1928 – Dick Van Patten, American actor (d. 2015), was an American actor, businessman, and animal welfare advocate, whose career spans seven decades of television. He was best known for his role as patriarch Tom Bradford on the ABC television comedy-drama Eight Is Enough.
1928 – Joan Blos, American author and educator, was an American writer, teacher and advocate for children's literacy.
1926 – Henry Way Kendall, American physicist, photographer, and mountaineer, Nobel Prize laureate (d. 1999), was an American particle physicist who won the Nobel Prize in Physics in 1990 jointly with Jerome Isaac Friedman and Richard E. Taylor "for their pioneering investigations concerning deep inelastic scattering of electrons on protons and bound neutrons, which have been of essential importance for the development of the quark model in particle physics."
1926 – Lorenzo Wright, American sprinter and coach (d. 1972), was a Detroit native and star athlete at Miller High School and Wayne State University; Wright is renowned for his noteworthy accomplishments in the sport of track and field.
1925 – Roy Rubin, American basketball player and coach (d. 2013), was a former college and professional basketball coach.
1922 – Redd Foxx, American actor (d. 1991), was an American stand-up comedian and actor best known for his portrayal of Fred G. Sanford of the hit television show Sanford and Son.
1919 – William Lipscomb, American chemist and academic, Nobel Prize laureate (d. 2011), was a Nobel Prize-winning American inorganic and organic chemist working in nuclear magnetic resonance, theoretical chemistry, boron chemistry, and biochemistry.
1917 – James Jesus Angleton, American CIA agent (d. 1987), was chief of CIA Counterintelligence from 1954 to 1975. His official position within the organization was Associate Deputy Director of Operations for Counterintelligence (ADDOCI).
1917 – James Rainwater, American physicist and academic, Nobel Prize laureate (d. 1986), was an American physicist who shared the Nobel Prize in Physics in 1975 for his part in determining the asymmetrical shapes of certain atomic nuclei.
1916 – Jerome Beatty, Jr., American soldier, journalist, and author (d. 2002). Beatty Jr. (December 9, 1916 – July 31, 2002) was a twentieth-century American author of children's literature.
1916 – Kirk Douglas, American actor, singer, and producer. Kirk Douglas (born Issur Danielovitch; December 9, 1916) is an American retired actor, producer, director and author.
1915 – Eloise Jarvis McGraw, American author (d. 2000), was an American author of children's books and young adult novels. She was awarded the Newbery Honor three times in three different decades, for her novels Moccasin Trail (1952), The Golden Goblet (1962), and "The Moorchild" (1997).
1914 – Frances Reid, American actress (d. 2010), was an American dramatic actress. Reid acted on television for nearly all of the second half of the 20th century.
1912 – Jim Turnesa, American golfer (d. 1971). Turnesa (December 9, 1912 – August 27, 1971) was one of seven golfing brothers; Phil (1896–1987), Frank (1898–1949), Joe (1901–1991), Mike (1907–2000), Doug (1909–1972), Jim (1912–1971), and Willie (1914–2001).
1912 – Tip O'Neill, American lawyer and politician, 55th Speaker of the United States House of Representatives (d. 1994), was an American politician who served as the 47th Speaker of the United States House of Representatives from 1977 to 1987, representing northern Boston, Massachusetts, as a Democrat from 1953 to 1987. The only Speaker to serve for five complete consecutive Congresses, he is the third longest-serving Speaker in American history after Sam Rayburn and Henry Clay in terms of total tenure and longest-serving in terms of continuous tenure (Rayburn and Clay served multiple terms in the Speakership).
1911 – Broderick Crawford, American actor (d. 1986), was an American stage, film, radio, and television actor, often cast in tough-guy roles and best known for his Oscar and Golden Globe-winning portrayal of Willie Stark in All the King's Men (1949) and for his starring role as Dan Mathews in the television series Highway Patrol (1955–1959).
1906 – Grace Hopper, American admiral and computer scientist, designed COBOL (d. 1992), was an American computer scientist and United States Navy rear admiral. One of the first programmers of the Harvard Mark I computer, she was a pioneer of computer programming who invented one of the first linkers.
1905 – Dalton Trumbo, American author, screenwriter, and blacklistee (d. 1976), was an American screenwriter and novelist who scripted many award-winning films including Roman Holiday, Exodus, Spartacus, and Thirty Seconds Over Tokyo. One of the Hollywood Ten, he refused to testify before the House Un-American Activities Committee (HUAC) in 1947 during the committee's investigation of Communist influences in the motion picture industry.
1900 – Albert Weisbord, American activist, founded the Communist League of Struggle (d. 1977), was an American political activist and union organizer. He is best remembered, along his wife Vera Buch, as one of the primary union organizers of the seminal 1926 Passaic Textile Strike and as the founder of a small Trotskyist political organization of the 1930s called the Communist League of Struggle.
1898 – Emmett Kelly, American clown and actor (d. 1979), was an American circus performer, who created the clown figure "Weary Willie", based on the hobos of the Depression era.
1889 – Hannes Kolehmainen, Finnish-American runner (d. 1966), was a Finnish four-time Olympic Gold medalist and a world record holder in middle- and long-distance running. He was the first in a generation of great Finnish long distance runners, often named the "Flying Finns".
1886 – Clarence Birdseye, American businessman, founded Birds Eye (d. 1956), was an American inventor, entrepreneur, and naturalist and is considered to be the founder of the modern frozen food industry.
1883 – Joseph Pilates, German-American fitness expert, developed Pilates (d. 1967), was a German physical trainer, and notable for having invented and promoted the Pilates method of physical fitness.
1882 – Elmer Booth, American actor (d. 1915), was an American stage and film actor. He was born in Los Angeles, California and was the elder brother of Margaret Booth, a renowned film editor for Hollywood productions for nearly 70 years.
1876 – Berton Churchill, Canadian-American actor and singer (d. 1940), was a Canadian stage and film actor.
1871 – Joe Kelley, American baseball player and manager (d. 1943). Joseph James Kelley (December 9, 1871 – August 14, 1943) was an American left fielder in Major League Baseball (MLB) who starred in the outfield of the Baltimore Orioles teams of the 1890s.
1850 – Emma Abbott, American soprano and actress (d. 1891), was an American operatic soprano and impresario known for her pure, clear voice of great flexibility and volume.
1845 – Joel Chandler Harris, American journalist and author (d. 1908), was an American journalist, fiction writer, and folklorist best known for his collection of Uncle Remus stories. Harris was born in Eatonton, Georgia, where he served as an apprentice on a plantation during his teenage years.
1779 – Tabitha Babbitt, American tool maker and inventor (d. ca. 1853), was an early American Shaker purported to be a tool maker and inventor. Inventions credited to her by the Shakers include the circular saw, the spinning wheel head, and false teeth.
1721 – Peter Pelham, English-American organist and composer (d. 1805), was born in England, a son of a man named "gentleman" in his will. His father, who died in Chichester, Sussex, in 1756, is revealed in letters to his son in America as a man of some property.
Deaths
2015 – Norman Breslow, American statistician and academic (b. 1941)
2014 – Jane Freilicher, American painter and poet (b. 1924)
2014 – Mary Ann Mobley, American model and actress, Miss America 1959 (b. 1937)
2014 – Sacvan Bercovitch, Canadian-American author, critic, and academic (b. 1933)
2013 – Eleanor Parker, American actress (b. 1922)
2013 – John Gabbert, American soldier, lawyer, and judge (b. 1909)
2013 – John Wilbur, American football player (b. 1943)
2012 – Alex Moulton, English engineer and businessman, founded the Moulton Bicycle Company (b. 1920)
2012 – Charles Rosen, American pianist and musicologist (b. 1927)
2012 – Jenni Rivera, American singer-songwriter, producer, and actress (b. 1969)
2012 – Norman Joseph Woodland, American inventor, co-created the bar code (b. 1921)
2012 – Riccardo Schicchi, Italian director and producer, co-founded Diva Futura (b. 1953)
2009 – Gene Barry, American actor (b. 1919)
2007 – Gordon Zahn, American sociologist, author, and academic (b. 1918)
2006 – Georgia Gibbs, American singer (b. 1919)
2005 – György Sándor, Hungarian-American pianist and educator (b. 1912)
2005 – Robert Sheckley, American author (b. 1928)
2003 – Norm Sloan, American basketball player and coach (b. 1926)
2002 – Ian Hornak, American painter and sculptor (b. 1944)
2002 – Stan Rice, American painter and poet (b. 1942)
1998 – Archie Moore, American boxer and actor (b. 1913)
1996 – Patty Donahue, American singer-songwriter (b. 1956)
1995 – Douglas Corrigan, American pilot (b. 1907)
1995 – Toni Cade Bambara, American author and academic (b. 1939)
1992 – Vincent Gardenia, American actor (b. 1922)
1991 – Berenice Abbott, American photographer (b. 1898)
1982 – Leon Jaworski, American lawyer and politician (b. 1905)
1979 – Fulton J. Sheen, American archbishop (b. 1895)
1975 – William A. Wellman, American actor, director, producer, and screenwriter (b. 1896)
1972 – Louella Parsons, American writer and columnist (b. 1881)
1971 – Ralph Bunche, American political scientist, academic, and diplomat, Nobel Prize laureate (b. 1904)
1970 – Artem Mikoyan, Armenian-Russian engineer and businessman, co-founded the Mikoyan Company (b. 1905)
1968 – Enoch L. Johnson, American mob boss (b. 1883)
1965 – Branch Rickey, American baseball player and manager (b. 1884)
1963 – Perry Miller, American historian, author, and academic (b. 1905)
1944 – Laird Cregar, American actor (b. 1913)
1935 – Walter Liggett, American journalist and activist (b. 1886)
1930 – Rube Foster, American baseball player and manager (b. 1879)
International Day of Commemoration and Dignity of the Victims of the Crime of Genocide and of the Prevention of this Crime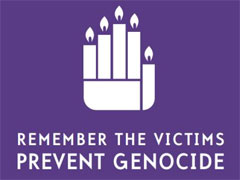 The Genocide Convention (article 2) defines genocide as "any of the following acts committed with intent to destroy, in whole or in part, a national, ethnical, racia..→