Monday 9 December 2019 Calendar with holidays, observances and special days
Holidays and observances
Events
1992 – American troops land in Somalia for Operation Restore Hope.
1987 – Israeli–Palestinian conflict: The First Intifada begins in the Gaza Strip and West Bank.
1979 – The eradication of the smallpox virus is certified, making smallpox the first and to date only human disease driven to extinction.
1965 – A Charlie Brown Christmas, first in a series of Peanuts television specials, debuts on CBS.
1965 – Kecksburg UFO incident: A fireball is seen from Michigan to Pennsylvania; witnesses report something crashing in the woods near Pittsburgh. In 2005 NASA admits that it examined the object.
1960 – The first episode of Coronation Street, the world's longest-running television soap opera, is broadcast in the United Kingdom.
1958 – The John Birch Society is founded in the United States.
1946 – The Constituent Assembly of India meets for the first time to write the Constitution of India.
1941 – World War II: The American 19th Bombardment Group attacks Japanese ships off the coast of Vigan, Luzon.
1935 – The Downtown Athletic Club Trophy, later renamed the Heisman Trophy, is awarded for the first time. The winner is halfback Jay Berwanger of the University of Chicago.
1935 – Walter Liggett, American newspaper editor and muckraker, is killed in a gangland murder.
1922 – Gabriel Narutowicz is elected the first president of Poland.
1917 – World War I: Field Marshal Allenby captures Jerusalem, Palestine.
1911 – A mine explosion near Briceville, Tennessee, kills 84 miners despite rescue efforts led by the United States Bureau of Mines.
1892 – English soccer club Newcastle United is founded
1875 – The Massachusetts Rifle Association, "America's Oldest Active Gun Club", is founded.
1872 – In Louisiana, P. B. S. Pinchback becomes the first African-American governor of a U.S. state.
1861 – American Civil War: The Joint Committee on the Conduct of the War is established by the U.S. Congress.
1851 – The first YMCA in North America is established in Montreal.
1835 – Texas Revolution: The Texian Army captures San Antonio, Texas.
1824 – Patriot forces led by General Antonio José de Sucre defeat a Royalist army in the Battle of Ayacucho, putting an end to the Peruvian War of Independence.
1793 – New York City's first daily newspaper, the American Minerva, is established by Noah Webster.
1775 – American Revolutionary War: British troops lose the Battle of Great Bridge, and leave Virginia soon afterward.
1531 – The Virgin of Guadalupe first appears to Juan Diego at Tepeyac, Mexico City.
1425 – The Catholic University of Leuven is founded.
480 – Odoacer, first King of Italy, occupies Dalmatia. He later establishes his political power with the co-operation of the Roman Senate.
Births
1996 – MyKayla Skinner, American gymnast
1995 – McKayla Maroney, American gymnast
1987 – Hikaru Nakamura, Japanese-American chess player
1987 – Mat Latos, American baseball player
1984 – Leon Hall, American football player
1982 – Ryan Grant, American football player
1981 – Mardy Fish, American tennis player
1980 – Simon Helberg, American actor, comedian, and musician
1979 – Olivia Lufkin, Japanese-American singer-songwriter
1978 – Jesse Metcalfe, American actor and musician
1977 – Shayne Graham, American football player
1976 – Chris Booker, American baseball player
1974 – Canibus, Jamaican-American rapper
1974 – Wendy Dillinger, American soccer player, coach, and manager
1973 – Bárbara Padilla, Mexican-American soprano
1972 – Michael Corcoran, American singer-songwriter and producer
1972 – Reiko Aylesworth, American actress
1972 – Tré Cool, German-American drummer and songwriter
1971 – Nick Hysong, American pole vaulter and coach
1970 – Kara DioGuardi, American singer-songwriter and producer
1970 – Lance Krall, American actor, director, producer, and screenwriter
1969 – Jakob Dylan, American singer-songwriter and guitarist
1969 – Lori Greiner, American businesswoman
1968 – Brent Price, American basketball player
1968 – Brian Bell, American singer-songwriter and guitarist
1967 – Joshua Bell, American violinist and conductor
1966 – Kirsten Gillibrand, American lawyer and politician
1965 – Joe Ausanio, American baseball player and coach
1964 – Michael Foster, American drummer
1962 – Felicity Huffman, American actress and producer
1962 – Roxanne Swentzell, Santa Clara Pueblo (Native American) ceramic sculptor
1961 – David Anthony Higgins, American actor and screenwriter
1960 – Juan Samuel, Dominican-American baseball player and manager
1960 – Stefen Fangmeier, American visual effects designer and director
1960 – Terry Moran, American journalist
1957 – Donny Osmond, American singer-songwriter, dancer, and actor
1957 – Steve Taylor, American singer-songwriter and producer
1955 – Otis Birdsong, American basketball player and radio host
1954 – Phil Bryant, American academic and politician, 63rd Governor of Mississippi
1953 – John Malkovich, American actor and producer
1953 – World B. Free, American basketball player
1949 – Tom Kite, American golfer and architect
1947 – Tom Daschle, American soldier, academic, and politician
1946 – Dennis Dunaway, American bass player and songwriter
1945 – Michael Nouri, American actor
1944 – Bob O'Connor, American businessman and politician, 57th Mayor of Pittsburgh (d. 2006)
1944 – Ki Longfellow, American author, playwright, and producer
1942 – Dick Butkus, American football player, sportscaster, and actor
1942 – Joe McGinniss, American journalist and author (d. 2014)
1941 – Beau Bridges, American actor, director, and producer
1941 – Dan Hicks, American singer-songwriter and guitarist (d. 2016)
1938 – David Houston, American singer-songwriter and guitarist (d. 1993)
1938 – Deacon Jones, American football player, sportscaster, and actor (d. 2013)
1934 – Junior Wells, American blues singer-songwriter and harmonica player (d. 1998)
1933 – Ashleigh Brilliant, English-American author and illustrator
1933 – Milt Campbell, American decathlete and football player (d. 2012)
1933 – Morton Downey, Jr., American singer-songwriter, actor, and talk show host (d. 2001)
1933 – Orville Moody, American golfer (d. 2008)
1932 – Bill Hartack, American jockey (d. 2007)
1932 – Billy Edd Wheeler, American singer-songwriter, guitarist, and playwright
1932 – Donald Byrd, American trumpet player and academic (d. 2013)
1931 – Paddi Edwards, English-American actress (d. 1999)
1931 – William Reynolds, American actor
1930 – Buck Henry, American actor, director, and screenwriter
1929 – John Cassavetes, American actor, director, and screenwriter (d. 1989)
1928 – Dick Van Patten, American actor (d. 2015)
1928 – Joan Blos, American author and educator
1926 – Henry Way Kendall, American physicist, photographer, and mountaineer, Nobel Prize laureate (d. 1999)
1926 – Lorenzo Wright, American sprinter and coach (d. 1972)
1925 – Roy Rubin, American basketball player and coach (d. 2013)
1922 – Redd Foxx, American actor (d. 1991)
1919 – William Lipscomb, American chemist and academic, Nobel Prize laureate (d. 2011)
1917 – James Jesus Angleton, American CIA agent (d. 1987)
1917 – James Rainwater, American physicist and academic, Nobel Prize laureate (d. 1986)
1916 – Jerome Beatty, Jr., American soldier, journalist, and author (d. 2002)
1916 – Kirk Douglas, American actor, singer, and producer
1915 – Eloise Jarvis McGraw, American author (d. 2000)
1914 – Frances Reid, American actress (d. 2010)
1912 – Jim Turnesa, American golfer (d. 1971)
1912 – Tip O'Neill, American lawyer and politician, 55th Speaker of the United States House of Representatives (d. 1994)
1911 – Broderick Crawford, American actor (d. 1986)
1909 – Douglas Fairbanks, Jr., American captain, actor, and producer (d. 2000)
1906 – Grace Hopper, American admiral and computer scientist, designed COBOL (d. 1992)
1905 – Dalton Trumbo, American author, screenwriter, and blacklistee (d. 1976)
1904 – Robert Livingston, American actor and singer (d. 1988)
1902 – Margaret Hamilton, American schoolteacher, actress and voice artist (d. 1985)
1900 – Albert Weisbord, American activist, founded the Communist League of Struggle (d. 1977)
1898 – Emmett Kelly, American clown and actor (d. 1979)
1889 – Hannes Kolehmainen, Finnish-American runner (d. 1966)
1887 – Tim Moore, American actor (d. 1958)
1886 – Clarence Birdseye, American businessman, founded Birds Eye (d. 1956)
1883 – Joseph Pilates, German-American fitness expert, developed Pilates (d. 1967)
1882 – Elmer Booth, American actor (d. 1915)
1876 – Berton Churchill, Canadian-American actor and singer (d. 1940)
1875 – Harry Miller, American engineer (d. 1943)
1871 – Joe Kelley, American baseball player and manager (d. 1943)
1850 – Emma Abbott, American soprano and actress (d. 1891)
1845 – Joel Chandler Harris, American journalist and author (d. 1908)
1787 – John Dobson, English architect, designed Eldon Square and Lilburn Tower (d. 1865)
1779 – Tabitha Babbitt, American tool maker and inventor (d. ca. 1853)
1721 – Peter Pelham, English-American organist and composer (d. 1805)
Deaths
2015 – Norman Breslow, American statistician and academic (b. 1941)
2014 – Jane Freilicher, American painter and poet (b. 1924)
2014 – Mary Ann Mobley, American model and actress, Miss America 1959 (b. 1937)
2014 – Sacvan Bercovitch, Canadian-American author, critic, and academic (b. 1933)
2013 – Eleanor Parker, American actress (b. 1922)
2013 – John Gabbert, American soldier, lawyer, and judge (b. 1909)
2013 – John Wilbur, American football player (b. 1943)
2012 – Alex Moulton, English engineer and businessman, founded the Moulton Bicycle Company (b. 1920)
2012 – Charles Rosen, American pianist and musicologist (b. 1927)
2012 – Jenni Rivera, American singer-songwriter, producer, and actress (b. 1969)
2012 – Norman Joseph Woodland, American inventor, co-created the bar code (b. 1921)
2012 – Riccardo Schicchi, Italian director and producer, co-founded Diva Futura (b. 1953)
2010 – James Moody, American saxophonist, flute player, and composer (b. 1925)
2009 – Gene Barry, American actor (b. 1919)
2007 – Gordon Zahn, American sociologist, author, and academic (b. 1918)
2006 – Georgia Gibbs, American singer (b. 1919)
2005 – György Sándor, Hungarian-American pianist and educator (b. 1912)
2005 – Robert Sheckley, American author (b. 1928)
2003 – Norm Sloan, American basketball player and coach (b. 1926)
2003 – Paul Simon, American soldier, journalist, and politician, 39th Lieutenant Governor of Illinois (b. 1928)
2002 – Ian Hornak, American painter and sculptor (b. 1944)
2002 – Stan Rice, American painter and poet (b. 1942)
1998 – Archie Moore, American boxer and actor (b. 1913)
1996 – Patty Donahue, American singer-songwriter (b. 1956)
1995 – Douglas Corrigan, American pilot (b. 1907)
1995 – Toni Cade Bambara, American author and academic (b. 1939)
1992 – Vincent Gardenia, American actor (b. 1922)
1991 – Berenice Abbott, American photographer (b. 1898)
1982 – Leon Jaworski, American lawyer and politician (b. 1905)
1979 – Fulton J. Sheen, American archbishop (b. 1895)
1975 – William A. Wellman, American actor, director, producer, and screenwriter (b. 1896)
1972 – Louella Parsons, American writer and columnist (b. 1881)
1971 – Ralph Bunche, American political scientist, academic, and diplomat, Nobel Prize laureate (b. 1904)
1970 – Artem Mikoyan, Armenian-Russian engineer and businessman, co-founded the Mikoyan Company (b. 1905)
1968 – Enoch L. Johnson, American mob boss (b. 1883)
1965 – Branch Rickey, American baseball player and manager (b. 1884)
1963 – Perry Miller, American historian, author, and academic (b. 1905)
1944 – Laird Cregar, American actor (b. 1913)
1935 – Walter Liggett, American journalist and activist (b. 1886)
1930 – Rube Foster, American baseball player and manager (b. 1879)
Monday 9 December 2019
International Day of Commemoration and Dignity of the Victims of the Crime of Genocide and of the Prevention of this Crime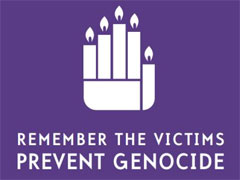 The Genocide Convention (article 2) defines genocide as "any of the following acts committed with intent to destroy, in whole or in part, a national, ethnical, racia..→