Monday 1 April 2019 Calendar with holidays, observances and special days
Calendars:
Australia
,
Canada
,
Children's Days
,
Food holidays
,
India
,
Japan
,
United Kingdom
,
Unusual Holidays
,
Worldwide Holidays
,
Career Holidays (Recognition Holidays)
,
Environmental Dates
,
Health Calendar
,
Malta
,
Pet and Animal Holidays
Holidays and observances
Engineer's Day (Iceland. 2017)
Fossil Fools Day
Fossil Fools Day (For those environmentally-minded pranksters out there, Fossil Fools Day is a strange mix of April Fools' day and Earth Day and it takes place each year on April 1. It began in 2004 in the United States and Canada to hold coordinated action against the not-so-funny use of fossil fuels to derive energy)
Freedom Day in Malta (the anniversary of the closure of the English base, celebrated since 1979)
International Pooper Scooper Week
Irritable Bowel Syndrome Awareness Month in Canada (also Rosacea Awareness Month and Be a Donor Month)
Miyako Odori in Japan (The Miyako Odori or 都をどり is one of Japan's best Geisha events. It features a large number of Maiko and several Geiko from the Gion district of Kyoto)
National Civil Service Day in Thailand
National Coffee Day in China
National Garden Month in USA
National Raw Feeding Week in US
National Soylent Green Day and National Sourdough Bread Day in USA
One Cent Day
Reading Is Funny Day
Events
2001 – An EP-3E United States Navy surveillance aircraft collides with a Chinese People's Liberation Army Shenyang J-8 fighter jet. The Navy crew makes an emergency landing in Hainan, China and is detained.
2001 – Same-sex marriage becomes legal in the Netherlands, the first contemporary country to allow it.
1970 – President Richard Nixon signs the Public Health Cigarette Smoking Act into law, requiring the Surgeon General's warnings on tobacco products and banning cigarette advertising on television and radio in the United States, effective 1 January 1971.
1960 – The TIROS-1 satellite transmits the first television picture from space.
1954 – United States President Dwight D. Eisenhower authorizes the creation of the United States Air Force Academy in Colorado.
1945 – World War II: The Tenth United States Army attacks the Thirty-Second Japanese Army on Okinawa.
1944 – Navigation errors lead to an accidental American bombing of the Swiss city of Schaffhausen.
1893 – The rank of Chief Petty Officer in the United States Navy is established.
1891 – The Wrigley Company is founded in Chicago, Illinois.
1865 – American Civil War: Union troops led by Philip Sheridan decisively defeat Confederate troops led by George Pickett, cutting the Army of Northern Virginia's last supply line.
1826 – Samuel Morey received a patent for a compressionless "Gas or Vapor Engine".
1789 – In New York City, the United States House of Representatives holds its first quorum and elects Frederick Muhlenberg of Pennsylvania as its first Speaker.
1572 – In the Eighty Years' War, the Watergeuzen capture Brielle from the Seventeen Provinces, gaining the first foothold on land for what would become the Dutch Republic.
1545 – Potosí is founded after the discovery of huge silver deposits in the area.
528 – The daughter of Emperor Xiaoming of Northern Wei was made the "Emperor" as a male heir of the late emperor by Empress Dowager Hu, deposed and replaced by Yuan Zhao the next day; she was the first female monarch in the History of China, but not widely recognised.
Births
1988 – Brook Lopez, American basketball player
1988 – Robin Lopez, American basketball player
1986 – Hillary Scott, American country singer-songwriter
1985 – Daniel Murphy, American baseball player
1983 – Sean Taylor, American football player (d. 2007)
1982 – Taran Killam, American actor, voice artist, comedian, and writer
1980 – Bijou Phillips, American actress and model
1980 – Randy Orton, American wrestler
1978 – Etan Thomas, American basketball player
1977 – Vitor Belfort, Brazilian-American boxer and mixed martial artist
1976 – David Gilliland, American race car driver
1975 – John Butler, American-Australian singer-songwriter and producer
1973 – Christian Finnegan, American comedian and actor
1973 – Rachel Maddow, American journalist and author
1972 – Jesse Tobias, American guitarist and songwriter
1970 – Brad Meltzer, American author, screenwriter, and producer
1965 – Jane Adams, American film, television, and stage actress
1965 – Mark Jackson, American basketball player and coach
1964 – Kevin Duckworth, American basketball player (d. 2008)
1963 – Aprille Ericsson-Jackson American aerospace engineer
1962 – Mark Shulman, American author
1955 – Don Hasselbeck, American football player and sportscaster
1955 – Terry Nichols, American criminal
1954 – Jeff Porcaro, American drummer, songwriter, and producer (d. 1992)
1953 – Barry Sonnenfeld, American cinematographer, director, and producer
1952 – Annette O'Toole, American actress
1951 – Frederic Schwartz, American architect, co-designed Empty Sky (d. 2014)
1951 – John Abizaid, American general
1950 – Samuel Alito, American lawyer and jurist
1949 – Gil Scott-Heron, American singer-songwriter and author (d. 2011)
1947 – Francine Prose, American novelist, short story writer, and critic
1947 – Norm Van Lier, American basketball player, coach, and sportscaster (d. 2009)
1942 – Richard D. Wolff, American economist and academic
1942 – Samuel R. Delany, American author and critic
1939 – Ali MacGraw, American model and actress
1939 – Phil Niekro, American baseball player and manager
1936 – Peter Collinson, English-American director and producer (d. 1980)
1935 – Larry McDonald, American physician and politician (d. 1983)
1934 – Vladimir Posner, French-American journalist and radio host
1933 – Dan Flavin, American sculptor and educator (d. 1996)
1932 – Debbie Reynolds, Scottish-Irish American actress, singer, and dancer (d. 2016)
1930 – Grace Lee Whitney, American actress and singer (d. 2015)
1929 – Jane Powell, American actress, singer, and dancer
1929 – Jonathan Haze, American actor, producer, screenwriter, and production manager
1927 – Walter Bahr, American soccer player, coach, and manager
1926 – Anne McCaffrey, American-Irish author (d. 2011)
1924 – Brendan Byrne, American lieutenant, judge, and politician, 47th Governor of New Jersey
1922 – Duke Jordan, American pianist and composer (d. 2006)
1922 – William Manchester, American historian and author (d. 2004)
1921 – Arthur "Guitar Boogie" Smith, American guitarist, fiddler, and composer (d. 2014)
1921 – William Bergsma, American composer and educator (d. 1994)
1919 – Joseph Murray, American surgeon and soldier, Nobel Prize laureate (d. 2012)
1917 – Melville Shavelson, American director, producer, and screenwriter (d. 2007)
1910 – Bob Van Osdel, American high jumper and soldier (d. 1987)
1910 – Harry Carney, American saxophonist and clarinet player (d. 1974)
1909 – Abner Biberman, American actor, director, and screenwriter (d. 1977)
1909 – Eddy Duchin, American pianist and bandleader (d. 1951)
1908 – Abraham Maslow, American psychologist and academic (d. 1970)
1908 – Harlow Rothert, American shot putter, lawyer, and academic (d. 1997)
1906 – Alexander Sergeyevich Yakovlev, Russian engineer, founded the Yakovlev Design Bureau (d. 1989)
1901 – Whittaker Chambers, American journalist and spy (d. 1961)
1898 – William James Sidis, Ukrainian-Russian Jewish American mathematician, anthropologist, and historian (d. 1944)
1895 – Alberta Hunter, African-American singer-songwriter and nurse (d. 1984)
1885 – Wallace Beery, American actor (d. 1949)
1883 – Laurette Taylor, Irish-American actress (d. 1946)
1883 – Lon Chaney, American actor, director, and screenwriter (d. 1930)
1871 – F. Melius Christiansen, Norwegian-American violinist and conductor (d. 1955)
1852 – Edwin Austin Abbey, American painter and illustrator (d. 1911)
1834 – James Fisk, American businessman (d. 1872)
1823 – Simon Bolivar Buckner, American general and politician, 30th Governor of Kentucky (d. 1891)
1815 – Edward Clark, American lawyer and politician, 8th Governor of Texas (d. 1880)
Deaths
2014 – King Fleming, American pianist and bandleader (b. 1922)
2012 – Giorgio Chinaglia, Italian-American soccer player and radio host (b. 1947)
2010 – John Forsythe, American actor (b. 1918)
2005 – Robert Coldwell Wood, American political scientist and academic (b. 1923)
2004 – Carrie Snodgress, American actress (b. 1945)
1999 – Jesse Stone, American pianist, songwriter, and producer (b. 1901)
1998 – Rozz Williams, American singer-songwriter and guitarist (b. 1963)
1995 – H. Adams Carter, American mountaineer, journalist, and educator (b. 1914)
1993 – Alan Kulwicki, American race car driver (b. 1954)
1991 – Martha Graham, American dancer and choreographer (b. 1894)
1984 – Marvin Gaye, American singer-songwriter (b. 1939)
1965 – Helena Rubinstein, Polish-American businesswoman (b. 1870)
1950 – Charles R. Drew, American physician and surgeon (b. 1904)
1946 – Noah Beery, Sr., American actor (b. 1882)
1924 – Jacob Bolotin, American physician (b. 1888)
1917 – Scott Joplin, American pianist and composer (b. 1868)
1914 – Rube Waddell, American baseball player (b. 1876)
1890 – David Wilber, American politician (b. 1820)
1839 – Benjamin Pierce, American soldier and politician, 11th Governor of New Hampshire (b. 1757)
Monday 1 April 2019
Edible Book Day (The International Edible Book Festival)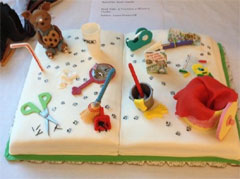 'Some books are to be tasted, others to be swallowed, and the other few to be chewed and digested' - said Sir Francis Bacon. Seems like some people took his words quite l..→